Did you know that you can get great relief by using aloe vera on scalp psoriasis? Learn how to make a DIY soothing treatment for scalp psoriasis using aloe vera and other natural ingredients.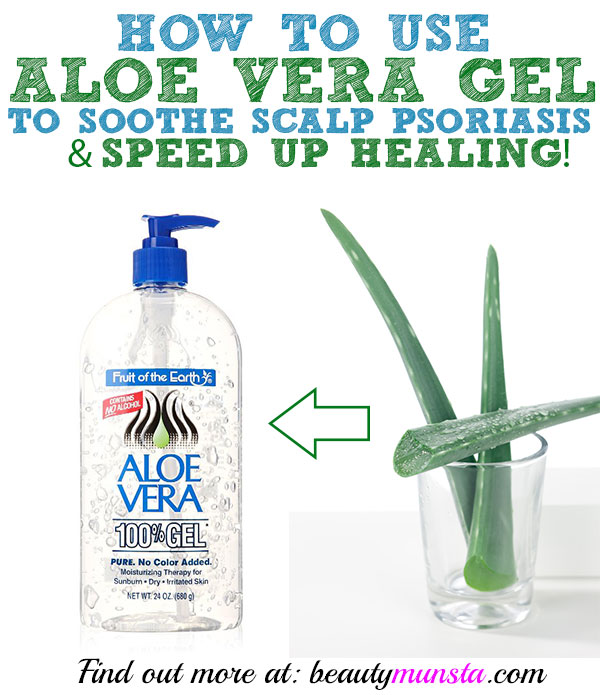 Scalp Psoriasis Is Not the Same as Dandruff!
Scalp psoriasis may look just like severe dandruff but it is just not the same. That's why anti-dandruff shampoos just won't work! They may work in the short run but they actually irritate the scalp more and aggravate psoriasis on the scalp.
Psoriasis is a surprising common skin condition that affects more than 7 million people in the United States. The root cause of psoriasis is a disorder in the function the immune system, where the body mistakenly attacks its own skin cells. This causes the cells to regenerate at a superfast rate. Where normal skin cells take 28 days to regenerate, psoriasis-affected skin cells take only 3 – 4 days to regenerate.
This creates dry, red patches, which may be dry, flaky and silvery. These patches or wedges may be itchy, irritated and painful.
When psoriasis occurs on the scalp, it is known as scalp psoriasis. Scalp psoriasis can be extremely itchy and the fast rate of skin shedding can make large dry flakes of skin be visible on the hair. This can really affect self-confidence and cause stress and depression. Scalp psoriasis can also cause hair loss.
What is the Conventional Treatment for Scalp Psoriasis?
These anti-dandruff shampoos contain harsh chemical ingredients, which are toxic and aggravate your scalp. Some of these nasty ingredients include:
► Surfactants – Also known as surface active agents, are the soapy component of shampoos that make it foamy and bubbly. Surfactants are toxic chemicals and are also skin irritants.
► Salicylic acid – Aside from risking other side effects such as headaches, dizziness, nausea and fatigue, salicylic acid is extremely drying on the skin, and it is just the thing you want to avoid when you have dry flaky psoriasis on the scalp.
► Artificial fragrances – Artificial fragrances are added to shampoos to make them smell more pleasant. But they are actually allergenic, irritating to the respiratory system and can cause cancer in the long run.
► Preservatives and stabilizers – These are compulsorily added to conventional shampoos and other products to make them stable and to prevent the ingredients from separating. Preservatives are used to increase the shelf life of the products. But these chemicals are hormone-disruptors and known carcinogens that should be avoided by all people, even if you don't have psoriasis.
Instead of relying on conventional treatments, we can try natural and herbal remedies for psoriasis. One amazing all natural plant based remedy for psoriasis that really works and has positive testimonials all over the internet. This is none other than the cooling and healing ALOE VERA.
The Benefits of Aloe Vera
Aloe vera is actually a member of the cactus family and thrives in sandy soil. Its leaves are long and succulent, filled with a natural colorless gel substance, known as aloe vera gel. This gel is filled with so many plant enzymes, vitamins and minerals that have so many healing and medicinal properties.
Aloe vera has been used to heal all sorts of skin ailments for centuries. Some of the uses of aloe vera gel include:
Supporting liver detoxification
Healing burns and scalds
Relieving bug bites
Reducing the appearance of stretchmarks
Preventing scars
Curing acne and pimples
Treating sun burn
Reducing inflammation and swelling
Reducing skin irritation
Promoting hair growth
Hydrating and moisturizing the skin
Provides a cooling sensation that soothes the skin
Safe and toxin free
Fights premature aging
Fights free radical damage
How to Use Aloe Vera on Scalp Psoriasis
Using aloe vera on the scalp is so easy and it doesn't even take much prep work. Make sure you are using 100% pure aloe vera gel from trusted sources. If you have access to fresh aloe vera straight from the plant, you're very lucky and you should use that.
You can use aloe vera directly with adding anything onto your scalp.
But I prefer using this wonderful healing aloe vera mix that combines only 2 extra ingredients to create a soothing hair mask that you can apply on the scalp. These 2 healing ingredients are:
Coconut oil – Coconut oil is a cooling, nutritious oil that can help soothe psoriasis, deeply moisturize the scalp and heal damaged skin. Coconut oil can also help regrow hair loss from psoriasis.
Lavender oil – Another proven remedy to heal psoriasis is lavender oil. Extracted via steam distillation of lavender flowers, lavender oil contains many healing anti-inflammatory, antibacterial and sedative properties. It can calm the skin and soothe psoriasis from the inside out.
Make a Soothing DIY Aloe Vera Treatment for Scalp Psoriasis
Why buy conventional products when you can make a soothing aloe vera hair mask to apply on the scalp? Apply this mask before you wash your hair and rinse off with a mild sulfate-free shampoo.
Ingredients
Directions
In a small blender, measure out the aloe vera gel and coconut oil and blend away! If you don't want to get your blender dirty, you can also use a bowl and a whisk to blend the ingredients. Blend until a light, fluffy and white mixture is formed.
Now transfer the mixture into a glass jar and add the lavender oil.
Scoop out as much as you need for your scalp (about 1 – 2 tablespoons will do) and apply evenly all over your scalp, and hair if you wish.
Allow the mixture to work its magic on your scalp for up to 25 minutes.
Now rinse off with a mild shampoo.

Have you used aloe vera on scalp psoriasis? How well did it work for you? Please share in the comments below!