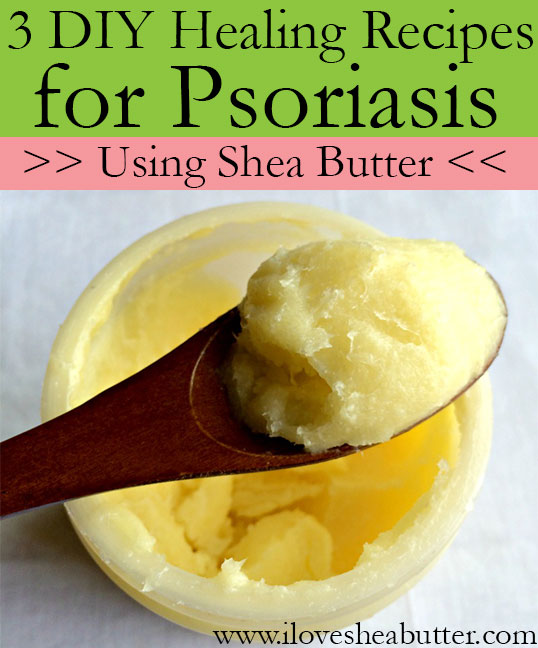 Psoriasis is an excruciating condition. Even if it's mild, it can make your life miserable. Since it's an autoimmune disease that can show up on anyone at anytime, it requires a holistic change in diet and lifestyle. That's why more and more people with psoriasis are turning to natural treatments instead of conventional creams.
Enter shea butter – one of the best remedies for managing psoriasis! Shea butter is an all natural vegan plant butter that is primarily used as a moisturizer. It has superior moisturizing properties and sinks right into the skin, nourishing and keeping it healthy.
Below, I'm sharing with you guys three DIY shea butter recipes for psoriasis because they work! All you need to do is apply them consistently to see good results. While using these recipes, remember for psoriasis, making other lifestyle changes are also very necessary including improving your diet a lot. Cut out the bad refined stuff and introduce good fats and herbal teas! I've seen countless people saying they don't get bad flare-ups as much as they used to after drinking herbal teas and consuming good things like fish oils and coconut oil.
3 DIY Shea Butter Recipes for Psoriasis that Work
Okay, so below are three effective shea butter recipes for psoriasis. They're all natural and really good for calming down inflamed, itchy and painful psoriasis patches. So give them a try!
I didn't add a recipe for a balm because personally, I think they need a lot more rubbing into the skin which can be irritating to psoriasis. It's better to have a silky lotion or cream that you can lightly slide on your skin without putting much pressure. I'm sure you know what I mean.
Another thing you'll notice is I use a high speed blender for these recipes. Yes, there's totally no need to use a double boiler to melt down the shea. I simply dump everything (except the essential oils) into the blender and after a few seconds, my lotion or cream is formed! Talk about simple. The only thing is you'll have to wash the blender which is no biggie – just pour warm water and dish soap into the blender and blend. Then rinse out thoroughly and voila, you got yourself a clean blender in no time!
Without further ado, let's move onto the recipes!
1. Healing Lotion
What you need
Directions
Add all ingredients into your high speed blender and blend until everything gets mixed into a white mixture. You can choose to add the lavender oil later on because its scent might cling to your blender.
And that's it! Your healing psoriasis lotion is ready! Transfer it into a clean amber jar. Store in a cool dry area and use in place of your everyday lotion.
2. Scalp Psoriasis Treatment
What you need
Directions
Pour the coconut oil into the blender, followed by the shea butter. Then pierce a vitamin e capsule with a safety pin and squeeze the contents into the blender.
Blend till smooth then stir in the essential oils using a chopstick or non-food use spoon.
Transfer your scalp treatment cream into a clean amber jar.
To use, apply this cream all over your scalp. Leave it on for an hour with your hair covered with a shower cap.
Then wash your hair thoroughly with a gentle shampoo. I recommend ArtNatural's sulfate-free all natural dandruff shampoo. It helps soothe and clear up psoriasis patches.
3. Cooling Cream
What you need
Directions
Put everything except the essential oils into the blender. Blend away for a few seconds until you see a white cream being formed.
Pour it into your amber jar then stir in the essential oils with a chopstick or non-food use spoon.
Store in a cool dry place. Use as needed to manage hot and itchy psoriasis flare-ups.
Caution
Make sure you aren't allergic to any of the ingredients used before trying the recipes. Do patch tests for any new ingredients you've never used on your skin before. For essential oils, you can choose to leave them out in your recipes. Handle essential oils with care. Do not use more than the required drops.
I really hope any of these recipes help you manage your psoriasis successfully! Please give them a shot and come share your results!