Manuka honey is definitely one miraculous beauty ingredient! Its healing powers are something anyone suffering from skin and hair issues should witness! Read about the beauty benefits of manuka honey in this informative post!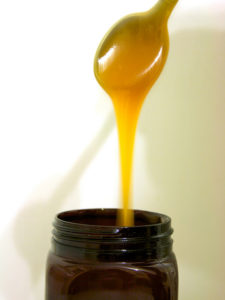 What is Manuka Honey?
Manuka honey is a special type of honey that is harvested from bees that only visit manuka flowers. These flowers are native to New Zealand and Australia. It is a mono-floral honey, meaning it's only got from bees that pollinate the manuka bush flowers.
This type of honey is special because it contains very powerful antibacterial compounds, more than the regular honey. That's why manuka honey has a UMF (Unique Manuka Factor), a grading system that measures the quality of manuka honey by assessing its unique properties and components. The UMF measures the antibacterial power of manuka honey using numbers. Always purchase manuka honey that has a UMF 10+. This rating shows the potency of manuka honey for it to be therapeutic. UMF 10 should be the minimum rating of manuka honey you should buy to experience the healing and medicinal effect of manuka honey.
Components of Manuka Honey
Below are some of the components of manuka honey:
Hydrogen Peroxide – This ingredient is found in all types of honey. It gives honey its antibiotic qualities.
Methylglyoxal (MG) – This component is found in other types of honey but only in small quantities.
In manuka honey, MG comes from the conversion of another compound, known as dihydroxyacetone, which is found at a high concentration in the nectar of manuka flowers. The higher the concentration of MG, the stronger the manuka honey's antibiotic effect.
Vitamins & Minerals – Manuka honey is filled to the brim with vitamins and minerals that are necessary for the healthy functioning of the body. It is said to contain 4 times the mineral content of regular honey! Some of the minerals found in regular honey include: zinc, iron, magnesium, copper, potassium and selenium, among others.
16 Beauty Benefits of Manuka Honey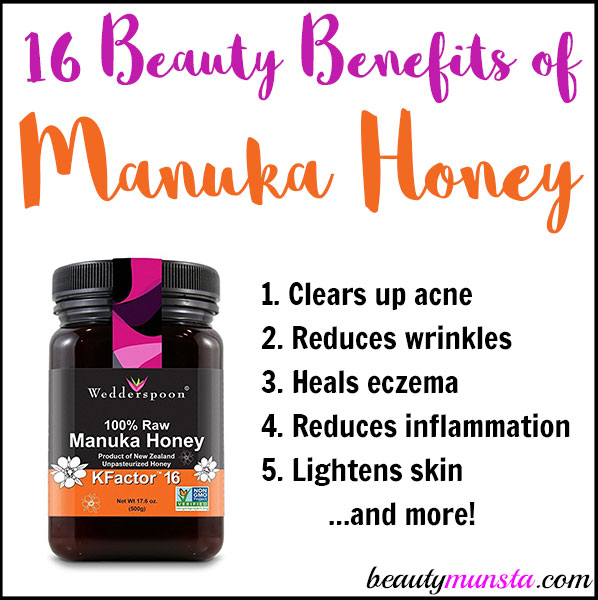 1. Clears up Acne
I've written a post about using manuka honey for acne: How to Use Manuka Honey for Acne. If you have any kind of acne: red angry cysts, pus-filled pimples, deep painful acne or anything, manuka honey must be your go-to cure! It literally clears up acne because it is a POWERFUL antibacterial substance. It also contains anti-inflammatory properties that reduce inflammation. Apply a tsp of manuka honey on your face every day to clear up your acne!
2. Cleanses Skin
Honey is naturally cleansing. Make a non-soapy body wash with it: Soap-Free Body Wash Recipe. Or use it to wash your face! You can rub a tsp of manuka honey on your wet face then rinse off with warm water. Now pat your face dry. Your face will feel cleansed and fresh! You can also try making this DIY Manuka Honey Face Wash
3. Lightens & Brightens Skin
Yup, manuka honey has skin lightening and brightening properties! That's because of its high hydrogen peroxide content, which lightens skin. Make a skin lightening face scrub like so:
Drizzle a tsp of manuka honey into a bowl. Now add 2 tsp of brown sugar and a squeeze of a fresh lemon. Mix everything together to make a paste. Scrub it onto your wet face then leave it on for a minute. Rinse off and moisturize. Do this 1-2 times a week to experience lightening effects!
4. Treats Inflammatory Skin Conditions
If you have eczema, rosacea or psoriasis, manuka honey can help. Its healing powers reduce inflammation, fight off skin irritating microbes and soothe irritated skin. You can gently apply manuka honey on the affected areas 10 minutes before a warm bath/shower. Or make a lotion with manuka honey.
5. For Glowing Skin
Get glowing skin by applying manuka honey facial masks or using manuka honey as a facial cleanser!
6. Natural Highlights
Honey lightens hair when used regularly and mixed with other lightening ingredients like lemon juice. To get subtle highlights in your hair, fill a spritz bottle with ½ cup of water, then add 1 tbsp of manuka honey and 2 tbsp of lemon juice. Spray your locks and sit under the sun (not harsh sunlight!) for 15 – 30 minutes. Do this every week to see results.
7. Milk & Honey Bath
During spa-day in the weekend at your home, take a lovely deep-cleansing bath with honey! Simple mix up ¼ cup of manuka honey, 2 cups of milk and 10 drops of rose essential oil then pour it into your warm bath. Soak for as long as you want and get out to beautiful soft and smooth skin! You can also add powdered milk instead of fresh milk to your bath!
8. Soothes Skin Rashes
Apply manuka honey onto skin rashes to soothe irritation, reduce itchiness and reduce inflammation.
9. Promotes Hair Growth
Since it's bursting with vitamins and minerals, manuka honey is nourishing to the hair follicles. It boosts hair growth, thickens thinning hair and regroes lost hair! Make a hair growth boosting hair mask like so:
Into your high speed blender, crack one egg. Now add 1 tsp of manuka honey and add 5 drops of rosemary essential oil plus 3 drops of lemon essential oil. Blend till frothy. Apply on your scalp and hair in the shower then put on a disposable shower cap. Do something else like shave or soap your body. Then after 5 minutes, rinse the mask off with cold water (not hot!) and wash your hair as usual. Do this once a week to see hair growth + shiny hair!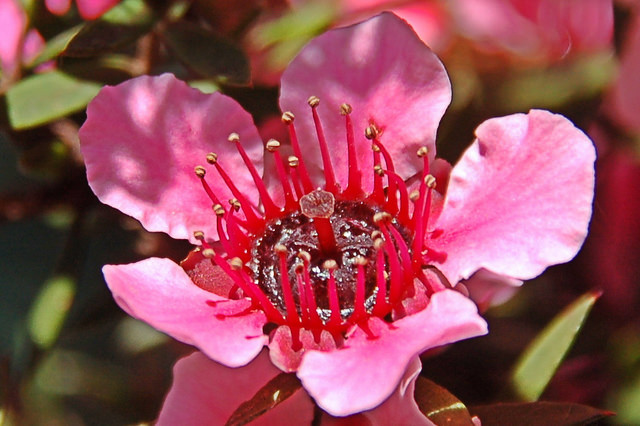 10. Heals Blemishes & Acne Scars
We already saw that manuka honey has skin lightening effects. Yes, it can lighten and fade away blemishes and acne scars. Use it as a spot treatment or facial mask.
11. Moisturizes Dry Skin
Being a natural humectant, manuka honey seals moisture into dry skin. A humectant is a substance that draws moisture from the surroundings. Make a manuka honey face cream as follows: DIY Manuka Honey Face Cream
12. Heals Chapped Lips
Slather some manuka honey on your lips during winter to soothe and heal chapped lips. You can also make a DIY lip balm with manuka honey:
Into a Magic Bullet, add 2 tbsp of soft shea butter, 1 tsp of coconut oil, ½ tsp of manuka honey and ½ tsp of pure vanilla extract. Now blend until creamy. Store in a lip balm container and allow it to set in the fridge for 5 minutes before use!
13. Delays Wrinkles
Manuka honey is filled to the brim with antioxidants. Antioxidants ward off free radicals that damage skin cells by stealing oxygen molecules from them. Free radicals make skin cells lifeless by removing oxygen from them. The antioxidants in manuka honey fight off free radicals thereby delaying fine lines and wrinkles. Apply manuka honey on your face as a facial mask to benefit from its anti-aging properties.
14. Emulsifier for DIY Beauty Products
Many times, I've used honey as a binding ingredient or emulsifier for my DIY body creams and lotions. Since manuka honey is thick, it can help bind up the liquid and solid ingredients together to form a creamy substance. I used honey in this DIY Romantic Body Butter Recipe, so check it out! Remember, it doesn't just act as an emulsifier – it also adds a ton of nourishing properties to your DIY beauty product!
15. Balances the Skin's pH
Our skin is naturally slightly acidic. Unfortunately, many skin care products especially soaps, face washes and cleansers are very alkalinic. This throws our skin's pH out of balance, making it dry and prone to wrinkles. Manuka honey has a pH of around 4.5 which is optimally acidic. Use manuka honey as a facial cleanser to balance your skin's pH. You can also make a pH balancing 2-ingredient facial cleanser with manuka honey and aloe vera gel: DIY Aloe Gel + Honey Facial Cleanser
16. Lighten your Eye Color
Did you know that you can actually use honey to lighten your eye color? I've tried it out before and it lightened my left eye, no kidding! My sister couldn't believe her eyes. She says I got heterochromia (which is a bit of an exaggeration because it's mostly visible in the light how my left eye is a shade lighter than the right eye).
I stopped applying honey because life got in the way but I believe if you keep doing it every day, you can turn your dark brown eye into a lighter shade of brown. I actually used 100% pure raw honey straight into my eye but I'm warning you – THIS BURNS LIKE HELL! Instead, try making this DIY Honey Eye Mist and use it instead. Is honey safe to drop into your eyes? As long as its high quality 100% pure honey, yes it is! People have actually used it for years to cure nasty eye infections!
Where to Get Manuka Honey
My recommended brand of manuka honey is Wedderspoon's 100% Raw Premium Manuka Honey. It tastes amazing plus is wonderful to use as a face mask! Try it!
Hope you enjoyed reading this list of 16 incredible beauty benefits of manuka honey! Don't forget to share this post with your friends and family on FB!