Find out the less known beauty benefits of pomegranate seed oil for hair, skin, nails and more! From cell regeneration and skin brightening, to taming frizzy hair, this oil has much to offer for your beauty needs!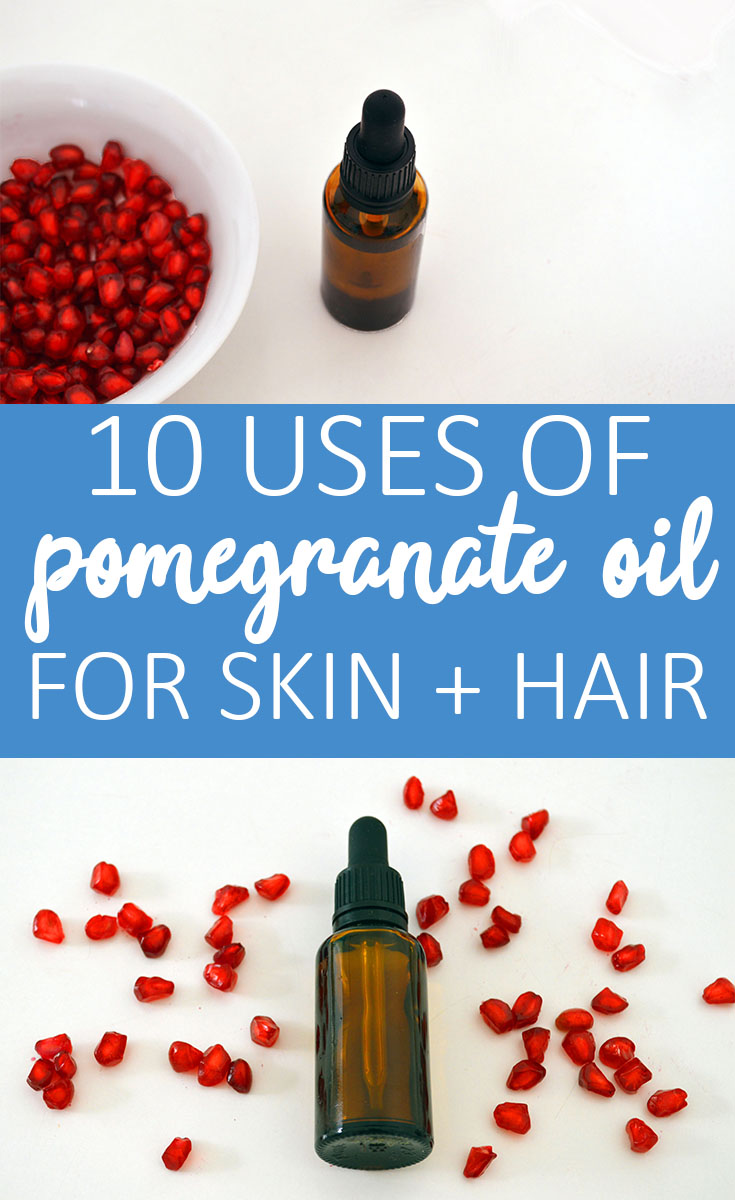 What Is Pomegranate Seed Oil?
Pomegranate seed oil is extracted from the seeds of the pomegranate fruit, the botanical name of which is Punica Granatum. The fruit grows on a deciduous tree belonging to the Lythraceae family.
Pomegranate seed oil originated in Iran a couple of centuries ago but is now cultivated in many countries of the Middle East, Africa, Central Asia, India and the Mediterranean basin.
What are the properties of this beautiful oil? Pomegranate seed oil is rich in minerals, vitamins, antioxidants and phytonutrients. These include copper, zinc, vitamin C, phosphorus and punicic acid.
Top 10 Beauty Benefits Of Pomegranate Seed Oil
The following are the top 10 beauty benefits of pomegranate seed oil:
1. Maintains Skin Health:
The antioxidants present in pomegranate seed oil fight the free radicals in our body and also stabilizes them to prevent them from causing oxidative damage to our tissues ad cells.
The oil when directly applied to the skin, increases its collagen level, which in turn keeps it healthy and glossy.
Increased collagen production not only improves skin health but reduces joint pains, heals leaky gut, improves skin elasticity while also strengthening teeth and nails.
Additionally, it also enhances the growth of keratinocytes and fibroblasts in our body, which aid fiber and elastin production to protect the skin's outer layer. And by doing so, it increases the skin's abilities to repair itself.
2. Moisturizes the Skin:
Pomegranate seed oil is an excellent skin moisturizer and works well on dry skin.
Because of the fruit's high water content (about 82% of a pomegranate's volume weight is water), it aids in keeping the skin hydrated.
This is also possible by applying pomegranate fruit paste directly on the skin to keep it soft and supple because it contains the omega-5 fatty acid, punicic acid that helps in getting rid of dry and dead skin.
Also try: Green Tea Face Moisturizer
3. Enhances Cell Regeneration:
Pomegranate seed oil is said to be rich in Vitamin C, which combines with its other phytonutrients and minerals like copper and zinc to protect the epidermis and dermis of the skin. This aids in regeneration of new dermal cells and eliminates wrinkles, fine lines, age-induced spots, blemishes and freckles. Cell regeneration is one of the most sought after beauty benefits of pomegranate seed oil.
4. Treats Acne:
Acne arises from skin pores that get clogged by dust and excessive skin oil secretion. Pomegranate seed oil, when applied directly, acts as a cleanser to unclog these pores and allows the skin to breathe again. The oil's Vitamin C content reduces sebum production in our body, which is mainly responsible for clogging skin pores that lead to acne and pimples. Must read: 40 + DIY Acne Remedies That Work! (Including Pimples, Acne Scars & Blemishes)
5. Effective Astringent For Oily Skin:
Since pomegranate seed oil controls sebum production, its direct application also works as an astringent treatment on the skin.
Those who have oily skin, which may give rise to acne later on would do well to use it to prevent the condition from happening later.
This makes it a useful ingredient for many branded astringent lotions available in the market.
Do you know the difference between toner and astringent?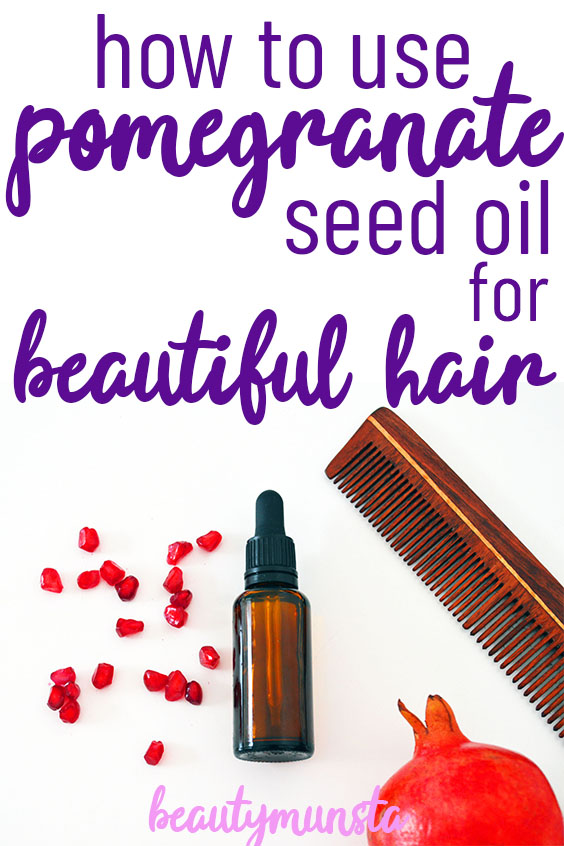 6. Strengthens Hair Follicles:
Pomegranate seed oil protects hair follicles from oxidative damage caused by the body's free radicals, reduces hair loss risk and prevents premature graying. The oil's punicic acid improves blood circulation to the scalp and makes hair stronger, thicker and more healthy. As the blood circulation increases, so does hair growth. A weekly massage or two with lukewarm pomegranate seed oil for a couple of months definitely yields some very good results.
7. Straightens Frizzy Hair:
Regular hot oil treatments with pomegranate seed oil before shampooing straightens frizzy hair and helps to keep it in place. Its moisturizing properties also act like a hair setting gel to detangle unruly hair.
Moreover, it softens frizzy hair, keeping it soft and shiny.
Use pomegranate seed oil to make your own DIY Hair Serum for Frizzy Hair
8. Makes Hair More Lustrous:
Pomegranate seed oil, when combined with almond or jojoba oils, and applied to the hair every week, ensures extra luster, shine and strength to the hair.
9. Strengthens & Adds Life To Dull Hair:
Another notable beauty benefit of pomegranate seed oil is its ability to strengthen dull hair. Apply warm pomegranate oil directly on the hair and wrap it up with a hot towel for half an hour at least to let the scalp absorb it.
Rinse off with a herbal shampoo, using a conditioner thereafter.
The gloss in your otherwise dull hair is bound to bounce back.
10. Great For Foot Treatment:
Those suffering from cracked heels and excessive dead ski on their feet will find that regular massaging of pomegranate seed oil helps in healing such conditions faster. It's also an excellent oil for full body massaging and will leave you completely relaxed and rejuvenated.
Don't miss: Homemade Foot Scrub for Dry Cracked Feet
Where to Get Pomegranate Seed Oil
I absolutely love Leven Rose's Pomegranate Seed Oil! It's the real thing so you can get our hands on it and start using it right away for beautiful skin & hair!

Are you impressed by the beauty benefits of pomegranate oil? What's your favorite beauty use of pomegranate oil?