Discover 10 beauty benefits of rooibos tea you never knew before! 
What Is Rooibos Tea?
 Rooibos tea is native to South Africa and has been around for centuries. It belongs to the legume family, and its botanical name is Aspalathus linearis. It's also called the red bush because of its broom-like looks and is found in the mountains close to South Africa's Cape of Good Hope. Let's have a look at the beauty benefits of rooibos tea for hair, skin and more!
The Properties of Rooibos Tea
Rooibos tea is a caffeine-free, zero-calorie, low-tannin tea that has no oxalic acid. It's mineral content too, is rich with calcium, iron, copper, potassium, zinc, manganese, alpha hydroxy acid and magnesium being present in substantial amounts. It is endowed with 50 percent more antioxidants than in green tea and these include nothofagin and aspalathin.
Buy Organic Rooibos Tea
Organic Rooibos Tea Bags | 100 Tea Bags | Eco-Conscious Tea Bags in Kraft Bag | Raw from South Africa | by FGO
Top 10 Beauty Benefits of Rooibos Tea
Rooibos tea is considered to be the iconic South African national beverage and became a global commodity in the Forties. It's basically a medicinal herb and in green or unfermented form has a mild taste. Fermented rooibos on the other hand, is sweet to taste. Now let's look at the top 10 beauty benefits of rooibos tea:
1. Prevents premature skin ageing:
Rooibos contains a powerful antioxidant called superoxide dismutase, which prevents premature wrinkling and skin ageing by enhancing healthy skin cell production.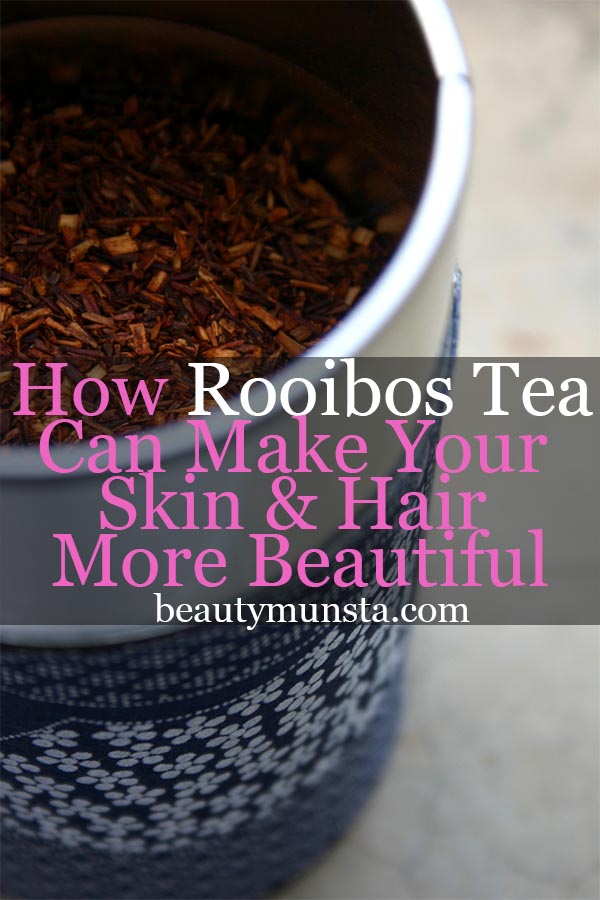 2. Protects against skin disorders:
High flavonoid levels in Rooibos tea protect the skin from conditions like acne and eczema. This is achievable by either drinking the tea to increase the body's immunity or applying it directly to the skin.
3. Treats bacterial infections:
The tea's hypoallergenic and anti-bacterial properties fight numerous bacterial infections like rosacea, bacterial dermatitis and also in alleviating skin allergy conditions.
4. Promotes overall skin health:
When drunk regularly, the high levels of zinc and vitamin D in Rooibos tea makes the skin glow by eliminating all dead cells that accumulate on the skin over time.
5. Face cleanser:
A quarter cup of Rooibos tea may be combined with one teaspoon of turmeric powder and applied to the face to rejuvenate facial skin. The tea however, has to be strong and needs to be boiled for at least 10-15 minutes to get a dense and strong liquor. Blend the turmeric well as the tea boils and let it cool. Dip a piece of cotton wool and apply to the face, letting it dry naturally. Wash off with lukewarm water. Your skin will surely feel smoother and moisturized without being sticky. Tackles facial rashes and other breakouts quite effectively.
6. Comes with great astringent properties:
Rooibos tea contains some powerful astringent qualities that makes it an excellent skin emollient, particularly for oily skin. Rooibos is easily absorbed by the skin and makes greasy skin appear soft, hydrated, smooth and lustrous by balancing the skin's natural oils. Regular application on the face after washing it with a mild soap or face cleanser yields the desired results.
7. Protects the skin from natural hazards:
As we know, UV radiation from strong sunlight and environmental pollutants are mainly responsible for the presence of free radicals that make your skin more sensitive and vulnerable to damages. Regular application of Rooibos tea to the body's exposed parts protects the dermal cells by forming a coating around them, thus preventing intra-cell damage.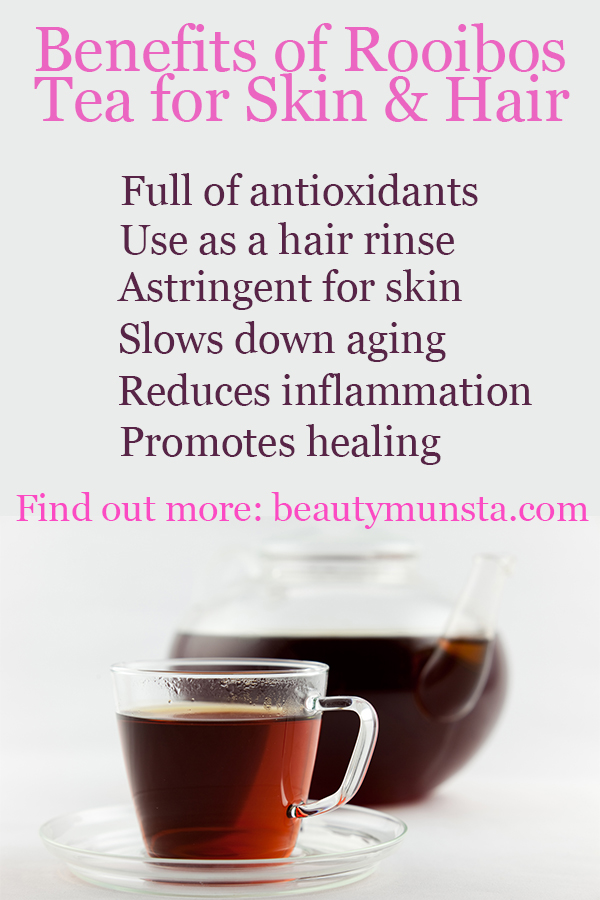 8. Enhances hair growth:
Another beauty benefits of rooibos tea is how it promotes substantial hair growth. This is thanks to the presence of minerals such as zinc, copper, calcium and potassium that strengthen hair roots and act as food for the hair. Its high zinc content particularly, is the main ingredient for better hair growth.
9. Prevents premature graying:
Rooibos tea is known to strengthen your immunity. Also, it protects your body from pollution and stress, the two main factors responsible for premature graying. Its high copper content makes this happen and sipping the tea regularly ensures this.
10. Hair conditioner:
Washing your air with rooibos tea will give it an extra shine and bounce because it acts as a balanced nutrition for your hair. Many South African natives use regular shampoos but wash off with the tea for that extra luster.