There are so many aromatherapy and medicinal benefits of myrrh. But do you know about the beauty benefits of myrrh essential oil?
Myrrh is the resin or gum-like substance that is collected from a tree known as Commiphora myrrha. It has a botanical name that is similar to frankincense and it is one of the renowned essential oils, which is largely used in the universe.  The resin or gum-like substance for the Commiphora myrrha tree is collected and made into myrrh essential oil through steam distillation.
Myrrh oil has a sweet and smoky or musty scent, but sometimes the aroma could smell bitter.
The word myrrh was coined from an Arabic word called "murr", which means bitter. The myrrh tree is commonly grown in the Middle East and Africa and it is native to Yemen, Somalia and Arabia. In ancient times, myrrh was commonly used and it is still used as medicine by the Egyptians and the Chinese. It's been largely used in cosmetics and the Greeks have also used it in the past to stop bleeding in wounds because of its healing power.
Myrrh oil has a pale yellow to amber color and it is viscous in feel. Myrrh essential oil has a lot of therapeutic properties, making it essential in the real sense. These therapeutic properties include antiseptic, anti-inflammatory, fungicidal, astringent, antimicrobial and so on. It also has chemical properties such as a-pinene, heerabolene, cuminaldehyde, limonene, acetic acid, cadinene and more.
Where to Get Myrrh Essential Oil
Edens Garden Myrrh Essential Oil, 100% Pure Therapeutic Grade (Inflammation & Skin Care) 10 ml

Top 4 Beauty Benefits of Myrrh Essential Oil
The properties of myrrh essential oil listed above obviously show that this essential oil must be very useful for some beauty tips. Shortly, we will be discussing the beauty benefits of myrrh essential oil – that is, out of its numerous benefits, we are going to focus on the ones that can help you become more beautiful.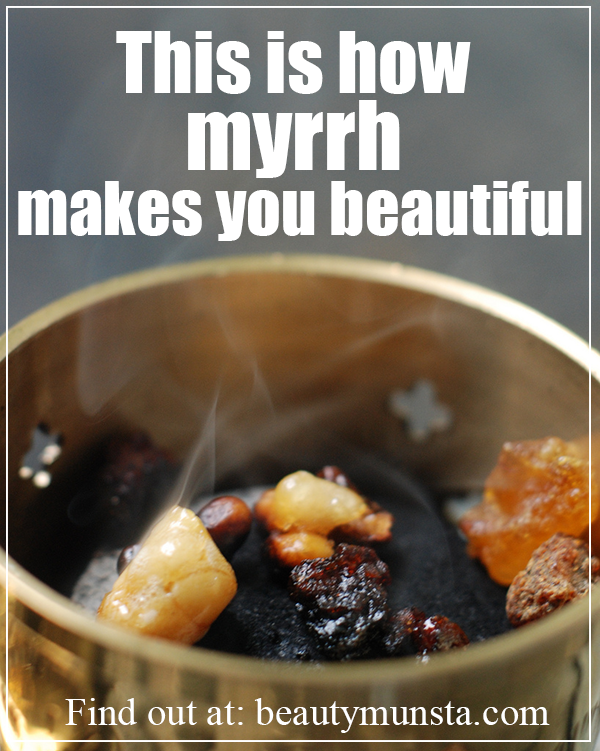 1. Soothing Foot Cream
After your feet must have endured a long day with you probably standing through your working hours, it will be good to pamper those feet so that they can keep serving you accordingly. In fact, you need something that will not only moisturize and keep your feet soft, you likewise need what will ease foot pain and fatigue that comes with long standing, too. Myrrh essential oil can help relax your feet and put you in a good mood.  Simply prepare this homemade mixture and give yourself a regular foot bath.
Ingredients:
Procedure:
Prepare hot water in a bowl, mix all the ingredients together, then finally mix the resulting mixture into a bucket or foot soak tub containing hot water.
Bath your feet with the solution. Try to repeat the process regularly and your feet will have you to thank.
2. Acne Removal
Are you regularly applying medicated items to your face, yet your acne breakout has not in any way reduced? If yes, you now have to try myrrh essential oil! Myrrh has unique antimicrobial properties that help clear acne breakouts, reduce scarring and heal skin faster. It also has powerful anti-inflammatory, healing and cleansing properties.
Ingredients:
Procedure:
Simply pour witch hazel and myrrh essential oil into an amber glass dropper bottle and mix vigorously. Essential oils tend to emulsify in witch hazel due to its alcohol content. Next, add and mix the tea tree oil if you wish to. Tea tree adds extra anti-acne power. Store your mixture in a dark and cool place.
Use a cotton pad and apply the mixture to the acne affected area regularly.
3. Serves as an Astringent
The astringent property of myrrh essential oil makes it effective for skin tightening. It tones, tightens and smoothes the skin making it look more supple and youthful. Dilute myrrh oil with a suitable carrier oil and apply to your skin after face wash.
4. Ingrown Hairs Removal
An ingrown hair is a shaved hair that grows back into the skin and this can cause inflammation. However, another of the beauty benefits of myrrh essential oil is its ability to prevent and remove these hairs. Myrrh essential oil is able to get rid of ingrown hairs because it will exfoliate and remove the ingrown hairs quicker.
Ingredients:
Procedure:
Mix all the contents together then exfoliate the part you want the ingrown hairs out. You can dilute the mixture with filtered water if your skin is very sensitive or dry.