Full of unique components and compounds, jasmine oil has unique aromatherapy uses. Explore the beauty benefits of jasmine essential oil in detail here.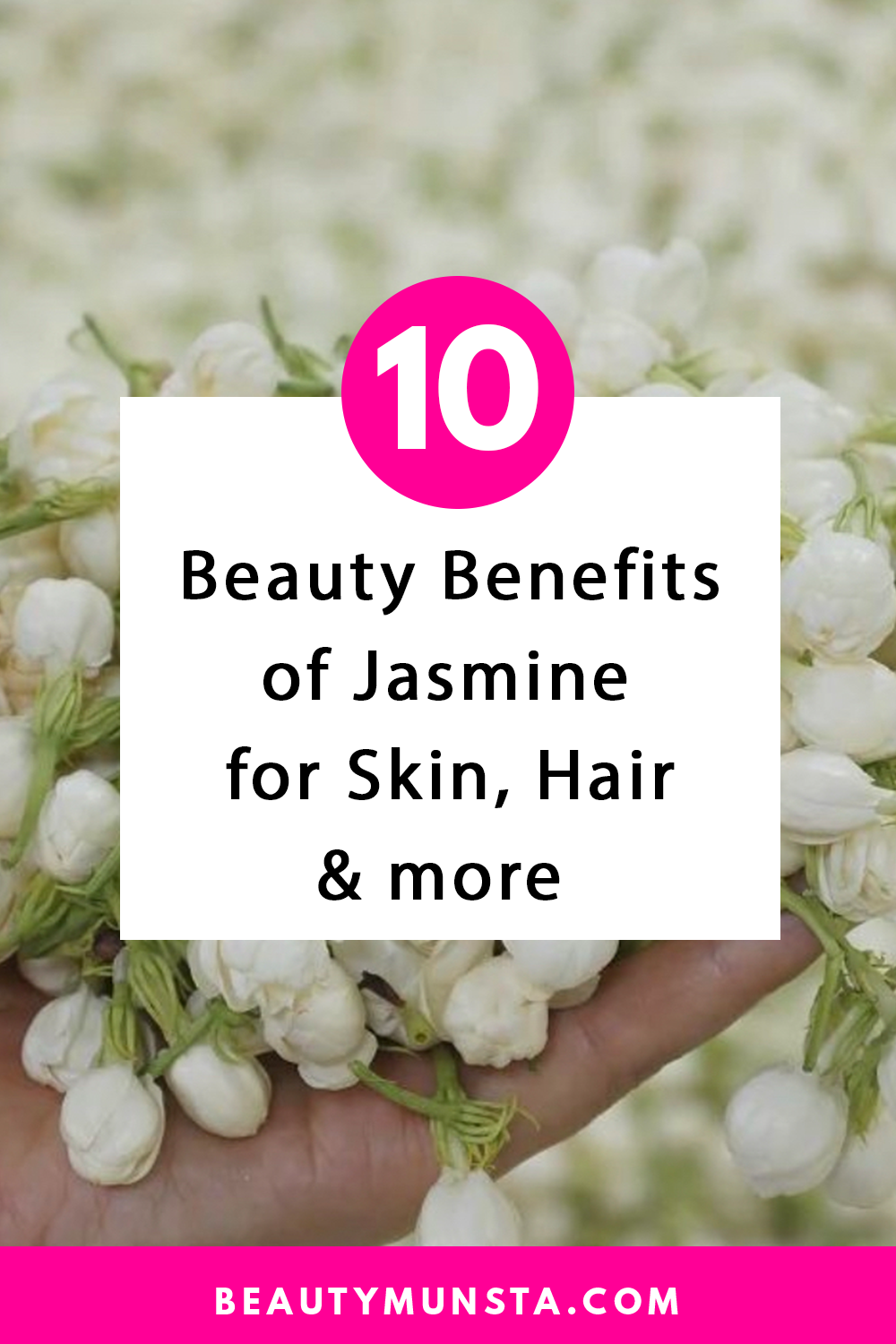 What is Jasmine Essential Oil?
Do you know where jasmine oil comes from? It is extracted from hand-picked jasmine flowers and contains a variety of beneficial properties. Jasmine oil is a strongly fragrant oil with wide variety of aromatherapy and cosmetic benefits, as we shall explore in this article.
Jasmine is a small white petaled flower with a pleasing, sweet fragrance. For me, it was an amazing support during my labor and child birth.
The flower is associated with love and romance, and you will find some referring to their loved ones as "Jasmine." This flower is noted for releasing the majority of its scent in the evening and night.
Where to Get Jasmine Essential Oil
SenseLAB Jasmine Essential Oil – Skin and Hair Care – Massage Oil – 100 % Pure Extract Jasmine Oil Therapeutic Grade for Aromatherapy Diffuser (10 ml)

Top 10 Beauty Benefits of Jasmine Essential Oil
The oil extracted from this flower is very beneficial, and if you need most of your beauty issues sorted, you can resort to jasmine oil.
Here are the top ten beauty benefits of jasmine essential oil:
Fades Scars and Removes Blemishes: If your face has blemishes or acne scars, then jasmine essential oil is for you. With regular use of this oil, the scars left by acne, wounds and boils slowly fades away leaving your skin without any scar spots. Jasmine essential oil is good in cicatrizing that enables it to fade away any scars on your skin. Pregnancy stretch marks can also be removed with jasmine oil (after the birth of your child. Do not use jasmine oil during your pregnancy as it is known to induce labour).
Used for Eczema Treatment: This is where stress causes skin conditions. Increase in stress would worsen the appearance of your skin leading to some of the common skin conditions and effects. Jasmine essential oil being one of the stress and depression relievers will assist in treating skin conditions due to Eczema. It helps in the healing of emotional pains that lead to stress. This will be done by inhaling the oil's aroma regularly. You can also massage on the skin the oil to reduce the skin conditions.
Moisturizing Dry Skin: Some people always suffer from dry skin all through the year. Chronic dry skin leads to premature wrinkles and aging. With the use of jasmine essential oil mixed in a carrier oil, the skin will be able to hold natural moisture better and reduce dryness. Within weeks of use you'll notice an improvement in the suppleness and youth of your skin. It is best used at night for its restorative effects.
Stunning Fragrance: There's nothing quite like the exquisite, romantic and captivating scent of jasmine. Wearing the gorgeous scent of jasmine makes you more attractive because of its aphrodisiac effects. It boost libido and improves the mood. Jasmine essential oil has a refreshing fragrance which you can smell over and over again as you love it at its first smell. It can be used as perfume and works wonders in eliminating even the strongest of odors.
For Hair Growth: The moistening characteristic of the jasmine essential oil are very useful in preventing hair breakage and restoring damaged hair follicles. The oil can penetrate through the hair cuticle hence maintaining the elasticity of the hair strands. The moisture retained on the follicle is very essential in strengthening the follicle making your hair healthy. This is what makes jasmine helpful in boosting hair growth.
Elimination Of Scalp Conditions: Got dandruff? Jasmine oil can help. Further, jasmine oil acts as an antiseptic, which can help eradicate harmful bacteria on your scalp. This helps in controlling scalp acne, scab formation on the scalp, dandruff and other irritating scalp conditions. It has a natural healing characteristic which reduces infections on your skin.
It Softens Hair: Hair is one of the main factors in beauty, it needs to be good looking and pleasing to the eye. Jasmine essential oil has a hair softening characteristic from the moistening attribute it contains. It adds sheen to the hair, as well. With soft hair, you can detangle it easier compared to when the hair is compact and dry. It will be a solution to your dry and brittle. This characteristic will also be necessary for ensuring that the hair follicles do not break easily.
Tames Frizzy Hair: Usually frizzy hair is caused by dryness and this can be tackled by using jasmine oil. Frizzy hair can be tamed with the added moisture on the hair follicles. This makes your hair look more beautiful and attractive naturally. You can add the appropriate number of jasmine essence drops to your regular hair oil and massage it onto your scalp and hair daily.
Controls Oiliness: Excess sebum production in the skin leads to a greasy appearance, which can be annoying. Jasmine oil contains hormone-balancing traits which can help in the regulation of skin oil. It helps to reduce oiliness while preventing skin from getting too dry. Maintenance on the equilibrium level will ensure that your skin is supple and youthful looking. Regularly massaging the oil to your skin to help your skin stabilize.
For Beautiful, Glowing Skin: Next to geranium oil, jasmine essential oil is one of my close favorites for beautiful, balanced and glowing skin. It gets rid of blemishes, acne, acne scars and broken capillaries on the skin. Jasmine oil leaves your face glowing and radiant. What's more, it's an absolute pleasure to massage into the skin due to its captivating scent. You'll get addicted!
Want to get rid of your acne? Check out: 40 + DIY Acne Remedies That Work! (Including Pimples, Acne Scars & Blemishes)
Mixing Jasmine Oil For Beauty

Jasmine oil is such a relaxing oil, that puts you in a chill, happy and good mood. This is all due to its enchanting aroma that enhances the release of some hormones such as serotonin which is used to fight depression.
There are so many more beauty benefits of jasmine, the list could go on and on! But for now I hope you've garnered that jasmine oil is a must-have for your beauty collection. For more details on how to correctly mix jasmine essential oil for topical application, please check out this guide: How To Mix Essential Oils With Coconut Oil
For quick reference, the thumb rule is that for every teaspoon of carrier oil, mix in 3 – 5 drops of organic jasmine oil from trusted sources.
What are your favorite beauty benefits of jasmine essential oil?