Find out 5 beauty benefits of mango! You can use it internally and externally for a prettier you!

Are There Any Beauty Benefits of Mangoes?
Yes, mangoes are exceptionally tasty, pulpy, tropical fruits that we may indulge in solely for their taste. But did you know that mangoes have amazing effects on the beauty of your skin and hair, too?!
Mangoes are nutritional powerhouses, containing various nutrients, live enzymes and minerals. Here's a quick breakdown of some of its nutritional content:
Vitamins: Vitamins A, B6, C, E, K and more!
Minerals: Calcium, Copper, Iron, Phosphorus, Potassium, Sodium, Selenium
Others: Folate, Choline, Pantothenic Acid
Fibers: Soluble and insoluble
  5 Beauty Benefits of Mango Fruit
Let's take a look at some of the beauty benefits of mango fruit: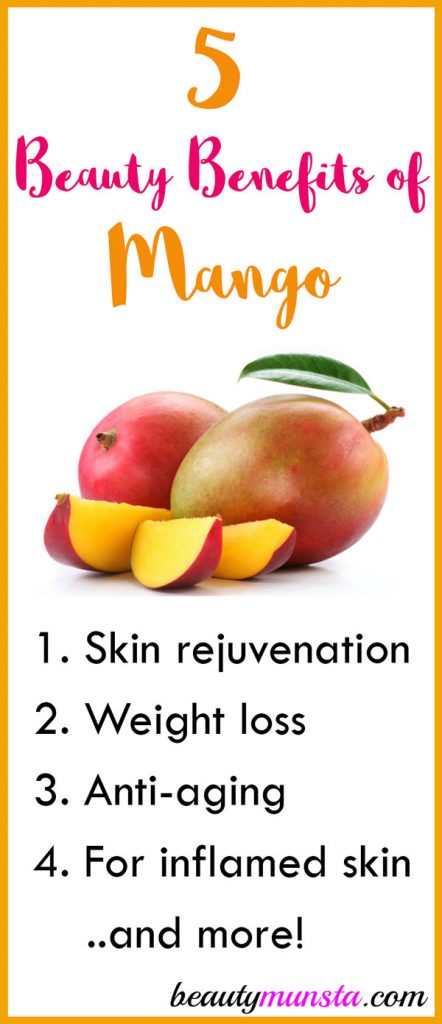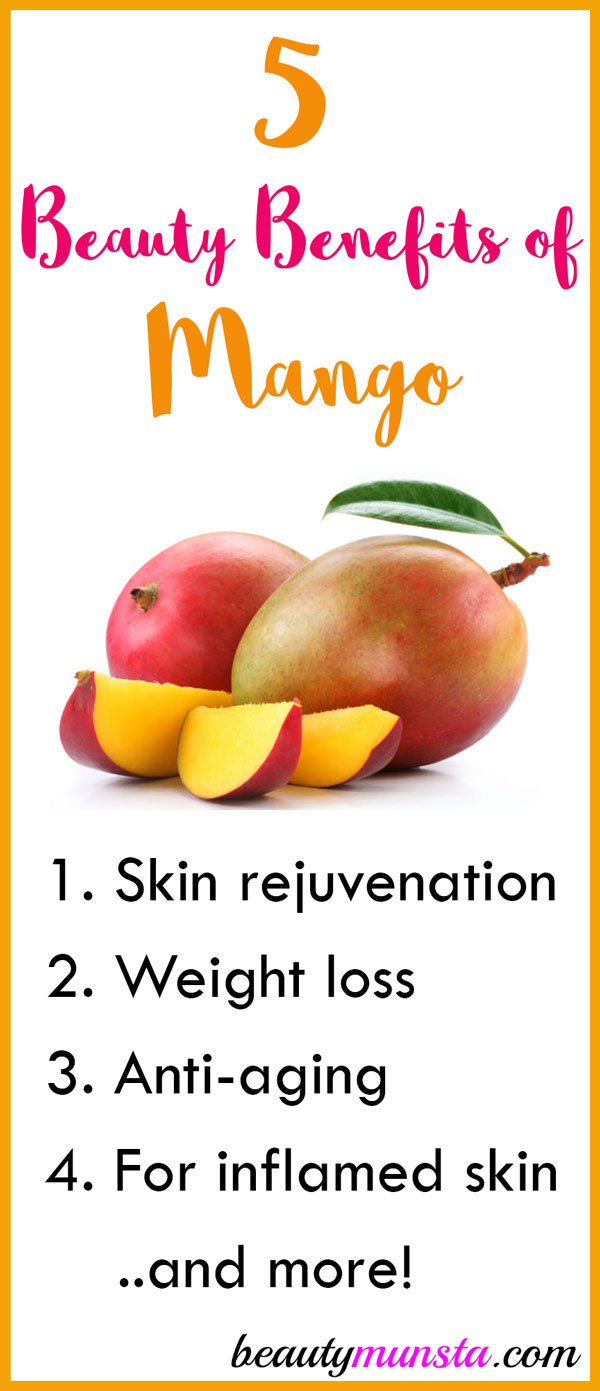 1. Powerful Anti-Aging Properties:
Mangoes could be the secret fountain of youth! They have very rich anti-aging properties that help prevent wrinkles, fine lines and age spots. The phytochemicals in mangoes help support DNA renewal, replenish the elasticity of the skin and hydrate/moisturize the skin.
2. Combat Free Radical Damage:
We face increased attacks from free radicals than ever before thanks to pollution, pesticides and work stress. Free radicals wreak havoc on our skin cells and hair cells. Mangoes are rich in amazing anti-oxidants that work to neutralize oxidative stress from free radicles, making our skin and hair healthier.
3. Promotes Weight Loss:
If you're a weight loss enthusiast, I'm sure you've heard of the wondrous fat cutting properties of mangoes, particularly the African mango. Yes, although mangoes are rich in sugar and carbs, they contain fat shredding phyto-chemicals especially in the peel and right under the peel!
4. Mango Face Mask:
The simplest mango face mask is simply getting a thick smooth puree of a small mango and applying it all over your face for at least 10 minutes a day. The powerful antioxidants and active enzymes will help remey a wide range of skin conditions. Mango can help you even out your skin tone, lighten your skin, reduce acne and pimples, remove black heads and more!
5. Fights Inflammation:
Inflammation is the cause of almost all dis-eases in the body. Eating mangoes helps fight inflammation on the skin which manifests as acne, eczema, psoriasis, skin allergies and more.

What beauty benefits of mango do you like best?!