Read 14 amazing beauty benefits of coconut milk for skin and hair in this post!
If you've heard of coconut oil, chances are you've heard of coconut milk too! Coconut milk is another valuable and edible ingredient got from the amazing coconut fruit. People from the Eastern tropical coasts especially in Philippines and Southern India, make their own coconut milk and use it in their cooking especially for sauces.
Coconut milk can be used topically as well as internally. It has a wonderful sweet taste and provides nutritive benefits to our skin, hair, nails and internal system.
14 Beauty Benefits of Coconut Milk for Skin & Hair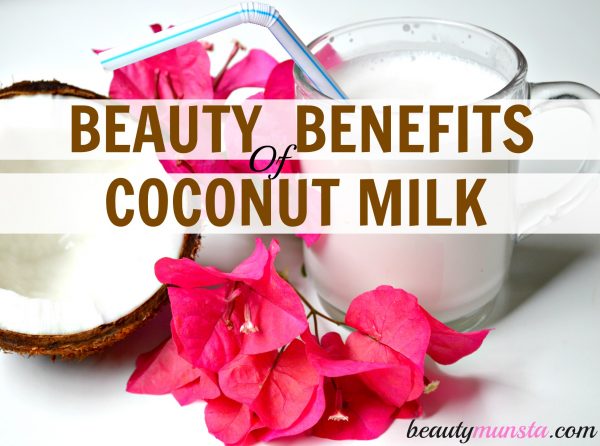 1. Skin Cleanser
Coconut milk is has a light consistency and can easily be used to cleanse skin. It can penetrate deep into skin pores and drive out grime, dirt, pollution and germs. It dissolves excess dead cells and sebum stuck deep within the pores. Use a clean cotton ball dipped in coconut milk to wipe your face of dirt and grease.
2. Great Moisturizer
Coconut milk is rich in healthy fatty acids which deeply moisturize skin cells, keeping skin soft smooth and supple. It contains water and fatty acids that pumps moisture into dry skin cells. Soak a clean cotton ball with coconut milk and dab it onto your dry face to hydrate and lock moisture.
3. Organic Hair Conditioner
Rich in healthy fat and oils, coconut milk is an excellent organic hair conditioner! It hydrates dry strands, strengthen the hair shaft and add a natural shine to your tresses. The moisture and fatty acids within coconut oil may wipe out your dandruff, promoting a healthy scalp. Pour fresh coconut milk into a clean spray bottle and spritz this on your scalp before a shower. Leave this on for 30 minutes before rinsing.
4. Nourishes Scalp and Hair Follicles
This vegan milk is absolutely nutritious for our hair follicles. Coconut milk is rich in powerful antioxidants including B-vitamins, vitamin C, E and minerals like selenium, iron, zinc, manganese, magnesium and phosphorous. These nutrients penetrate deep into the hair follicles and stimulate hair growth. Coconut milk is also well known for preventing hair loss and balding! Use a clean cotton ball to apply coconut milk evenly on your scalp an hour before a shower.
5. Prevents Acne
Coconut milk contains antiviral, antibacterial and antiseptic properties that are all great for treating acne and keeping more acne away. Drinking coconut milk works wonders for clearing acne! Lauric acid is a healthy fatty acid in coconut milk that is converted by the body into an antiseptic and antiviral compound called monolaurin, that is effective in fighting off infection. This helps stave off acne germs and toxins that contribute to acne from within the body.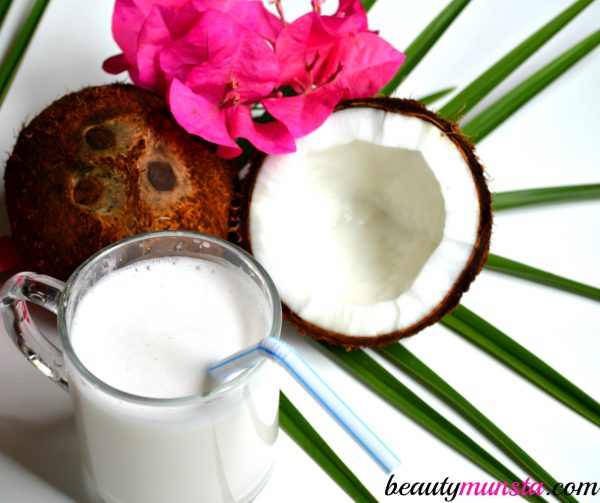 6. UV Protection
The oil from coconuts has an SPF of about 4! Meanwhile, coconut milk also has a small degree of sun protection. It will bolster the skin's UV defense by fighting against free radicals and steering off harmful sun's rays. Get UV protection either by drinking coconut milk or applying it on your skin. Better yet, do both for ultimate sun protection!
7. Prevents Sagging Skin and Wrinkles
Coconut milk also contains anti-aging benefits for skin and hair. Topical application of coconut milk will improve the skin's elasticity, preventing sagging cheeks. It also contains a significant amount of vitamin C. Vitamin C boosts collagen production and fights off oxygen-scavenging free radicals from the skin and hair.
8. Softens Rough Skin
Just like coconut oil, coconut milk can also soften rough patches of skin by lubricating, moisturizing and hydrating. The healthy fatty acids are at work here. Pat coconut milk onto your knees, elbows, heels and any other rough spot to lock in moisture and soften it.
9. Maintains the Body's Normal pH Balance
Coconut milk provides amazing alkalinic benefits to our bodies' internal environment. Acidity causes a whole lot of health as well as skin and hair problems. Our diet today consists of very many acidic foods such as tacos, fries, sodas, refined sugar, lots of salt, that we eat every single day. These foods cause our bodies to become incredibly acidic without us even knowing it. This leads to a lot of hair loss and a bad skin complexion. Coconut milk has a sweet creamy taste and is highly nutritious. Enjoy a glass everyday to regulate your body's normal pH.
10. Heals Sun Damaged Skin
The fatty acids and oils in coconut milk soothes sunburned skin, reduce redness, prevent skin peeling and restore moisture to the inflamed skin. It has cooling properties that relieves sun damaged skin. Fully saturate a soft wash cloth with coconut milk and place it on your sunburned skin for 20 minutes. For your face, apply a thin layer of coconut milk with a clean cotton ball. Leave it on till it dries and repeat the application. Alternatively, adding coconut milk to bath water provides instant relief.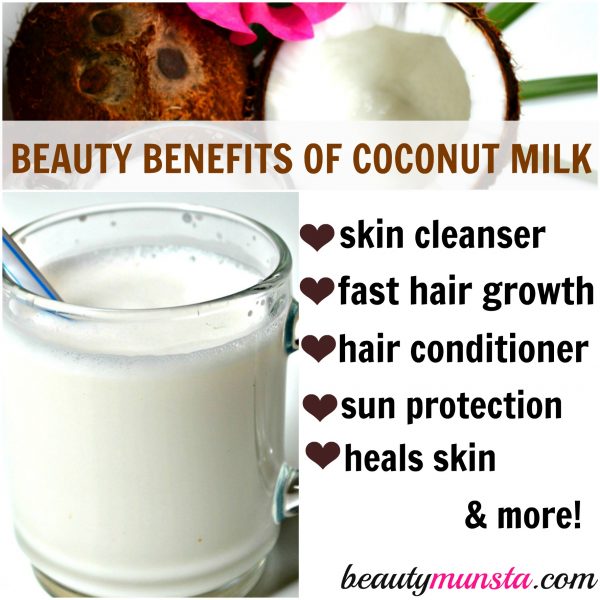 11. Soothes Dry Skin
Dry skin comes about when your skin lacks moisture and oils that are responsible for keeping skin looking smooth. Coconut milk contains healthy fatty acids and moisture that will sink deep into your skin cells and pump them with hydrating nutrients. Pat coconut milk onto your dry skin to hydrate. To soothe your whole body, pour a cup of coconut milk into your bath water and relax for smooth and soft skin.
12. Exfoliates Skin Cells
Coconut oil will gently exfoliate your skin cells, removing dirt and grime. It will penetrate deep into skin pores and dissolve the stale sebum and excess dead cells, driving them out. It will also soften flakes on the surface of the skin and remove them. Add coconut milk to your bath water to wash off excess dead cells.
13. Make Up Remover
Gently wipe off eye makeup using coconut milk. When it comes to removing eye makeup, I always use something natural and organic because I wouldn't want to use something chemical so close to my eyes. Wet a cotton ball with coconut milk and gently swipe it over your eyes to remove makeup in less than a minute. Added bonus: The nutrients in coconut milk will nourish the sensitive skin around your eyes and promote long luscious lashes.
14. Evens Out Discoloration
Coconut milk is rich in vitamin C, E and other powerful nutrients that can lighten blemishes, dark spots, acne scars and age spots. It can also help even out skin discolorations and pigmentation. Wash your face daily with coconut milk to remove skin discolorations.
Where to Get Coconut Milk

I try to make my own whenever I'm making myself a smoothie, a refreshing natural sweet drink or a dish that requires it, but there's no harm in buying organic coconut milk or using coconut milk powder for your beauty uses!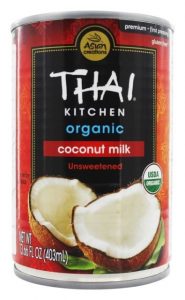 Take Care
Please ensure you're not allergic to coconut milk before using it on your body!