You simply can't ignore the beauty benefits of rice water! It's a cheap, accessible and powerful home remedy for many conditions! Learn how to make rice water below, recipes for rice water hair growth spray & rice water for skin like toner recipes all below! Keep scrolling!
What Are The Beauty Benefits of Rice Water?
Rice water has been used as a home remedy for thousands of years. It is especially popular in China and India, where rice is the staple crop.
After cooking rice that is eaten on a daily basis by ethnic people, the milky water that is left behind is never discarded! It is seen as a precious liquid that has many uses for skin, hair, good health and more!
There are 3 types of rice water known in the beauty world. These are:
Soaked rice water: Where raw rice grains are soaked for 30 minutes or more in water.
Cooked rice water: The water left behind after cooking rice.
Fermented rice water: Where cooked rice water is left to ferment overnight before consumption.
In this article, we are going to be looking at the beauty benefits of cooked rice water in particular.
Top 10 Beauty Benefits of Rice Water for Hair, Skin & More!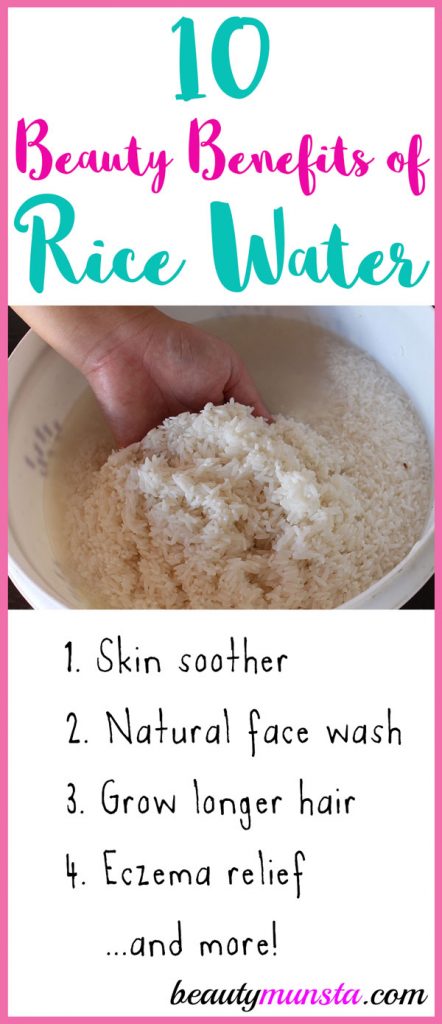 1. Drinking Rice Water
First things first, rice water is a delicious and refreshing drink that is said to cool down the body. According to eastern tradition, excessive body heat is the reason for many ailments like irritated skin, acne, hair loss and even poor eye sight and headaches. Drink rice water daily to cool down excessive body heat and to ease digestion.
2. Washing Your Face
After you scrub your face with your daily facial cleanser or face wash, use rice water once again to wash your facial skin. You can even ditch the soap completely by using a paste of rice water and bentonite clay to wash your face every day!
3. Rice Water Toner
Toners work to minimize your pores and make your skin smoother. Rice water has astringent properties that make it a great toner. Simply dip a cotton ball in rice water and pat it all over your face and neck.
4. Grow Longer Hair
You can rinse your hair with rice water for hair growth but a better way to harness rice water to grow longer hair faster is by using it in a hair mask.
Thick Hair Growth Mask: Make a paste of mung bean flour and rice water, with the addition of hair growth stimulating oils like cedarwood, lavender and citriodora. Apply this paste on your scalp and hair, leaving it on for up to 15 minutes. Now wash off with plenty of water. Do this once a week.
Hair Growth Spray: Soak 1/4 cup washed rice and 1 Tablespoon of fenugreek seeds in 2 cups of water. Let it soak overnight. The next day, strain into a hair spray bottle and spray onto your scalp. Leave in the whole day, or wash after 15 minutes.
5. Rice Face Mask
Doing regular rice face masks is a wonderful way to prevent blackheads, pimples, wrinkles, dark spots and age marks! Simply use rice water to act as your liquid agent when making face masks with oatmeal, clays or other natural dry ingredients. For anti-aging try this mask: mix 2 tsp of oatmeal powder with 2 tsp of rice water and 4 drops of geranium essential oil. Apply the mask for 10 minutes daily.
6. Sunburn Remedy
Rice water's remarkable cooling properties are the ultimate soothing solution for sunburns. Rice water immediately cools down your skin and prevents the sun burn from getting worse with time.
7. Acne Treatment
Mix equal portions of bentonite clay, activated charcoal and rice water to make a thick paste. Add 4 – 5 drops of any acne-fighting essential oil such as tea tree, chamomile or lavender. Apply this paste all over your acne zones to get rid of acne.
8. Soothing Spray
To soothe your skin from any sort of irritation, including skin allergies, bug bites, rashes and more, simply fill up a spray bottle with rice water and liberally spritz on your skin as and when needed.
9. Eczema Relief
Eczema is a common skin condition characterized by rash like bumps anywhere on the skin. Although doctors don't know what exactly causes eczema, many home remedies such as rice water are very helpful in reducing the condition. Apply an equal mixture of raw apple cider vinegar and rice water onto eczema patches using a cotton ball or small clean cloth. You can do this as many times a day as you need. This will help soothe and dry out eczema.
10. Hair Conditioner
You need at least 1 cup of rice water, depending on the length of your hair. Transfer the rice water into a squeeze bottle and add 10 drops of rosemary essential oil, which is amazing for hair health. Shake properly and pour slowly over your hair after shampooing. Let it rest for 10 minutes before rinsing off.

Which beauty benefits of rice water have you experienced in your life? For me, it's definitely the skin soothing effect and the body cooling effect as a drink. I'm yet to try it for my hair, as I'm currently doing a clay hair wash experiment!