The beauty benefits of hemp seed oil will have you wanting to buy a bottle of it ASAP!
Hemp seed oil is extracted from hemp seeds from the plant Cannabis sativa. But don't be worried! Hemp seed oil is not at all like cannabis! It will not get you high. That's because it does not contain detectable Delta-9-Tetrahydrocannabinol (THC) or Cannabidiol (CBD) that is the compound that gives cannabis it's psychoactive properties.
Now that's out of the way, did you know that hemp seed oil is called Nature's most perfectly balanced oil? And did you know that it's one of the most nutritious oils ever?! Yes that's right! It contains 21 amino acids and a rich content of omega 3 & 6 fatty acids, all responsible for promoting excellent heath and amazing skin & hair!
To know more about hemp seed oil, check out its ingredient profile below!
Hemp Seed Oil Ingredient Profile
♥ Scientific Name:
Cannabis sativa
♥ Other Names:
Hemp seed oil is also called hemp oil
♥ Origin:
Hemp originates from China, India and the Middle East.
♥ Color and Smell:
Hemp seed oil has a light to dark green color. It has a distinct nutty smell and flavor.
♥ Texture:
Hemp seed oil has a thin and dry consistency. In fact, it's considered the 'driest' of all vegetable oils.
♥ Comedogenic Rating: 0
♥ Shelf Life:
14 months
♥ Potential for Irritation:
Low
♥ Precaution & Tips
Before use, do a patch test on your inner elbow/wrist to see that hemp seed oil does not irritate your skin.
Refrigerate hemp seed oil to make it last longer.
If you have hypertension, heart disease or any other chronic/severe health conditions, please first consult your doctor before using hemp seed oil as it has anticoagulant properties.
Composition of Hemp Seed Oil
Hemp seed oil is very nutrient-dense. As mentioned above, it contains 21 amino acids! It also has a 3:1 ratio of omega 6 fatty acids to omega 3 fatty acids which matches the balance required by the human body. Some of the nutrients found in hemp seed oil include:
Linoleic acid
Alpha linoleic acid
Gamma Linoleic acid
Vitamin A
B-vitamins
Vitamin E
And more!
Okay, now let's explore 14 marvelous beauty benefits of hemp seed oil below!
14 Beauty Benefits of Hemp Seed Oil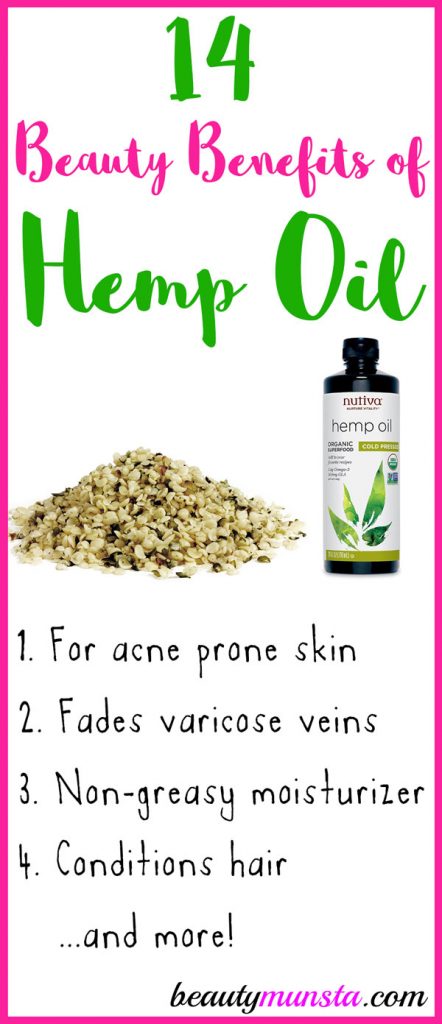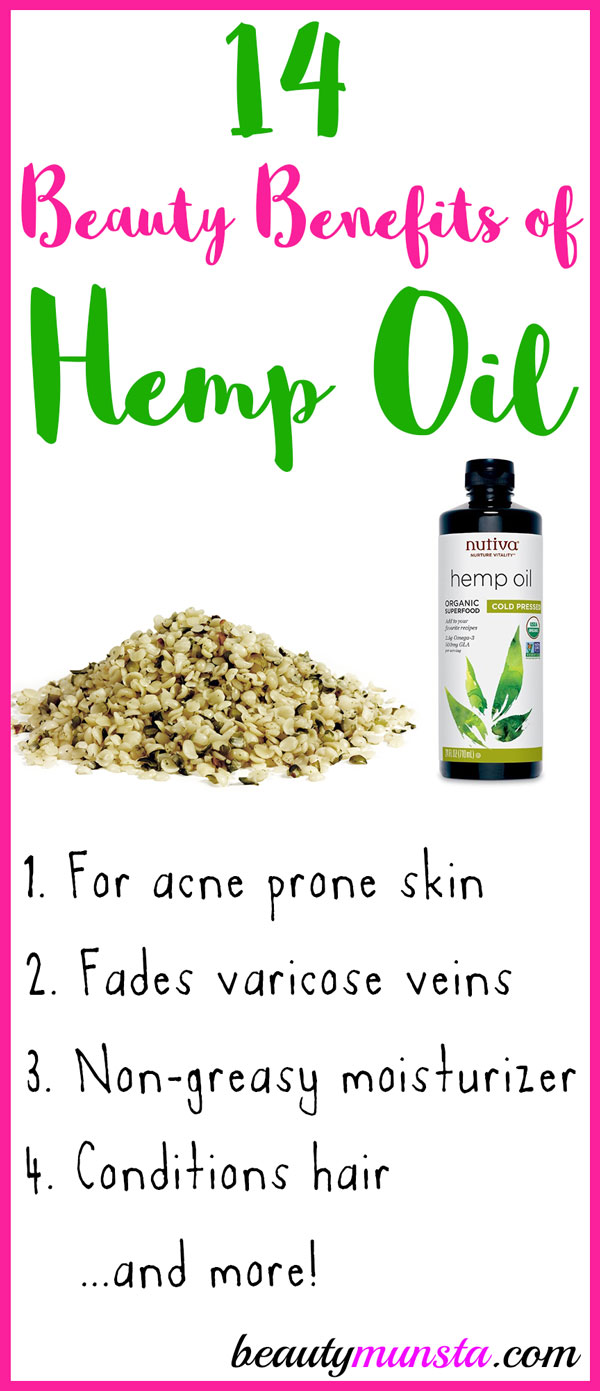 1. Non-Greasy Moisturizer
Hemp seed oil is a 'dry' oil. This means when applied to skin, it immediately sinks in and leaves skin feeling dry instead of oily! This makes it a perfect non-greasy moisturizer! Add a few drops of essential oils to give it a pleasant scent and voila! Your moisturizer is ready to be lathered up on your whole body!
2. Good for Acne Prone Skin
One of the best oils for acne is hemp seed oil. Why? Because it is a dry oil, has a comedogenic rating of zero and has a high linoleic acid content! This says that hemp seed oil leaves your skin non-oily, won't clog your pores and makes sebum high quality so it doesn't block pores! Here's an acne prone skin moisturizing recipe:
Acne Moisturizer: In a 2 oz amber glass dropper bottle, add 2 tbsp of hemp seed oil. Now add 3 drops of lavender essential oil
3. Makes Skin Soft & Smooth
Get softer and smoother skin by using hemp seed oil as a moisturizer! You can even make a body cream using hemp seed oil as the star ingredient as follows:
Body Cream: In a double boiler, gently melt 1 cup of shea butter till liquid over a medium low flame. Then remove from heat and add ¼ cup of hemp seed oil. Now store your melted mixture in the refrigerator for 20 minutes for it to partially solidify for easy whipping. When the time is up, add 20 drops of your favorite essential oils (I like 10 drops lavender essential oil, 5 drops tea tree essential oil and 10 drops geranium essential oil). Whip the mixture using a hand mixer for 7 minutes then transfer to a clean container.
4. Prevents Premature Aging
Applying hemp seed oil on your skin tightens and firms sagging skin. It also moisturizes skin making it feel and look supple, soft and youthful.
5. For Eczema & Psoriasis
Eczema and psoriasis can be soothed and treated using hemp seed oil. The linoleic acid content in hemp seed oil prevents and treats psoriasis. Hemp seed oil also has anti-inflammatory properties that reduce skin inflammation. Use hemp seed oil for cooking or topical application to help relieve inflammatory skin conditions like eczema and psoriasis.
6. Balances Oily Skin
Balance oily skin using hemp seed oil. It regulates sebum production which makes your skin not oily and not dry – but perfectly balanced in between.
7. Facial Cleanser
You can use hemp seed oil as a facial cleanser through the oil cleansing method! Hemp seed oil helps dissolve dirt, dead cells and stale sebum stuck within the pores and on the skin's surface. Here's an oil cleansing blend you can try out which is suitable for oily and acne prone skin types:
Oil Cleansing Blend: In a clean glass jar or bottle, combine 3 tbsp hemp seed oil, 3 tbsp moringa oil and 4 tbsp sunflower oil. Massage about ½ to 1 tsp of this oil blend onto your skin. Next, press a hot damp washcloth all over your face to open up your pores and let the oil sink in. Repeat that step once or twice more. Lastly, wipe off the excess oils off your face. Splash your face with cold water and voila! Clean moisturized glowing skin!
8. Soothes Irritated Skin
Bug bites, skin rashes and other irritated skin conditions can be soothed by applying a thin layer of hemp seed oil.
9. Alleviates Dermatitis
According to a 2005 study published in the 'Journal of Dermatological Treatment', common symptoms of dermatitis including itchy skin and dryness considerably improved after using hemp seed oil for a period of 20 weeks.
10. Fades Varicose Veins
Yes! You can also use hemp seed oil to fade varicose veins! This is a little known beauty benefit of hemp seed oil. It works because it has blood thinning properties, due to its high omega fatty acid content which helps prevent accumulation of blood on top of blood vessel valves. Use hemp seed oil in cooking and also gently massage it on your varicose veins to help fade them away.
11. Softens Rough Patches
Hemp seed oil is an excellent emollient for softening rough patches of skin. It is also rich in EFAs (Essential Fatty Acids) that seal moisture into skin cells. Rub hemp seed oil onto your elbows, knees and heels to soften them, immediately you step out of the shower.
12. Conditions Hair
Smooth a few drops of hemp seed oil on your hair length after a shower to naturally condition it. It also helps nourish and rejuvenate damaged hair strands – for this purpose, mix it with coconut oil and apply.
13. Treats Hormonal Acne
Not long ago, I shared an article on How to Use Hemp Seed Oil for Hormonal Acne. Yes, hemp seed oil balances hormones! It can be taken internally or used topically – both ways work in reducing hormonal acne naturally!
14. Moisturizes Nails & Cuticles
Rub a drop of hemp seed oil onto your cuticles and nails to prevent them from peeling. It also nourishes and strengthens them!
Where to Buy Hemp Seed Oil
Always look for 100% pure quality hemp seed oil without additives. This retains all the nourishing qualities. You can also buy refined hemp seed oil – this one has a clear color instead of the dark green color which you might prefer instead!
I love Nutiva Organic Cold Pressed Hemp Seed Oil. You can use it for cooking as well as moisturizing your skin and hair!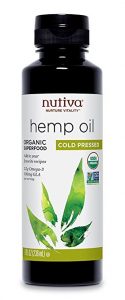 I hope you enjoyed reading through these 14 beauty benefits of hemp seed oil! Come share the ways you use hemp seed oil in your natural beauty routine!