Discover 12 benefits of hemp seed oil for skin in this article!
One of the foods I bought in my first superfood haul was a big pack of hemp seeds – for their amazing health benefits. Unfortunately, I couldn't handle the taste of raw hemp seed which I had powdered in my spice grinder so that I could eat a tsp every day.
Here's where hemp seed oil comes in! From sautéing veggies to dressing salads, you can use this natural oil if you don't particularly like the taste of hemp seeds.
Hemp seed oil also has an incredible list of benefits for beautiful skin and that's what I'll be talking about in this post! Read on to discover 10 + benefits of hemp seed oil for skin:
12 Benefits of Hemp Seed Oil for Beautiful Skin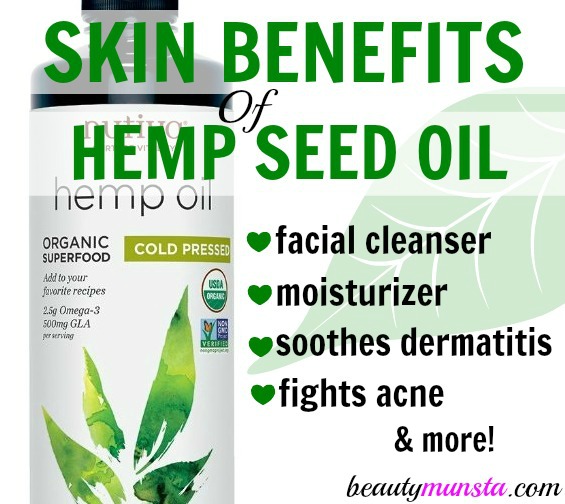 1. Facial Cleanser
Deep cleanse your skin with hemp seed oil! It dissolves stale sebum and drives out grime, dirt and pollution from deep within the pores. To cleanse your face, simply massage a 1 tsp of hemp seed oil on your face for a minute. Next, soak and wring a microfiber washcloth in hot water and dab on your face. Repeat the process three more times, then finally use the washcloth to wipe off excess oil.
2. Moisturizes Skin
Hemp seed oil has a comodogenic rating of 0, meaning it does not clog pores at all, which makes it a great moisturizer for both oily and acne prone skin types. Its fatty acid content helps create a protective barrier over the skin which prevents moisture loss.
3. Fights Acne
One of the most effective benefits of hemp seed oil for skin is it can be used to heal and calm acne prone skin. If you have such a skin type and you find that other carrier oils such as jojoba, coconut, grapeseed, etc cause breakouts on your skin, you must try using hemp seed oil. Its astringent properties balance sebum production of the skin thereby controlling greasy acneic skin. Internal consumption of hemp seed oil helps regulate hormones, thereby helping heal hormonal acne.
4. Alleviates Dermatitis
The rich omega 3 & 6 fatty acids in hemp seed oil help alleviate and soothe dermatitis. A 2005 study published in the 'Journal of Dermatological Treatment' discovered that common symptoms of dermatitis including itchy skin and dryness considerably improved after using hemp seed oil for a period of 20 weeks.
5. Heals Eczema
Hemp seed oil soothes calms and relieves itchy, painful, dry, inflamed and red eczema patches on the skin. Mix 10 drops of lavender essential oil and 5 drops of peppermint essential oil in ¼ cup of hemp seed oil. Store in an amber glass bottle and apply this blend onto the affected areas twice a day to relieve eczema.
6. Prevents Premature Aging
Rich in antioxidants, hemp seed oil is a powerful anti-aging natural ingredient for smooth wrinkle-free skin. Hemp seed oil helps improves the skin's elasticity and water retention in the skin's tissues thereby keeping skin supple & youthful. Its skin firming, tightening and toning properties also help prevent sagging skin.
7. Softens Rough Patches
Just like jojoba oil, hemp seed oil has a similar composition to sebum, which makes it an excellent emollient. It's rich EFA (essential fatty acid) content seals moisture into the skin, thereby softening and moisturizing rough and dehydrated patches. Use hemp seed oil to moisturize your elbows, knees, heels and other rough areas of your body. If your skin is extra dry and rough, you can mix hemp oil in shea butter to make a nourishing and lubricating natural lotion!
8. Soothes Skin Rashes
The anti-inflammatory properties of hemp seed coupled with its moisturizing and soothing properties help heal itchy, inflamed and red skin rashes.
9. Prevents & Helps Fade Varicose Veins
One of the less-known benefits of hemp seed oil for skin is that it can help prevent and reduce varicose veins. This is because it has blood thinning properties, due to its high omega fatty acid content, that help prevent build up of blood on top of the valve. This build-up is what causes the veins appear like they are bulging. Add hemp seeds/hemp seed oil to your diet or apply it topically on your varicose vein. Caution: If you have hypertension, heart disease or any other chronic/severe health conditions, please first consult your doctor before using hemp seed oil as it has anticoagulant properties.
10. Tightens & Shrinks Large Pores
Since hemp seed oil is a 'dry' oil with its light and thin consistency, it helps tighten, tone and firm skin. Its astringent properties help minimize large pores that secrete excess sebum which causes greasy skin, blackheads and pimples. If you have large pores, using hemp seed oil can help shrink and tighten them.
11. Prevents & Improves Psoriasis
Did you know that psoriasis can be linked to deficiency in omega 6 fatty acids? Hemp seed oil is super rich in omega 6 fatty acids and other EHA's which fight inflammatory skin conditions such as psoriasis. Include hemp seeds or hemp seed oil to your diet to help prevent & fight psoriasis. Topical application of hemp seed oil can also be used to moisturize, soothe and calm dry inflamed and itchy psoriasis patches.
12. Balances Oily Skin
Hemp seed oil has light, thin consistency and is a 'dry' oil which makes it a good moisturizer for oily and greasy skin. It's astringent properties help control excess sebum production which leads to an oily face. To use, simply rub two drops of hemp seed oil between your palms and apply on your clean face.
Take Care
Ensure that you are not allergic to hemp seed oil before using it. Use a patch test on your inner wrist/elbow to see if it's safe for you to apply – if you notice any burning, itching or skin irritation, do not use hemp seed oil on your body.
Where to Buy Hemp Seed Oil
Hemp seed oil is rich in nourishing nutrients and minerals great for healthy, skin, hair, nails and the overall body! Get organic cold pressed hemp seed oil to use in healthy cooking and for topical application as well.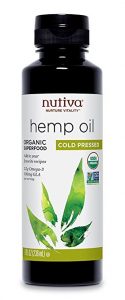 Also Read