Got normal or dry skin? Learn how to wash your face with olive oil for silky soft skin that glows!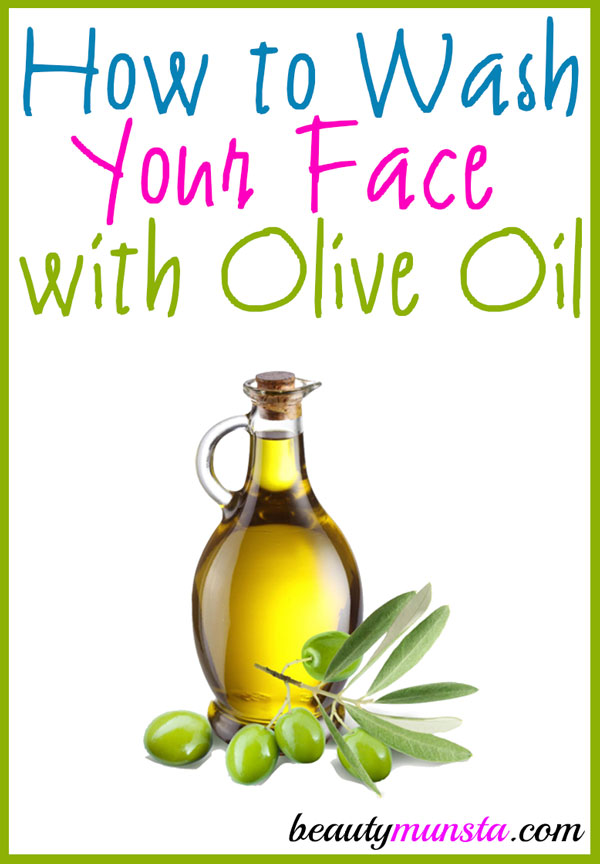 I'm sure most of us have olive oil stocked up in our kitchens. We use it for stir frying, salad dressings and maybe even washing our faces! Is it a good idea to wash your face with olive oil? It actually is! It's perfect 'face wash' for you if you've got normal or dry skin.
Washing your face with oil, also known as the oil cleansing method is a popular trend these days. And it's not just popular for nothing! It's got lovely beauty benefits, the major one being that it promotes youthful skin!
Okay let's check out some of the benefits of using olive oil on your face:
Benefits of Olive Oil for Skin
Olive oil is rich in saturated fatty acids and vitamin E, both of which are nourishing for facial skin. Vitamin E is known as the beauty vitamin in the skin care world. It's useful for treating a long list of skin woes including blemishes, age spots, discoloration, scars, uneven skin and more. Below, I'm listing the benefits you'll get when you use olive oil on your skin:
Moisturize your skin
Fade away fine lines
Promotes soft and smooth skin
Reduce wrinkles
Reduce inflammation and redness
Reduce blemishes and dark spots
Helps with scars
How to Wash your Face with Olive Oil
Here's the simple recipe you need to make to create an olive oil face wash. This face wash is not soapy and won't form a lather. It's essentially using the oil cleansing method to wash your face, just using olive oil as the main ingredient!
What you need
½ cup of olive oil
5 drops tea tree oil
5 drops lavender oil
5 drops geranium oil
Clean plastic bottle for storage
Microfiber washcloth
Directions
Pour ¼ cup of olive oil into a clean bottle. You can use an applicator bottle or an oil bottle.
Now carefully drip in 5 drops each of tea tree, lavender and geranium essential oils.
Close the bottle and shake well to mix everything up.
Your olive oil face wash is ready!
How to Use
Wet your face with warm water to open pores and soften your skin.
Now rub ½ tsp of the above mixture on your whole face for a minute. Avoid getting it into your eyes.
After applying, soak a microfiber washcloth in hot water and squeeze out the excess water.
Gently dab the washcloth on your face to allow the oil to sink in and cleanse your skin on a deeper level.
Repeat steps 3-4 again.
Finally, wipe off the excess oils on your face.
Splash your face with cold water to close pores.
Your face will feel clean and moisturized – so you might not need to moisturize it afterwards!
You can use olive oil to wash your face twice a day if you're hardcore, once at night time if you can manage or at least three times a week. If you're very busy, then you can do it once a week!