Although vetiver oil is not commonly known like lavender, tea tree and others, it is one such essential oil that helps with skin sustenance. There are so many beauty benefits of vetiver essential oil that you shouldn't miss out on!
Vetiver oil, also referred to as khus oil, is gotten from the vetiver plant. Although vetiver oil is kind of similar to patchouli, it has the touch of lemon. Also, vetiver is stabilizing, very grounding and calming and it is believed to have a number of essential oil uses, which will be discussed shortly.

After some researches were carried out by professionals, the scent of vetiver essential oil was concluded to be woody, earthy, pleasingly heavy and smoky – its scent is a bit complex.
Vetiver has been used in India since ancient times. The word vetiver was coined from a Tamil word that means "root that is dug up". The growth of vetiver plant thrives more in damp areas like swamps and bogs. Also, vetiver oil plant is always tufted and tall, and it's a perennial plant too. The plant is basically cultivated in tropical regions like Tahiti, Haiti and Indian regions like Calcutta. In such areas, the vetiver grass is usually used as window blinds and sunshades. It is also used for thatching and canopies. In addition, the vetiver plant is used for thatching huts and weaving mats, especially because it has the power to prevent insects.
Vetiver oil has a musty and earthly smell like that of a damp forest. It has an amber to olive color. Also, it has a calming property, the more reason it's called the oil of tranquility. Furthermore, vetiver oil contains vetiverol, vetivenyl vetivenate, benzoic acid, furfurol and vetivone A and B. There are a number of beauty benefits of vetiver essential oil and this article is about to discuss the top benefits of this essential oil.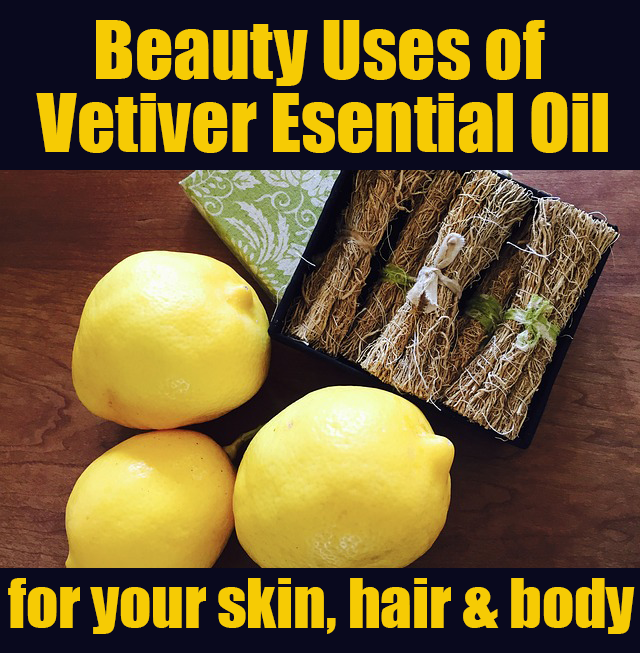 Top 6 Beauty Benefits of Vetiver Essential Oil
Now let's look at some of the beauty benefits of vetiver essential oil, shall we?
1. Acne Removal
The first beauty benefit of vetiver essential oil we shall be visiting in this article is its ability to clear acne and acne marks. Vetiver essential oil has rich anti-bacterial and anti-inflammatory properties, so the bacteria that cause acne do not find the skin conducive when you apply vetiver essential oil regularly. Therefore, you can be certain of being acne free as long as you use the oil regularly. Also, the anti-inflammatory property of vetiver oil helps in repairing the damage acne has caused to your skin.
2. Lice Repellant
Another of the benefits of vetiver essential oil is that it's a strong lice repellant. Vetiver essential oil improves the health of your scalp by balancing its natural oils and preventing dandruff. Even if you have been battling with lice, you can be sure of great relieve in just few days of the application of vetiver oil. Lice are repelled by the smell of vetiver. Vetiver therapeutic oil deeply conditions the scalp, thus healing the inflammation caused by the lice's bites.
3. Reduce External Skin Inflammation
Yet another benefit of vetiver essential oil is that it can reduce external skin inflammation. It can greatly reduce skin redness and rashes caused by sunburn. The oil can likewise be used in many skin conditions like flaking resulting from eczema and dryness.
4. Sepsis Prevention
Because vetiver essential oil has antiseptic property, it prevents the growth of sepsis-causing bacteria. Wounds and scabs on the scalp caused by excess dandruff can be relieved with vetiver. Vetiver oil can be applied on wounds and can prevent wounds from getting infected.
5. Anti-Aging Formula
One of the top beauty benefits of vetiver essential oil we cannot forget to mention is its cells regeneration power. This makes the essential oil effective as an anti-aging formula. The essential oil has the ability stimulate the formation of collagen, thus renewing the look of the skin. The oil can also reduce wrinkles, dullness and the appearance of age spots. It can as well help in the recuperation of epidermal cells lost elasticity.
6. All Natural Deodorant
Because of its rich and pleasant smell, vetiver oil is greatly used in the perfume industry. The fresh smell of lemon the oil possesses can be mixed with other scents to produce perfumes with good smell for the consumption of the general masses.
Where to Buy Vetiver Essential Oil
Buy high quality vetiver essential oil here.
Are you wondering about the beauty benefits of other essential oils? Read all about them below!