Discover the beauty benefits of clove essential oil for skin, hair and more in this article!
Clove oil is a hot and spicy oil obtained from steam distillation of the leaves, stem and buds of the clove tree. Clove bud oil is the most popular clove essential oil used in aromatherapy. We shall be looking at this essential oil's beauty benefits in particular for this post.
Before the beauty benefits, first check out the profile of clove essential oil:
Clove Essential Oil Profile
♥ Scientific Name:
Eugenia carophyllata
♥ Other Names:
Clove essential oil oil is also called clove oil, clove oil bud, oil of clove
♥ Origin:
Cloves are native to Indonesia and the Malacca Islands
♥ Color and Smell:
Clove oil has a colorless to pale yellow color. It has a warm, strong, spicy smell
♥ Texture:
It has a medium to watery viscosity
♥ Shelf Life:
18 months
♥ Precautions & Tips:
Never use clove essential oil oil undiluted. Always dilute it before application. Use a vegetable oil for dilution. The dilution rate is 1 drop of clove in 2 tsp of vegetable oil like olive oil, coconut oil, etc. Use a 0.5% or 1% dilution rate of clove oil. Please read: How to Dilute Essential Oils
Clove oil can cause sensitivities if used incorrectly.
Never drop clove into your eyes, ears or mucous membranes.
Do not ingest.
Keep away from children and pets.
Do a skin patch test using 1 drop of clove oil in 1 tsp of vegetable oil in your inner wrist. If you notice any irritation, do not use the essential oil.
Avoid clove oil during pregnancy and lactation.
People with diabetes, liver and kidney disease should avoid clove oil.
If having any severe or chronic health problems, consult a doctor before using clove oil.
Properties of Clove Essential Oil
Some of the properties of clove essential oil include:
Analgesic, antiseptic, antispasmodic, anti-neuralgic, carminative, anti-infectious, disinfectant, insecticide, stimulant, stomachic, uterine and tonic.
9 Beauty Benefits of Clove Essential Oil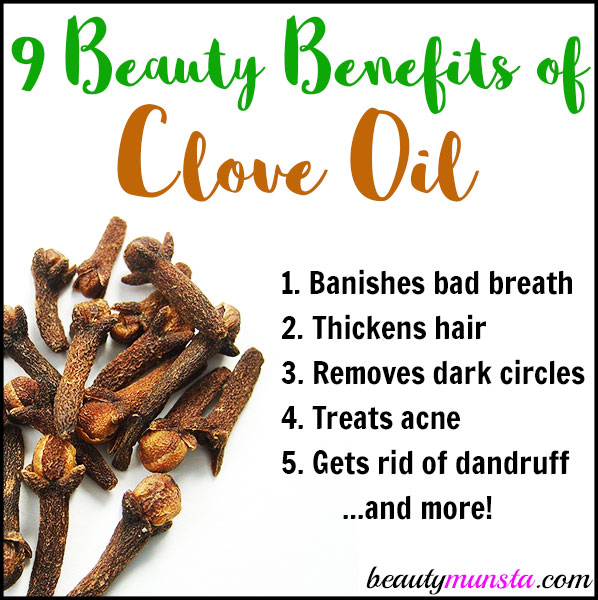 1. Treats Acne
Got acne? Clove oil can help. It's got antibacterial, antiseptic properties that disinfect acne prone skin and fight off acne causing bacteria.
Overnight Acne Face Mask: To naturally treat acne, make an overnight facial mask by combining 5 drops of clove oil in ¼ cup of aloe vera gel and store it in an amber container. Apply this gel all over your face overnight to combat acne.
2. Removes Dark Circles
Clove oil is a good remedy for fading away dark circles! You can make and use this DIY Dark Circle Eye Cream that contains clove oil in it.
3. Fights Fungal Infections
Clove oil has powerful anti-fungal activity that makes it very effective for treating fungal infections like nail fungus.
Fungus Treatment: Apply a mixture of witch hazel and clove oil (2 drops in 1 tsp of witch hazel) on your affected nail and cover it with a band-aid overnight. Repeat every night until the fungus clears up.
4. Gets Rid of Dandruff
Banish dandruff using clove oil! There are quite a few very effective essential oils for dandruff including thyme oil and clove oil. Both are 'hot' essential oils that should be used with caution. The simplest ways to use clove oil to banish dandruff is to add about 10 – 12 drops to 8 oz of your shampoo.
5. Dental Care
One of the top benefits of clove oil is that it's probably the best essential oil for dental care. It reduces toothaches, keeps your mouth smelling fresh and strengthens your gums!
6. Regulates Oily Skin
Oily skin can be regulated using clove oil. It has astringent properties that reduce excess oiliness and tighten up large pores.
Oily Skin Facial Toner: To use clove oil for oily skin, simply mix up ¼ cup of witch hazel and 3 drops of clove oil in an amber bottle. Use cotton pads to apply a little of this mixture all over your face after cleansing it as a facial toner.
7. Thickens Hair & Promotes Hair Growth
Wanna thicken up your hair? It's time to use clove oil! This spicy oil has hair follicle stimulating properties. This invigorates and livens up the hair follicles by increasing blood circulation to the scalp. Increased blood flow brings nutrients to each and every hair follicles, which boosts hair growth and thickness. You can add about 10 – 12 drops of clove oil to your 8 oz shampoo bottle.
Hair Growth Mask: Make a hair growth mask by combining 2 tbsp coconut oil and 5 drops of clove oil. Apply this on your scalp. Your scalp should feel a pleasant tingling sensation. Wash your hair after 30 minutes of keeping this mask on.
8. Remove Skin Tags & Warts
Clove oil can get rid of skin tags, warts and other abnormal skin growths! It has strong antiseptic, antimicrobial, antifungal, antibacterial properties plus it's a 'hot' oil which enables the skin growth to dry up and shrivel super fast.
9. Aphrodisiac Perfume
Did you know that clove oil actually has aphrodisiac properties? It's scent stimulates desire and love. You can use it in your homemade perfumes for a sexy scent!
DIY Perfume: Fill a 2 oz amber glass spray bottle with vodka then add 25 drops of rose essential oil and 7 drops of clove oil. Close the bottle and shake well to combine everything. Your DIY perfume is ready! Spritz on your clothes, hair ends, wrists, collar bones, back of neck and other key areas for a beautiful scent.
Where to Buy Clove Essential Oil

Always look for 100% pure quality clove oil without additives. My recommended clove oil is this one from Plant Therapy. It comes 10ml bottle. You can buy it here.