Discover the magical beauty benefits of maracuja oil for your skin and hair!
Maracuja oil sounds so exotic and it is! The name maracuja (pronounced: mah-rick-oo-jah ) is Portuguese for passion flower, a stunning flower with the likes you've never seen before. Maracuja oil is extracted from the seeds or flowers of the passion fruit plant. Amazonian women harvest these passion fruit in the Amazon. The oil is then obtained from the seeds through cold pressing.
There are several unique benefits of maracuja oil including promoting good sleep, relieving anxiety, soothing sore muscles and calming symptoms of respiratory conditions including asthma! In this article, we're going to look at the beauty benefits of maracuja oil! Let's first explore the ingredient profile of this magical oil!
Maracuja Oil Ingredient Profile
♥ Scientific Name:
Passiflora edulis
♥ Other Names:
Passion fruit flower oil, passion fruit oil, passion fruit seed oil
♥ Origin:
Passiflora edulis is native to southern Brazil
♥ Color and Smell:
Maracuja oil has an orange color and it is odorless
♥ Texture:
Maracuja oil has a light consistency which easily absorbs into skin
♥ Shelf Life:
2 years (longer if kept refrigerated)
♥ Comedeogenic Rating:
1-2
♥ Precaution & Tips
Before use, do a patch test on your inner elbow/wrist to see that maracuja oil does not irritate your skin.
Store maracuja oil in the refrigerator to prolong its shelf life.
Composition of Maracuja Oil
Maracuja oil is unique in its composition compared to other carrier oils! Here are some of the main nutrients in maracuja oil:
Alpha linoleic acid
B-carotene
Calcium
Flavonoids
Linoleic acid
Oleic acid
Palmitic acid
Phosphorous
Potassium
Stearic acid
Vitamin A
Vitamin C
Vitamin E
15 Beauty Benefits of Maracuja Oil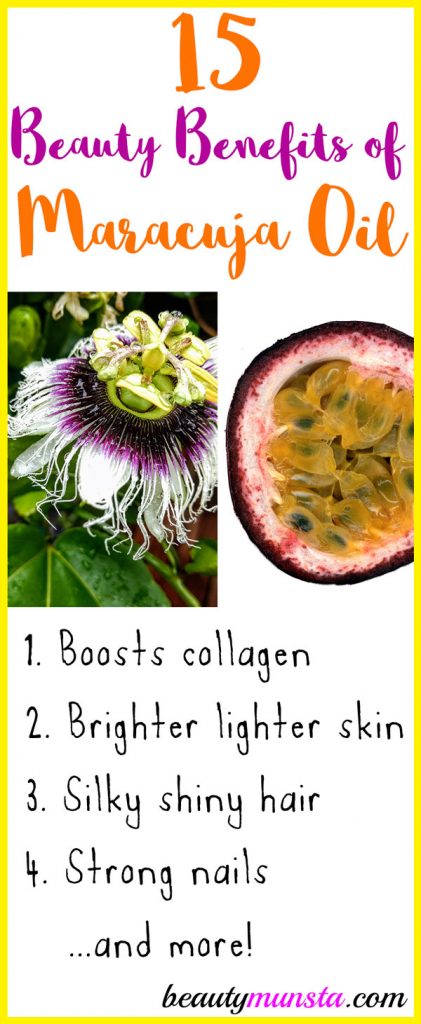 Below are 15 magical beauty benefits of maracuja oil for skin, hair and more!
1. Boosts Collagen Production
Maracuja oil contains Vitamin C that is known to boost collagen production. Collagen levels in our bodies decrease as we age which causes fine lines, wrinkles and sagging skin. Apply maracuja oil as a facial oil to help boost collagen production!
2. Reduces Sebum Secretion
The balancing effect of maracuja oil makes it good for both dry skin and oily skin. If you have oily skin, maracuja oil helps by reducing sebum secretion. It also has a non-greasy feel when applied on skin. For dry skin, maracuja oil has a soothing and moisturizing effect!
3. Incredible Anti-Aging Properties
Maracuja oil must be in your beauty pantry if you're looking to get smoother and wrinkle-free skin! It contains essential fatty acids like linoleic, oleic, palmitic and stearic acids that deeply nourish skin cells and keep them plump. It also contains Vitamin C, which is one nutrient not many carrier oils contain. As we saw above, vitamin C boosts collagen production which promotes supple, firm and smooth skin!
4. Soothes Dry Scalp
Suffering from a dry scalp? Use maracuja oil! It's reported to soothe dry scalp problems by moisturizing skin and fighting itchiness! You can mix about 20 drops of maracuja oil in 2 tbsp of shampoo then lather up your scalp.
5. Repairs Sun Damaged Skin
One of the best beauty benefits of maracuja oil is that it repairs sun damaged skin! It contains calcium and phosphorous that combined together improve the appearance of your skin. The high vitamin C content in maracuja oil enhances collagen production which repairs skin that looks dull, dark and damaged by the sun. You can add a few drops to your sunscreen before application.
6. Calms Skin Inflammation
Maracuja oil has powerful anti-inflammatory properties. It reduces any kind of skin inflammation including that caused by eczema, psoriasis, acne, sunburn and more. Apply it to inflamed painful and red skin for quick relief.
7. Brighter Lighter Skin
Do you want bright and light skin that glows like the sun?! Use maracuja oil! The vitamin C content in maracuja oil helps dissolve dead cells which reveals new brighter and lighter skin underneath.
8. Eye Moisturizer
Combat under-eye wrinkles and crow's feet by applying a couple of drops of maracuja oil as your eye moisturizer. It is light in consistency which means it won't make your skin greasy. It protects the thin skin under the eyes from wrinkles and dark circles.
9. Rejuvenating Night Facial Oil
If you don't use a facial oil at night time, then it's high time you started! Night time is important in skin care because this is when the skin repairs and regenerates itself. After removing your makeup and thoroughly cleansing your skin at night time, dot your face and neck with maracuja oil then massage it in for a couple of minutes. Get your beauty sleep and wake up to fresh dewy looking skin!
10. Strengthens Weak Nails & Peeling Cuticles
Rub a couple of drops of maracuja oil onto your nails and cuticles to strengthen and moisturize them!
11. Shiny Silky Hair
Make a rejuvenating elixir for shiny and silky hair by combining 3 tsp of maracuja oil in 6 tsp sweet almond oil in a 1 oz amber glass dropper bottle. Next add 5 drops of neroli essential oil and 5 drops of ylang ylang essential oil – a most beautiful scented combination! Cap the bottle tightly and roll it between your palms to gently mix the oils without creating air bubbles. Apply a few drops on your hair length before brushing your hair.
12. Improves Elasticity, Tone & Texture of Skin
The nutrients in maracuja oil including Vitamin C, linoleic acid, Vitamin A, calcium, potassium and phosphorous all work together and improve the skin's elasticity, tone and texture!
13. Fights Acne
Maracuja oil has high amounts of linoleic acid, which is seen to be in low amounts in those with oily and acne prone skin! Low linoleic acid means thick sticky and low quality sebum that clogs pores and causes breakouts! Add linoleic acid to your facial moisturizer, use it on its own as a face oil or even make a face cream with it by combining ¼ cup of shea butter with 2 tsp of maracuja oil!
14. Antibacterial Properties
One of the known properties of maracuja oil is its strong antibacterial properties! It fights off bacteria that irritate skin and aggravate skin conditions. Apply it on affected areas after cleansing the area. You can apply it on an itchy scalp, acne prone skin, keratosis pilaris and other irritated skin areas.
15. Reduces Dandruff & Itchy Scalp
As seen above, maracuja oil has strong antibacterial properties. This makes it good for disinfecting an itchy scalp! It also helps reduce dandruff! Use it by combining 2 tsp of maracuja oil in 4 tsp of coconut oil and applying it on your scalp. Let it sit for an hour on your scalp then wash your hair, shampooing twice to get rid of all oils.
Where to Buy Maracuja Oil
Always look for 100% pure quality maracuja oil without additives. I love Leven Rose's 100% Organic Maracuja Oil. It comes in a 1 oz amber glass dropper bottle.
Aren't you excited to try maracuja oil?! How are you planning on using it? Share below!