Take a look at these amazing beauty benefits of raw milk, and you'll understand why Cleopatra was so diligent about it:
Raw milk has been used for many millenia to cleanse, soften and moisturize skin. The ancient and most loved Queen of Egypt, Cleopatra is renowned for her daily beautifying baths purely composed of raw milk, which some sources say were obtained from up to 700 lactating donkeys.
Following her trend, many noble women in Europe also took up raw milk to cleanse their skin naturally. And now, it's your turn!
Here are the top 10 amazing beauty benefits raw milk offers for beautiful, glowing skin.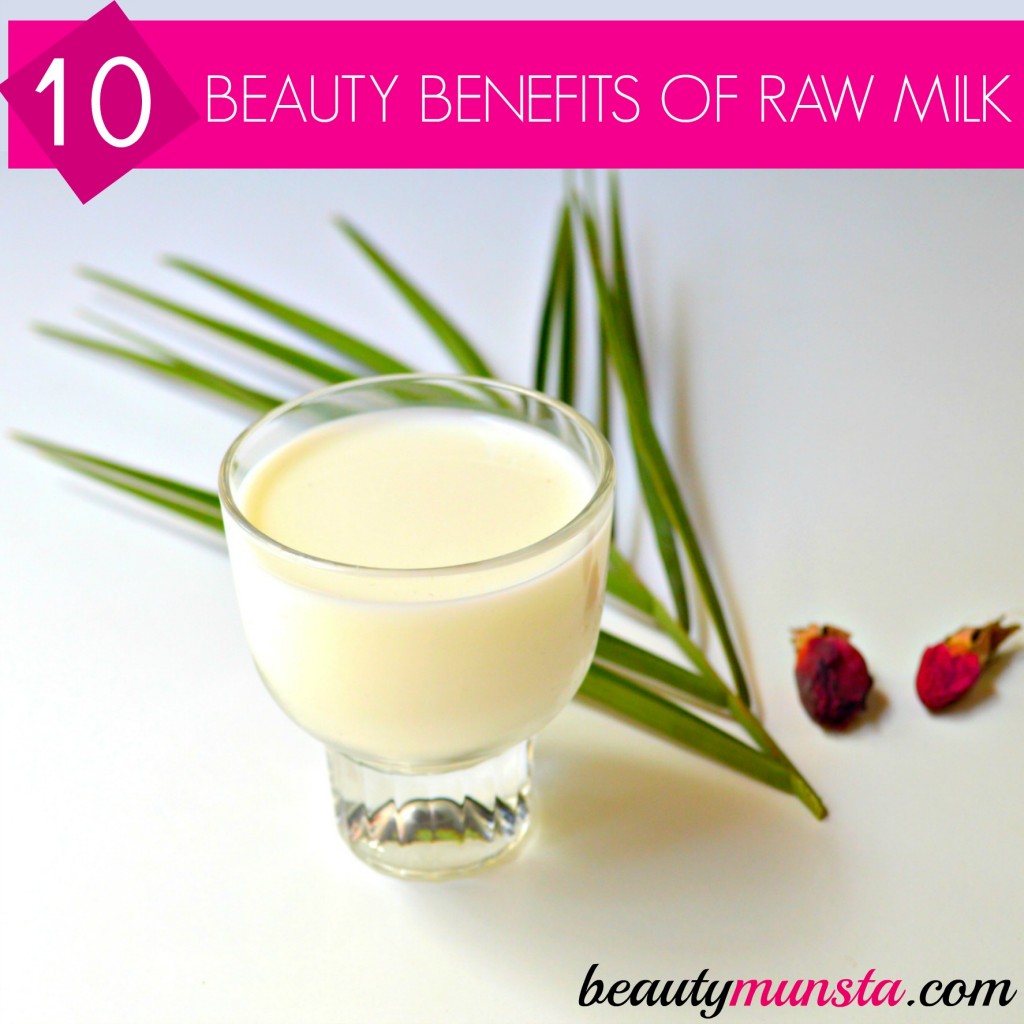 Why 'Raw' Milk?
Raw milk contains all the nourishing nutrients for the entire body, since it has not been heated, pasteurized or treated in any way, this array of nutrients are intact and preserved. Regular milk you buy in cartons, even though it is says 'whole milk' is actually stripped of almost all of the natural nutrients until it becomes a liquid that just looks and tastes like milk, but isn't milk. It undergoes so much processing, including pasteurization, ultra pasteurization or homogenization. These processes involve heating the milk to remove pathogens and bacteria and to prolong its shelf life.
Even if you buy 'raw' milk, make sure it comes from grass fed cows which enjoy access to sunshine and are left to roam around, grazing on pasture. Factory raised cows are injected with BGH (bovine growth hormone) and are fed unnatural high corn-based diets to increase milk production. The only raw milk you should use is the one that comes straight from pasture fed cows.
Note: If you can't get raw milk, then don't worry you can still use regular milk on skin!
10 Amazing Beauty Benefits of Raw Milk
1. Facial Cleanser
Our skin gathers dirt, grime, pollution and germs as we move about everyday. Not to mention the toxins that are pushed out from within our body through our skin pores. Instead of just washing your face with water and a store bought cleanser, use raw milk. The nourishing nutrients penetrate deep into your pores, supplying your skin with essential vitamins and minerals. It also deep cleanses your skin, preventing acne and blackheads. Dip a clean cotton ball in raw milk and wipe your face with it. You'll be surprised at how much dirt collects in the clean cotton ball.
2. Exfoliates Skin Cells
Raw milk is rich in lactic acid, a type of alpha hydroxy acid that gently exfoliates dead cells from the surface of the skin. It works by breaking the binds between the dead cells and the skin surface, loosening them so that they can be rinsed off easily. Saturate a soft washcloth with raw milk and wipe it over your clean face to clear off any dry or flaky skin.
3. Milky Moisturizer
Raw milk contains multivitamins including vitamin A, b-vitamins, biotin and potassium that solve dry skin by hydrating and moisturizing skin cells. Raw milk is a great milky moisturizer – literally! To instantly banish flaky skin and plump up your skin cells with moisture, saturate a clean wash cloth in raw milk and use it to cleanse your face.
4. Softens Rough Skin
The healthy fat content in raw milk is incredibly lubricating and softens rough patches of skin such as heels, knees and elbows. Make yourself a simple but luxurious milk bath by adding 2 cups of raw milk to your bath water.
5. Lightens Skin Tone
Lactic acid in milk is a natural bleaching agent that gradually lightens your skin tone a few shades up. If you have an unwanted tan or discolorations, raw milk will help get rid of the tan and even out skin pigmentation. Pour raw milk into a bowl, dip a soft washcloth, wring and wipe it all over your skin. Do this at least everyday to see results.
6. Fades Blemishes, Acne Scars and Dark Marks
Blemishes, acne scars, dark spots and marks can all be vanished with raw milk. Inflamed red acne scars can be soothed and visibly diminished using only a few topical application of raw milk! Using a cotton pad, dab raw milk onto the blemishes or acne scars every night before bed. Wash your face in the morning to reveal brighter skin.
7. Soothes Sunburns
When applied on skin, raw milk is cooling and soothes sunburned and inflamed skin. It creates a thin film of protein that casts a protective layer over skin and helps cool of any burning sensations caused by sunburn. The fat content of raw milk cools down sunburned skin as well as lubricate it.
8. Calms Down Skin Inflammation & Irritation
Reduce skin irritation and inflammation using raw milk. It has a cooling sensation when used on skin that soothes inflammation and redness as well as heals red spots on skin caused by allergic reactions. Try it out yourself!
9. Shrinks large pores
Make a simple milk face mask by patting raw milk all over your face. Let the milk penetrate into your skin cells for 15 minutes. During that time, as the milk dried up on your face, it tightens your skin and help shrink large pores. Small skin pores prevent over secretion of sebum by the oil glands and do not collect dirt and grime compared to large open pores.
10. Prevents Acne
You must be wondering how raw milk, which contains fat, can actually prevent acne rather than cause it. Raw milk not only cleanses skin of excess oils but also contains lactic acid, which is an alpha hydroxy acid that fights off microbes and germs that can cause acne. Raw milk also reduces acne inflammation, which makes acne and pimples appear diminished.
Caution when Using Raw Milk on your Skin
As usual, before using any new ingredients on your skin, use a test patch on your inner elbow or wrist. If there is no sign of irritation, redness or itching, its safe for you to apply it. Some people have reported that milk can cause breakouts. The key point here is to purchase organic, grass fed raw milk for topical application.