Learn how to do a coconut oil pre poo for silky soft and luscious locks!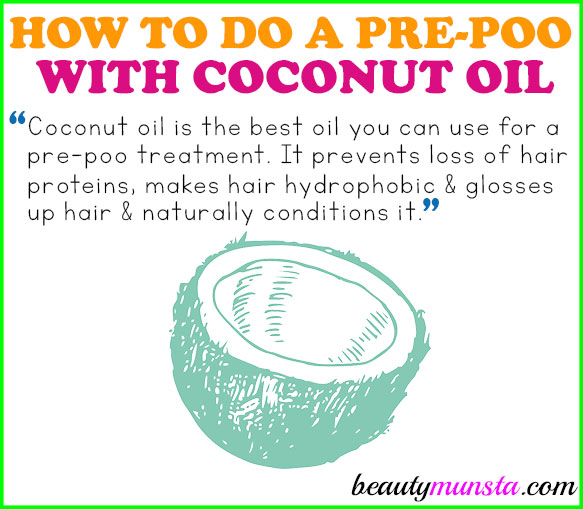 Why use conditioner when you can do a pre-poo? What is pre-poo? It's also known as pree 'poo and it stands for pre-shampoo, meaning before shampoo. So basically, it's a hair treatment done before you shampoo your hair.
Pre-pooing is actually no new trend – it's as ancient as they come. Women in India did it since long ago for stronger, longer and shiny hair. Indian women do have gorgeous thick and extremely long hair so this is one of their hair care secrets! They used coconut oil in particular to do a pre-poo so in this post, I want to show you how to do a coconut oil pre-poo just like they did in ancient times!
But first – why use coconut oil? Coconut oil is probably the best oil to do a pre poo with! That's because it is rich in Medium Chain Triglycerides (MCTs) that have a small molecular structure, enabling them to easily penetrate into the hair shaft. So these fatty acids penetrate into the hair shaft and prevent water from entering the hair strands and filling them up. When water enters the inside of the hair strands and fills them up, it negatively affects the outside of the hair strands, also called hair cuticles. Because the cuticles can't expand like the inside, they instead end up bending outward, which causes hair to have an uneven rough texture. So applying coconut oil before a shower a.k.a pre poo protects the hair proteins by making them more hydrophobic which means water repelling. This ensures water doesn't enter the hair strands and roughen up the hair cuticles.
Now that bit of hair science is over, let's check out how to do a coconut oil pree poo:
How to Do a Coconut Oil Pre Poo
Remove your hair from whatever style it's in and brush it till tangle-free.
Now using clean fingers, scoop out a dime-sized amount of coconut oil and run it along your hair length using both palms. Don't apply on your scalp, just your hair length. If you have dry hair, frizzy hair, thick hair or longer hair, you may need more coconut oil. However, ensure you don't use more than you need because you don't want your hair to become oily! The excess oils are hard to wash off. If you do end up with oily hair, then you can shampoo twice or thrice to get rid of the oils or apply dry shampoo then shampoo again the next day.
After you've finished applying the oil, your coconut oil pre poo is complete!
Now go shower and wash your hair as usual. You don't have to use conditioner because the purpose of pre poo is to protect as well as condition your hair. It's best to use a natural sulfate-free shampoo for healthy hair.
Dry your hair and enjoy how amazingly silky, soft and beautiful it looks!
Where to Get Coconut Oil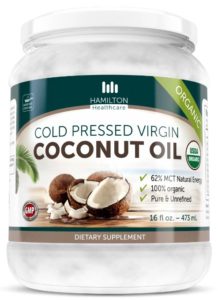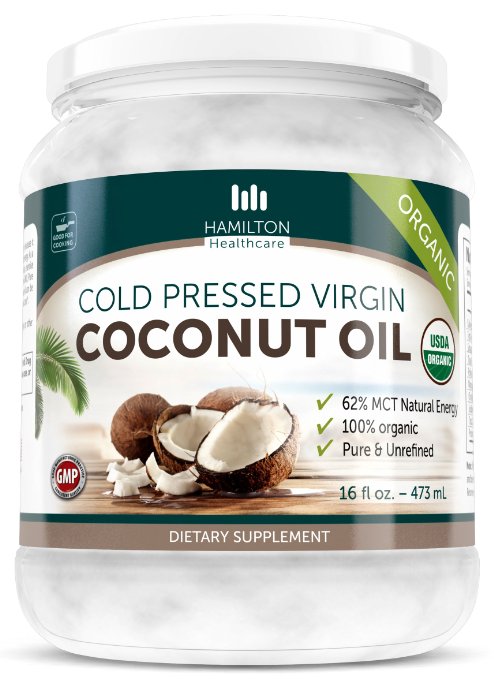 Ensure to purchase 100% pure high quality cold pressed and organic coconut oil for best results. Avoid those that contain additives. I like Hamilton Healthcare Coconut Oil. You can also get Nutiva Coconut Oil which is also a good brand. Carrington Farms Coconut Oil is another great choice.
My Tips
To make things more exciting, add a few drops of your favorite essential oils to your coconut oil before application! This will not only nourish and strengthen your hair but also make it smell gorgeous! I love geranium, rose, ylang ylang, jasmine and lemon essential oils. Choose your pick and remember – for every tsp of coconut oil, just add 1-2 drops of essential oil!
If you prefer, you can use fractionated coconut oil instead of the regular creamy coconut oil, especially if your coconut oil tends to harden up where you live.