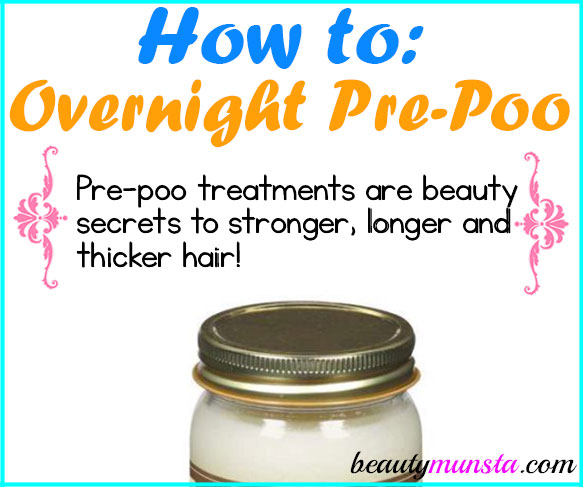 If you're here, you must be already knowing what a pre poo is right? It's basically applying a product (natural oil, plant butter, moisturizer, conditioner etc) before you shampoo your hair hence the name pre 'poo – before shampoo, get it?
Anyway pre pooing is a method done to prevent loss of hair proteins and prevent damage to the hair cuticles. It also conditions hair, makes detangling a lot easier and keeps hair soft, silky and shiny! Indian women carried out the practice of pre pooing their hair before their daily hair wash since long ago. And most of them have thick long and shiny hair! It's a beauty secret, I tell ya!
These women mainly used coconut oil to do a pre poo and I've talked about it more here: How to Do a Coconut Oil Pre Poo. You can actually use any oil of your choice but coconut oil would be the best. If coconut oil doesn't suit your hair type, then choose oils that penetrate the hair shaft because the main purpose of a pre poo is to protect the hair cuticles hence preventing damage.
The top 5 oils that penetrate into the hair shaft after coconut oil include: Avocado oil, Babassu oil, Camellia seed oil, Castor oil and Olive oil. Choose any of these to use in place of coconut oil. Read more: Oils that Penetrate the Hair Shaft
Let's check out how to do an overnight pre-poo!
How to Do an Overnight Pre Poo for Soft Silky Hair
Get a bowl and add a suitable amount of coconut oil or any oil that penetrates the hair shaft. Get an amount that is enough for your hair length. Use a small amount as you do not want to make your hair greasy. That'll be hard to wash out in the shower.
Now add 3-5 drops of your favorite essential oils. The essential oils I recommend for hair include: rosemary, geranium, ylang ylang, sandalwood, jasmine, rose and clary sage.
Mix the oils together to create a blend and your pre poo treatment is ready for use!
To apply, leave your hair down and brush it out to remove any tangles.
Now scoop up the oil using clean fingers, rub both palms and gather your hair between your palms and smooth the oil down your hair length.
Brush your hair again then gently pin it up with bobby pins or wrap it with a scarf.
Get some beauty sleep!
The next morning when you wake up, wash your hair as usual with a natural sulfate-free shampoo. Do not use conditioner because the preo poo acts as your conditioner. If your hair is oily, you can shampoo your hair twice to remove all the oils.
When your hair dries, you'll be pleasant surprised at its soft silkiness! Do this every time you wash your hair and forego conditioner!