Use any of these 5 manuka honey face mask recipes for better looking skin!
Manuka honey is a miracle ingredient. It's the most nourishing type of honey on Planet Earth. That's because it has 4 times the mineral content of regular honey! Some of these minerals include zinc, iron, magnesium, copper, potassium, zinc, selenium and others. It also contains b-vitamins and other nutrients, active enzymes, antioxidants and other medicinal compounds that make it a truly remarkable substance.
What's more is that manuka honey is healing when used both internally and externally. It can be applied to wounds to protect them from infection and promote faster healing. It also has amazing beauty benefits such as:
Lightening blemishes, dull skin and hyperpigmentation
Soothing irritated skin and skin rashes
Reducing skin inflammation
Cooling and healing rosacea
Speeding up healing of eczema and psoriasis
Nourishing skin cells
Hydrating dry skin
Promoting cell renewal
And more!
You can read more beauty benefits of manuka honey here: 16 Beauty Benefits of Manuka Honey
Top 5 Manuka Honey Face Mask Recipes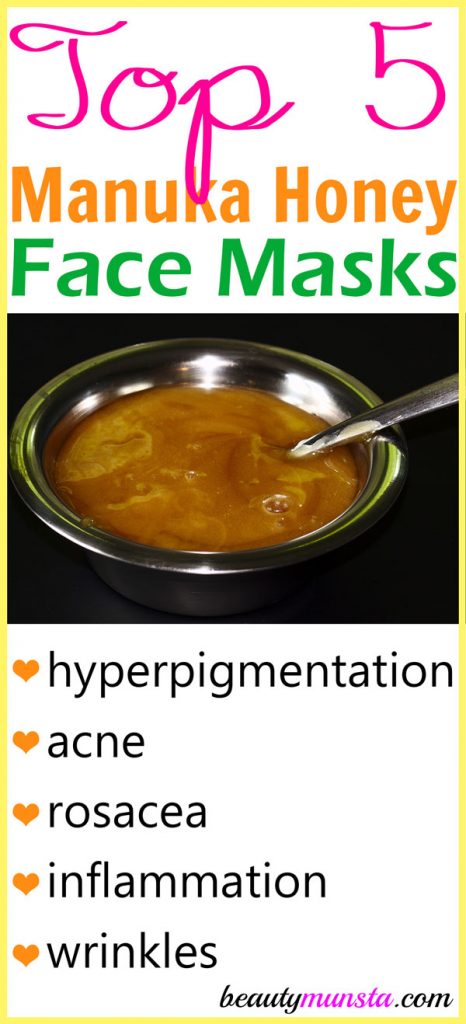 Main instructions:
Mix up your ingredients in a bowl to form a smooth well combined paste.
Gently apply it onto your clean face using clean finger tips, avoiding the area around your eyes.
Wait for the goodness to penetrate for 5 minutes.
Rinse off with lukewarm water first, then cold water.
Pat your skin dry then moisturize as usual. If you want to go natural, moisturize with a pea-sized amount of shea butter, 3 drops of jojoba oil or make a simple face cream with my Basic Face Cream Recipe!
Now here are the top 5 manuka honey face mask recipes! They're easy to make and tons nourishing for your skin!
1. Manuka Honey Mask for Wrinkles
½ tsp manuka honey
½ tsp witch hazel
1 drop lavender oil
2. Manuka Honey Mask for Rosacea
1 tsp manuka honey
1 tsp colloidal oatmeal
1 tsp rose water
3. Manuka Honey Mask for Skin Pigmentation
1 tsp manuka honey
½ tsp lemon juice, freshly squeezed
¼ tsp turmeric powder
4. Manuka Honey Mask for Skin Inflammation
½ tsp manuka honey
1 tsp aloe vera gel
5. Manuka Honey Mask for Acne
1 tsp manuka honey
¼ tsp spirulina powder
1 drop tea tree essential oil
Which of the above manuka honey face mask recipes are you going to try? Share below!