Hey guys! I just want to share my daily basic face cream recipe for acne prone skin that I make in under 5 minutes!
With the right ingredients, you can create your own basic face cream in a jiffy! And you do NOT need complicated ingredients at all. Most of the ingredients you'll need are easily available online at good prices.
In this post, I'll show you how I make a basic face cream recipe for my skin type which is dry acne-prone skin. I have acne + acne scars on my face so I'm looking to lighten those as well!
Ingredients Used
So here's what you need for a basic face cream recipe:
Raw Shea Butter – This is the base ingredient for your face cream. Shea butter is a plant butter that is extracted from shea nuts. It's vegan, 100% natural and is good for ALL skin types. It has a comedogenic rating of ZERO which means it won't clog your pores at all! It's the best option for oily and acne prone skin.
An Oil Suitable for Acne Prone Skin – You need a skin care oil to create a smooth silky face cream. This oil should have a non-greasy consistency, be 'dry' oil, have a high linoleic acid content and have comedogenic ratings of 0-2 (Zero is the best). You can use argan oil, sunflower oil, hemp seed oil, prickly pear oil, jojoba oil and others. I use black seed oil because it has amazing antibacterial properties plus a high linoleic acid rating. Read more: Carrier Oils Rich in Linoleic Acid
Essential Oils for Acne Prone Skin – Essential oils for acne include those with powerful antibacterial properties, disinfectant properties and astringent properties. These kill acne causing bacteria, reduces excess oiliness and keep skin clean. You can use tea tree oil, lemon oil, rosemary oil, lavender oil, geranium oil and more. I use tea tree oil and lemon oil. Read more: List of the Best Essential Oils for Acne & How to Use
Clean Container for Storage – Preferably get an amber glass container to keep out light that degrades your face cream. The reason a glass jar is preferred is so that the essential oils won't break down a plastic container.
Spoon/Fork – This tool is what you're going to use to mix up all the ingredients you'll need! I used a fork.
Basic Face Cream Recipe for Acne Prone Skin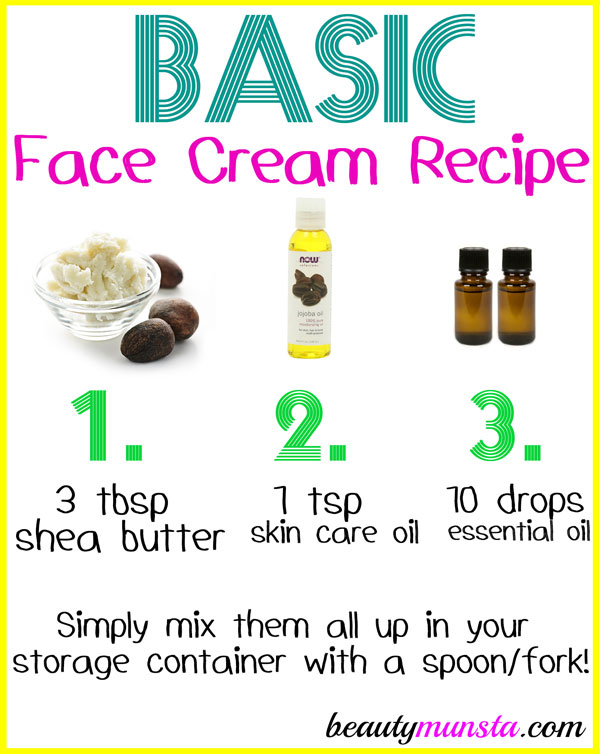 What you Need
*This is a 1% essential oil dilution rate, meaning 1 drop of essential oil for every 1 tsp of base ingredient. The base ingredients are shea butter and black seed oil.
3 tbsp shea butter
1 tsp black seed oil
5 drops tea tree essential oil
5 drops lemon essential oil
2 oz glass jar for storage
Fork for mixing
Directions
Measure out 3 tbsp of raw shea butter and place it in your storage container.
Now with a fork, mash up your shea butter till it's creamy.
Add the black seed oil and mix again till well combined.
Finally, add the essential oil drops then whip with a fork for 3 minutes till you get a white creamy mixture.
And that's it! Your basic face cream for acne prone skin is ready!
Use a pea-sized amount all over your face after cleansing and/or toning just 1-2 times a day. I use my face cream mostly at night time only because it contains lemon oil that is photosensitive. But I do use it twice a day when I'm not planning to head out anywhere. If I'm heading out, I use moringa oil as a light facial oil before I apply makeup.

I know you'll be amazed by this basic face cream recipe – I mean it's SUPER easy! You've got to try it out!