Have fun making this anti-oxidant rich DIY carrot face cream!
This DIY carrot face cream uses carrot seed oil as the star ingredient. Carrot seed oil is amazing for skin! I've talked about its Beauty Benefits before. It is especially good for anti-aging, brightening the skin and fading off blemishes and dark spots. It's also good for protecting the skin from sun damage!
By combining other nourishing ingredients with carrot seed oil, we can create a lovely DIY carrot face cream that you'll enjoy applying on your face!
Note:
This recipe is suitable for normal skin, mature skin, sensitive skin and dry skin. If you have acne prone skin or oily skin, you can check out my 3 DIY Shea Butter Face Cream Recipes
Cold pressed carrot seed oil is different from carrot seed essential oil. Cold pressed carrot seed oil is a carrier oil. It may be yellow to orange in color which may give your face cream a slightly yellow appearance. Carrot seed essential oil is very powerful and only a few drops should be used.
DIY Carrot Face Cream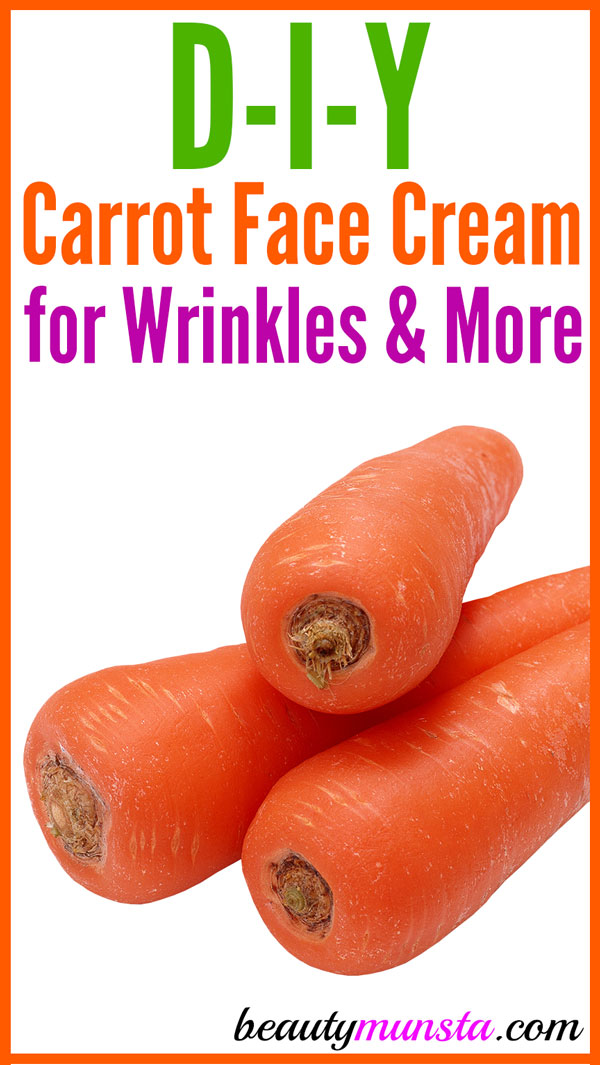 Since we're using water-based products in this recipe, we're going to be making a small batch. Store your cream in the refrigerator to lengthen its shelf life!
What you need:
1 tsp beeswax pastilles
1 tsp cold pressed carrot seed oil
2 tsp shea butter
3 tsp rose water
3 tsp argan oil
3 drops carrot seed essential oil
3 drops lavender essential oil
3 drops geranium essential oil
3 drops tea tree essential oil
Double boiler & heat source
Hand mixer
Glass jar for storage
Directions:
Gather all your ingredients, measure out 1 tsp beeswax pastilles and 2 tsp of shea butter and melt them in a double boiler on low heat.
Once melted, stir in 3 tsp argan oil and 3 tsp rose water.
Now place the mixture in the fridge for 15 min to cool down.
When the time is up, add the essential oils then get your hand mixer and start whipping the cooled & slightly hardened mixture until you form a white cream.
Transfer into a clean glass jar and store in the refrigerator.
Use a pea-sized amount all over your face twice a day after washing it!

Are you ready to try this DIY carrot face cream?