Facts about Hair Growth
Hair grows at the rate of approximately ½ an inch every month, which is 6 inches per year. But for some people, due to genes, excellent diet and other factors (such as EFT!), the hair growth rate can be much faster, at a rate of up to 1 inch or more per month.
There are four stages of hair growth: anagen, catagen, telogen and exogen. The anagen stage is also known as the hair growth phases and it lasts 2 to 7 years and determines the length of the hair. The second stage is the catagen phase, which is the transitional phase and lasts about 10 days. The telogen, also known as the resting phase, lasts about 3 months and more than 10% of hairs are in this stage. The exogen stage is part of the resting phase where old hairs shed and new hair continues to grow.
Stress is a major factor that affects the hair growth cycle. Too much stress can cause hairs to prematurely enter the resting phase, making them shed three months after.
EFT Tapping | The Power of Your Mind
EFT uses the power of emotional healing to naturally cure and get rid of negative feelings that contribute to illnesses and dis-ease, whether chronic, diagnosed or mental. When you use EFT tapping, you are accepting that you have a problem and you're not perfect but despite this, you are happy and love yourself just the way you are. All illnesses, in one form or another are triggered by an emotional disturbance, or what is known as a 'short circuit' in EFT language. This disturbance causes toxic negative energy to build up in the body thereby setting the body out of balance, which slowly contributes to sickness. The emotional disturbance might be caused by any negative feeling or thought such as anxiety, depression, ingratitude, anger, resentment, bitterness towards yourself, an object, an event in your life (such as a traumatic experience) or a person(s).
How EFT Helps With Hair Growth
EFT tapping removes the negative emotions and feelings such as anger at how miserably thin and lifeless your hair looks, frustration that your hair isn't growing no matter what you do, anxiety thinking over and over about your hair and if it will ever grow, depression that you will never achieve the long thick and luscious hair that you've always wanted, despair that you may keep losing hair and go bald, and so on. Using EFT will completely eliminate such negative emotions including stress, hence the reason it's called emotional healing. You will completely let go of these negative emotions step by step until you no longer have any negative feeling associated with your hair and hair growth journey.
Why You Should Use EFT Tapping for Hair Growth
It often works where nothing else seems to help.
It requires no drugs, medication or equipment.
Most of all, EFT tapping is self applied. It is a self healing technique where the patient heals him/herself.
How to Use EFT Tapping for Hair Growth
To get started on EFT tapping for hair growth, you first have to prepare the setup stage which is the starting point of the tapping sequence. Here, you identify the emotional disturbance, focus on it, rate its intensity and finally form the positive EFT phrases/ affirmations that you will be using during the whole tapping sequence.
The Setup
Focus on the issue that's bothering you, it might be frustration that your hair is not growing or hair loss or jealousy or any other negative emotion towards yourself, an object or a person. It could even be a traumatic event in your life that's causing the emotional disturbance as we discovered above.
Consider how you feel about the problem right now. Rate its intensity on a scale of 0 to 10.
Create your statement(s) that you will be voicing out loud. It should include the problem at hand that you focused on in step 1 and an unconditional affirmation about yourself for example: Even though I my hair is thin and short, I deeply and completely love and accept myself.
Next, while voicing the affirmation, start tapping using four fingers on the Karate Chop Point, which is the outer edge of your palm , opposite your thumb. Tap three times while saying the affirmation.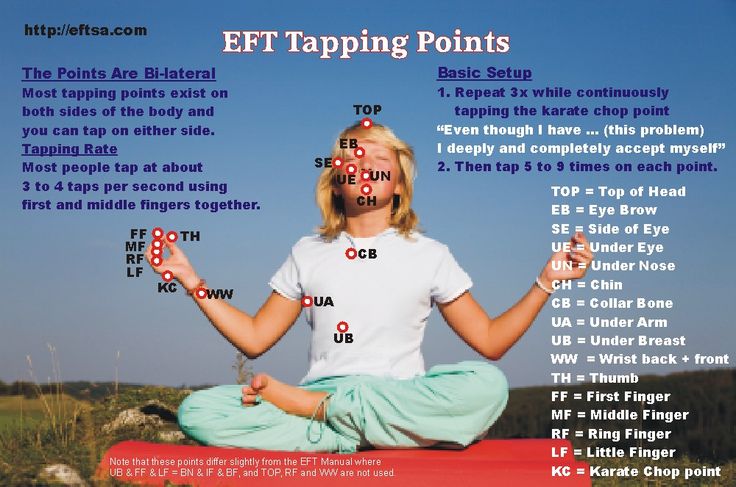 The Sequence
Now move on to tapping the rest of the meridian points from the crown of the head to the last point, while saying the affirmation.
After completing the tapping sequence, focus on the problem again. Is it intense as it was before you started tapping? Give it another rating. If it is higher than 2/10, do another tapping sequence and evaluate at the end.
You can do a number of tapping sequences until the intensity of the feeling you have for the problem drastically reduces and you feel calm and relaxed.
Positive Statements | 5 Affirmations for Hair Growth
► Even though my hair is thin and short, I deeply and completely love and accept myself.
► My hair might be sparse and thin but I still deeply and profoundly love accept and appreciate myself.
► Even though I always get jealous of seeing others with thick long and beautiful hair, I sincerely and completely love every single strand of hair on my head.
► Even though I constantly worry about my hair and how I'm going to grow it long and beautiful, I completely and genuinely love and accept myself.
► I release all the tension, frustration, stress, anger, depression and all negative emotions I feel whenever I see my short and thin hair that never seems to grow.