Would you like to know what this carrier oil can do to improve your hair? Find out the many grapeseed oil benefits for hair that can make all the difference to your beauty.

What Is Grapeseed Oil?
Grapeseed oil as the name suggests, is extracted from the seeds of grapes. It's usually a byproduct of wine making where all grape seeds are first removed and kept side. They are then pressed to extract the oil.
Did you know, grapeseed oil has been around for more than 60 centuries? It was used widely by Europeans to treat skin and eye–related diseases.
As a carrier oil, grapeseed oil has some pretty amazing properties. It is rich in antioxidants an also important vitamins such as vitamins A, C and E. It is used to treat skin swellings and inflammations, hypertension, oral conditions, diabetes, and also chronic venous insufficiency.
Grapeseed oil's other advantages are that it's cheaper by at least 30- 40 % than virgin olive, jojoba or coconut oils; it is light in consistency – much lighter than olive oil, even though its texture is somewhat similar to jojoba oil. So, it acts as perfect substitute for both olive oil and jojoba oil.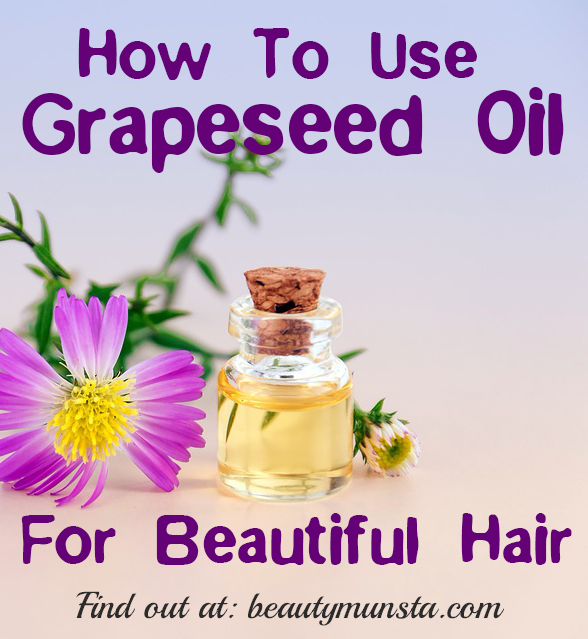 Top 6 Grapeseed Oil Benefits For Hair
In the sphere of beauty treatments, grapeseed oil is a popular ingredient. It is a favorite oil for those who use it extensively for hair care. Its lighter consistency and aroma make it the preferred choice for those who dislike the strong smell of most hair oils. It can be easily stored and is best kept protected from sunlight.
Here are some amazing grapeseed oil benefits for hair:
1. Reduces Hair Loss:
The first and most notable use of grapeseed oil is that it reduces hair loss. Because of its rich antioxidant content, it blocks DHT production, a hormone that causes hair loss. The proanthocyanidins present in grape seeds promote hair follicle cell proliferation by quickening the transfer of the inactive phase to the growth phase during the hair growth cycle.
Pro Tip: Combine two teaspoons of grapeseed oil and 1 teaspoon of jojoba oil. Rub this onto the scalp arrest hair loss. The oil is also known to inhibit the production of cortisol, a hormone that is produced when we are stressed. So if you are suffering from stress-related hair loss, grapeseed is the oil for you.
2. Faster Hair Growth:
The high mineral, protein, linoleic acid and Vitamin E content of grapeseed oil enhances hair growth by nourishing the hair and scalp. It also acts an effective scalp moisturizer. Being light in nature, it's a good and moisturizer and conditioner for dry hair. Moreover, it doesn't leave the hair feeling greasy. It locks hair moisture while also preventing brittle hair, frizzy hair and split ends.
Pro Tip: Warm three tablespoons of grapeseed  in a small bowl. Add 5 drops of cedarwood essential oil. Massage into your scalp and hair thoroughly. Leave on for about 10 – 30 minutes. Wash off with cold water to deep condition your hair and foster super hair growth.
3. Combats Dandruff:
Grapeseed oil is a proven agent to fight dandruff and deals with an itchy scalp effectively and quickly. It moisturizes a dry, flaky scalp. Grapeseed oil encourages stabilized skin cell growth through its nutrient and emollient properties.
Pro Tip: To treat dandruff with grapeseed oil, just rub it directly on the scalp in a circular motion so that the oil gets absorbed and blood circulation in the scalp region also improves.
4. Adds Shine To Hair:
A notable quality of grapeseed oil is that it makes your hair glossy when applied. It is therefore, the ideal choice for those who want healthy and shiny hair but without that typically oily feeling or look. Grapeseed oil leaves your hair feeling sleek and shiny.
Pro Tip: If you have hair that gets easily matted or tangled, apply grapeseed oil down the length of your hair after a shower. Use a wide tooth comb to work through the tangles from the bottom up. Now blot out the excess oil if needed and style as usual.
5. Strengthens Hair:
For centuries together, grapeseed oil has been known to strengthen hair strands and prevent breakage of hair.  Since it gets easily absorbed into the scalp, it strengthens the hair roots by acting as a nourishing agent, thanks to the fatty linoleic acid present in it.
Pro Tip: Before a shower, try out a grapeseed oil hot oil treatment. All you need to do is heat up 1/4 cup of grapeseed oil and apply it generously over your scalp and hair. It should be hot enough to handle, not too hot that it burns your skin. Next cover your hair with a shower cap and let all the goodness of grapeseed sink into your scalp for 30 – 60 minutes. Now wash off with a mild shampoo. Do this weekly for strong, long hair.
6. For Styling:
Got wild curls or unruly fly aways? Simply use grapeseed oil to style your hair without that oily, greasy effect that most hair oils have. A few drops of grapeseed oil when applied to freshly washed hair, smooth down flyaway hairs to give you that well groomed look.
Ways To Use Grapeseed Oil For Hair Care:
Aromatherapy Mask: Mix four tablespoons of grapeseed oil with 10 drops of rosemary or lavender oil. Warm up the mixture slightly and massage gently into the scalp. Wrap your head with a warm towel for about 30 minutes. Wash off with a herbal shampoo.
DIY Hair Oil: Mix 2 ounces of grapeseed oil with 2 ounces of jojoba oil and 3 drops each of thyme and lavender oil. Warm up the mixture and applying to hair, leaving it for about an hour. Rinse off with a mild shampoo.
Egg White Mask: Make a grapeseed oil-based hair mask using 2 teaspoons of  grapeseed oil, 1 egg white and 1 teaspoon of lemon juice. Apply it to your hair, leaving it until it starts to dry. Wash off with a mild shampoo. This is great for dandruff removal.
Revitalizing Oil Treatment: Take 2 tablespoons of grapeseed oil and heat it. Now take off heat and add 10 drops of either bergamot or lemon essential oil. Leave it on for 20 -30 minutes. Now shampoo your hair and towel dry it. Best done twice weekly or more.
Can Grapeseed Oil Be Consumed For Hair Growth?
Grapeseed oil can be safely used as a carrier oil for hair. It is safe for external application.
It is not known whether grapeseed oil is good for hair growth when consumed.
For internal use, grape seed oil is not always considered totally safe for ingestion. Medical professionals opine that the oil shouldn't be used for more than twelve weeks. This is because prolonged use can result in side effects like headache, nausea, high blood pressure as also dizziness.
Grapeseed oil is also contra indicated with anticoagulants, anti-hypertensive or cholesterol medication, when consumed.
Buy Organic Grapeseed Oil For Hair:

Do you use grapeseed oil as a carrier oil? What are your favorite grapeseed oil benefits for hair?