Learn about the many beauty benefits of tea tree hydrosol for your skin, hair and more.
If you are on this page, then you already know what tea tree oil is. Also known as melaleuca oil, tea tree oil is an essential oil gotten from the leaves of the tea tree. Tea tree hydrosol is simply the distilled liquid that is produced as a by-product of the tea tree oil production.
As for the scent, tea tree hydrosol smells just like its oil, having a characteristic smell of a disinfectant. The smell can be described as pungent and medicinal.
Tea tree oil originates from the Melaleuca alternifolia, native to Australia. From the 1970s onward, people started planting the tea oil tree for commercial purposes so that the oil can be produced in a large quantity. Over the years, other species of the tea tree have been grown in places like the United States, Egypt and Tunisia.
The color of tea tree hydrosol ranges from pale yellow to colorless. Similar to the oil, the properties of tea tree hydrosol include: antibacterial, antiseptic, antiviral astringent and antifungal.
Where to Buy Tea Tree Hydrosol
Top 6 Beauty Benefits of Tea Tree Hydrosol
There are many beauty benefits of tea tree hydrosol so delve into them:
1. Antibacterial Potency
Because of it antibacterial property, tea tree hydrosol can combat strains of bacteria, thus making it an antibacterial agent.
For this reason, you can pour some tea tree hydrosol onto clean cotton pads and dab on your face to destroy acne-causing bacteria. This hydrosol is great at deep cleaning the pores. Furthermore, it is a perfect cleanser to fight acne.
Fight acne naturally:
2. Astringent Potency
Another beauty benefit of tea tree hydrosol is its astringent property. Thus making it perfect for toning, for reducing large pores on the skin, skin tightening and for reducing oil excess on the skin.
Make your own facial toners:
When there is excess oil on your skin, you can use tea tree hydrosol to dry your skin. To apply tea tree hydrosol as a toner, you can transfer it into a spray bottle and simply spray all you're your face. Repeat the process regularly.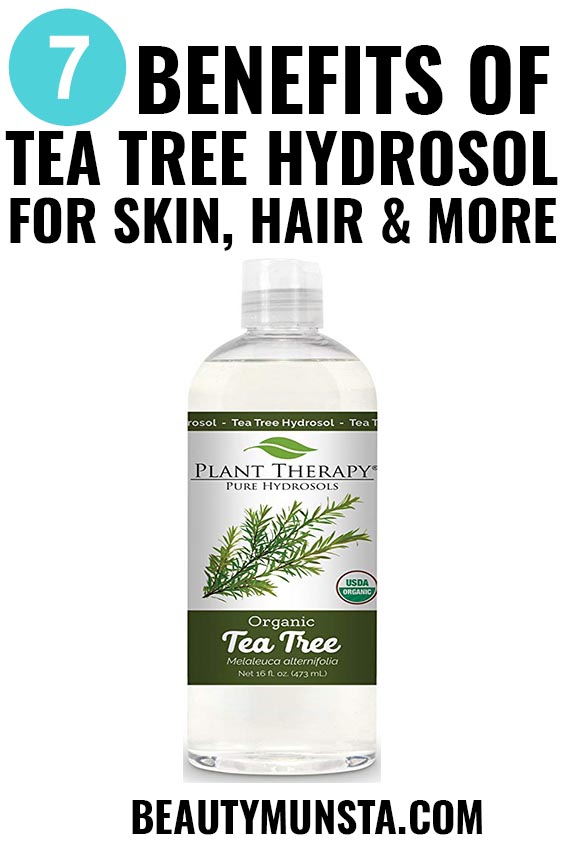 3. Antifungal Potency
Another beauty benefit of tea tree hydrosol is found in its antifungal property. Fungal infection that may result in skin fungus, dandruff, toe nail fungus and more can be treated with tea tree hydrosol. It can likewise be used to reduce itchy scalp spritz.
To get rid of dandruff and itchy scalp, just ensure to have a mist spray bottle containing tea tree hydrosol handy or in view. Simply apply the mist whenever you feel the itchiness on your scalp. Interestingly, tea tree hydrosol can be used even if you have dreadlocks or braids on your head.
Get rid of fungus: 7 Essential Oils to Cure Toenail Fungus
4. Combat Inflammation
Tea tree hydrosol reduces swelling, skin redness and inflammation, all thanks to the anti-inflammatory property of the oil. Some of the conditions that can be relieved with tea tree hydrosol include: itchiness, eczema, acne, rosacea, psoriasis, fungal infections and more. Simply apply tea tree hydrosol to the affected part on your skin.
Reduce inflammation on your skin:
5. Disinfectant
Remember we mentioned that tea tree hydrosol has a disinfectant and medicinal smell? This smell makes tea tree hydrosol powerful as a disinfectant. It can be used to wash wounds. Likewise, use tea tree hydrosol to clear, eczema or psoriasis and acne.
Apply tea tree hydrosol as a facial mist to your face. This will combat the acne and prevent it from breaking out the more.
In using it as a disinfectant or antiseptic for wound, simply spray the wound or cut with tea tree hydrosol as many times as possible. After that, you can apply cream or ointment to the wound to prevent it from getting dry.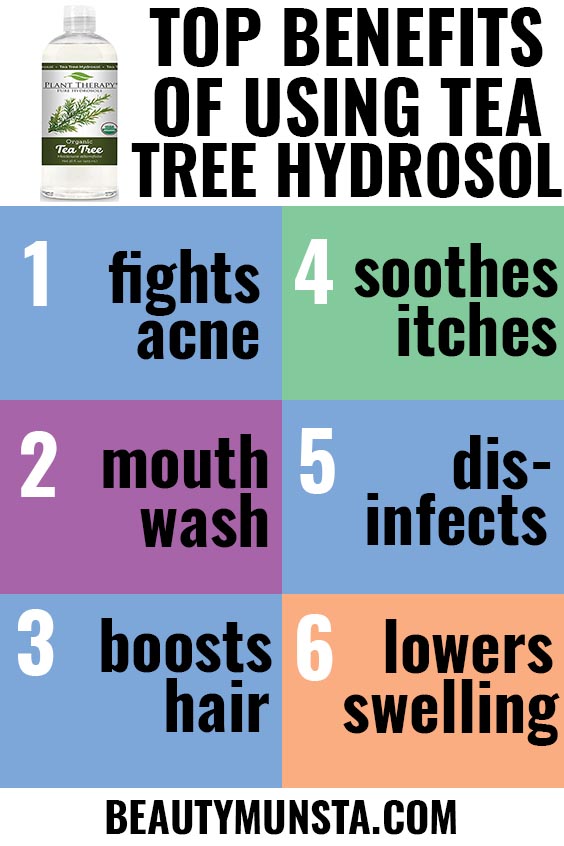 6. Mouthwash
Another awesome beauty benefit of tea tree hydrosol is that it has potent odor eliminating properties. More specifically, tea tree hydrosol can be used as mouth wash to promote a general healthy mouth. Also it eliminates bad breath.
Ingredient(s):
Procedure:
Get a pyrex measuring cup and mix up all the mentioned ingredients.
Use this DIY mouthwash as your mouthwash regularly to eliminate bad breath for good!
7. For Healthy Hair

Tea tree hydrosol can help heal all sorts of hair-related problems. At the root of hair fall is the condition of your scalp. You can fight dandruff, scalp inflammation, fungus and mal-odor with tea tree hydrosol. In turn, this will greatly reduce hair fall and boost growth.
For more tips on how to make your hair healthy, long and strong: