Scalp acne is horrible but the good thing is that it can be treated! Find out how to treat scalp acne naturally with natural remedies!
Scalp acne can be something you never expected you could get but just end up with it one day. It's just like facial acne but instead of a rash-like breakout, it's mainly in the form of pimples that can be red and pus-filled.
What causes scalp acne? Scalp acne can be caused by a variety of external and internal factors but it's mainly external factors that cause it! Some of them include:
Dirty hair
Over washing your hair
Using harsh products on your head
Excess body heat
Using heavy oils on your hair and not washing it out properly
And others
If you're scalp acne is due to infrequent washing of your hair, then washing it regularly will instantly solve the problem: you won't get any more acne. However, believe it or not, some people also get scalp acne because of over washing their hair! Over washing your hair, for example if you do it every single day, can actually strip your scalp of its natural oils. This makes the scalp go into an overdrive producing oils to compensate for the lost oils. These excess oils end up clogging the hair follicles and cause pimples!
Don't know the cause of your scalp acne? Try cutting out excess greasy foods from your diet and also, try any of the natural remedies below! Your scalp acne is sure to reduce and disappear!
How to Treat Scalp Acne Naturally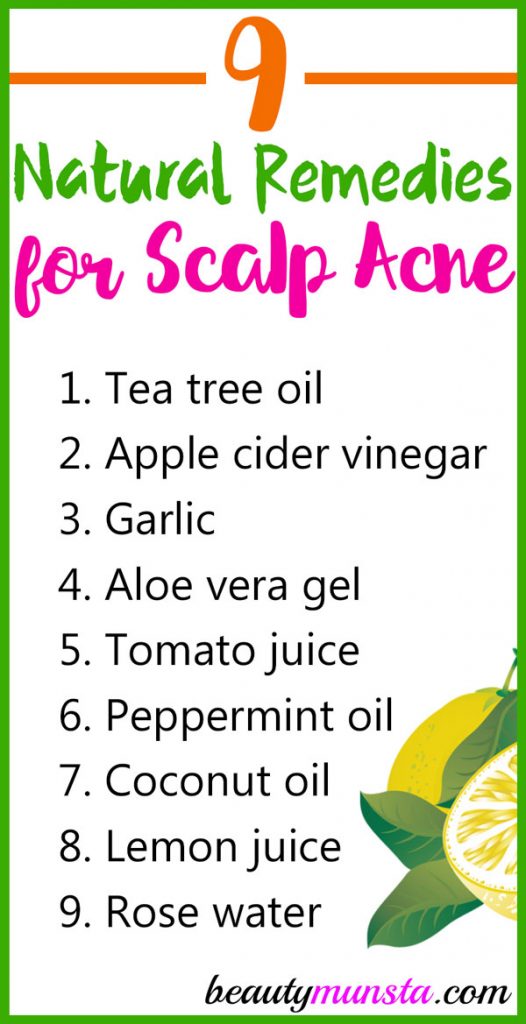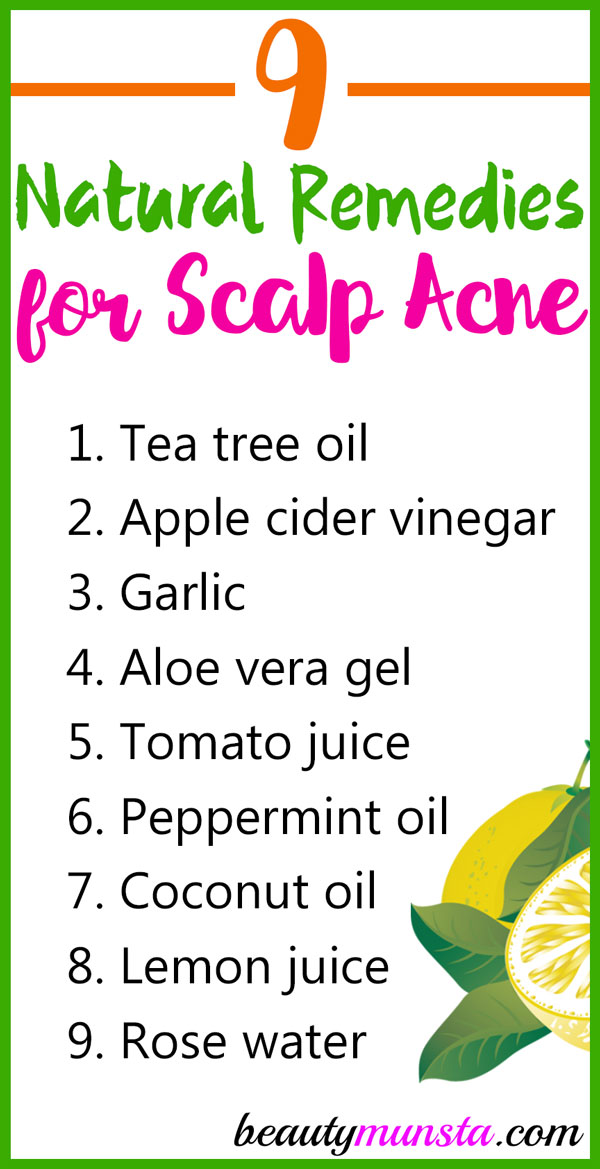 1. Tea Tree Essential Oil
Tea tree essential oil is hands down the best natural remedy for scalp acne and acne in general. It is a powerful disinfectant with strong antibacterial properties. It kills off acne causing bacteria.
How to Use: To use tea tree oil for scalp acne, make sure to dilute it with another substance like a carrier oil, shampoo, aloe vera gel, etc. You can add a few drops of tea tree oil to your shampoo as well – just add 10 drops of tea tree oil into an 8 oz shampoo bottle! Or better yet, try this DIY Tea Tree Oil Shampoo
2. Apple Cider Vinegar (ACV)
Another great natural remedy for scalp acne is none other than apple cider vinegar. It's great for drying up acne which promotes faster healing. It also fights acne causing bacteria as well. You can apply ACV directly onto your scalp acne using a cotton ball. Another way to use apple cider vinegar is by making a hair rinse with it.
How to Use: In a Pyrex measuring cup, pour ¼ cup of apple cider vinegar followed by 1 cup of water. Now add 5 drops of lavender essential oil (to mask the vinegary smell). Mix well and pour over your head as your final hair rinse in the shower. Do this every time you shower to combat scalp acne.
3. Garlic
Ignore the smell of garlic because it can be rinsed and washed off with shampoo! Garlic is a powerful acne fighter. It has strong antiseptic properties and also salicylic acid, which is popular in acne treatments.
How to Use: Blend 4 peeled garlic cloves with water to form a pureed mixture. Apply this on your scalp acne using a cotton ball. Let it sit for 30 minutes then rinse it off and wash your hair as usual.
4. Aloe Vera Gel
Ahh…aloe vera gel is so cooling and soothing on the scalp! If you have an overheated scalp, which is a major cause of scalp acne, then you need to use aloe on it! It instantly cools down heated skin and brings in much-needed moisture since it's a humectant.
How to Use: Add 2 tbsp of aloe vera gel to a mixing bowl then add 6 drops of tea tree essential oil. Stir well to combine then apply the mixture all over your scalp. You can leave it on your scalp until your next hair wash or put it overnight and wash off the next morning.
5. Tomato Juice
Yup, tomato juice is a surprising but effective remedy for scalp acne. If you see Beauty Benefits of Tomatoes, you'll know that it is good for treating acne prone skin! Tomato contains salicylic acid as well which helps reduce acne naturally. It also helps balance the scalp's pH and reduce excess oil production.
How to Use: Blend 3 tomatoes in a high speed blender with a little water then strain the puree to extract tomato juice. Apply the tomato juice all over your scalp with a spritz bottle. Let it sit for 30 minutes then rinse/wash your hair.
6. Peppermint Essential Oil
Peppermint essential oil is very cooling and soothing for your scalp! It is rich in menthol which gives a pleasant cooling sensation to skin. Just like tea tree essential oil, you must dilute peppermint essential oil with a base ingredient before applying it to your skin ( 1 drop of peppermint oil in 1 tsp of base ingredient). You can also add 10 drops of peppermint essential oil directly to your shampoo bottle (8 oz).
7. Coconut Oil
Coconut oil is soothing for scalp acne. It's good for treating scalp acne on a dry scalp that's painful. It is also antibacterial so it has effective acne-fighting properties as well!
How to Use: Massage a mixture of 1 tbsp of coconut oil and 3 drops of peppermint essential oil all over your scalp 2 hours before washing your hair with a sulfate-free shampoo.
8. Lemon Juice
Lemon juice is a natural astringent. It helps remove excess oils from the scalp which is one of the causes of scalp acne. Lemon juice also helps fight off dandruff, bacteria and other scalp irritants.
How to Use: In a spray bottle, combine ¼ cup lemon juice, freshly squeezed preferably and ½ cup of rose water. Spray onto your scalp 2 hours before washing your hair.
9. Rose Water
Rose water is a hydrosol extracted by steam distillation from fresh rose petals. It is rich in Vitamin C and antioxidants for healthy skin. It helps scalp acne by soothing and cooling the scalp, reduce inflammation and minimizing excess oily skin. You can use the rose water spray recipe above or, simply spray pure rose water directly on your scalp.
I hope you learned how to treat scalp acne naturally with the above natural remedies!