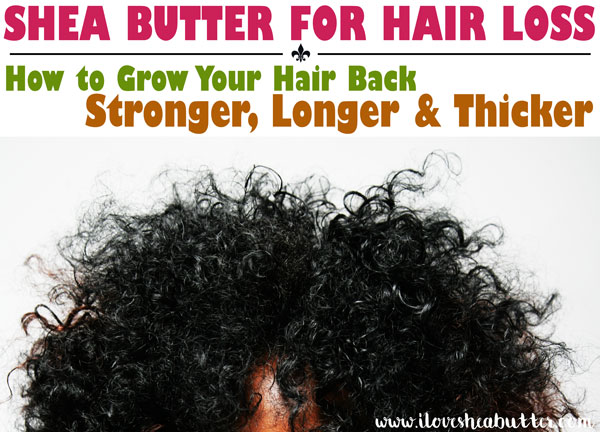 Touted as an amazing moisturizer for hair, shea butter is used by many people all around the world – whether it's an ingredient in their hair care products or if they're using it straight up or making their own mixes with it.
A question many natural hairistas wonder about is, 'Is Shea Butter Good for Hair Loss?' If you're losing your hair in clumps when you shower or comb it, then there's good news – shea butter is good for hair loss! Before we delve into the benefits of shea butter and what makes it great for hair loss in particular, let's explore the causes of hair loss first because knowing the root cause of your problem is the best way of tackling the issue of hair loss:
What Causes Hair Loss?
Hair loss is an ailment that is all too real in today's world. It can happen to anyone and anywhere and the first signs of it show up in your hair brush or shower drain. Some of the causes of hair loss include:
→ Poor Nutrition. Hair thrives on a good diet rich in nourishing fats, vitamins and minerals like sulfur, protein and iron. Sadly, people nowadays are dieting too hard and in the bad way – filling, or rather emptying – their plates with tiny morsels of 'fat-free' and 'low sugar' foods. Did you know that these labels are recipes for disaster? Fat-free basically means the lack of fat is compensated for in another manner – with more preservatives and artificial ingredients that mimic the creamy flavor fat gives. Low sugar basically stands for additives that are not the cane sugar we know but sweeteners like aspartame, which have dangerous side effects when consumed over a long time. Instead of bulking up on store-bought foods with deceiving labels, why not eat wholesome meals such as your own guacamole made with avocado that's bursting with good fats or a healthy chia seed pudding with organic free range milk? When you eat a balanced diet including omega-fatty acid-rich fish, protein-rich meat, protein & sulfur rich eggs and fatty-acid rich almonds, you're feeding your hair follicles with essential nutrients they need to grow a healthy head of hair.
→ Low Quality Shower Water. Tap water usually contains chlorine and other chemicals plus most people get hard water when they open their taps. All these chemicals leave residue on hair and irritate the hair follicles, gradually weakening them and leading to hair loss. Protect your hair from falling by investing in a good shower filter that removes chlorine and other chemicals plus softens your water before it hits your head.
→ Heat Tools. Relax on the heat tools a bit. Maybe you can't get rid of your blow dryer forever but you can restrict the use of the curling iron or hair straightener to special occasions like when you're getting ready for a party or wedding. Heat tools lead to hair loss by damaging the hair follicles and hair strands, making them weak and brittle. They also dry up the good oils that are naturally found on the hair and scalp, dehydrating hair and causing it to fall off. You can also try air-drying your hair or letting it dry naturally at room temperature or in the sun to give your hair a break from the blow dryer.
→ Stress. Stress plays a big role in hair loss. When you're stress, the body releases the hormone cortisol that changes immune system responses as well as represses the digestive system, the reproductive system and growth processes! Try to decrease your stress by finding more time to spend in nature (lavender flowers are said to produce an aroma that decreases stress and promote calm) or your loved ones that increases happiness, meditate or simply take deep breaths often and try to assess a stress-inducing situation with an open mind and calmness.
→ Certain Medications. Some medications are known to have side effects of hair loss and thinning. You can discuss with your doctor for better medications that do not lead to hair loss or if you can't do with that particular medication, then you might want to complement it with hair growth supplements (approved by your doctor) to minimize hair fall.
→ Genes. Hair loss may also be hereditary. Especially for males, it's scientific fact that if the male parent is bald or experienced thinning hair, then the son is most likely to face the same hair loss issues. This type of hair loss cannot be treated using shea butter alone but shea butter can be used in conjunction with conventional hair loss medicine like Rogaine for a wholesome treatment and also, to solve side effects of allopathic treatment such as dry hair or lack-luster locks.
→ Dry Scalp. Dry scalp issues can cause hair loss because of lack of oils or enough sebum to keep the hair follicles moisturized so that they can properly function and hold the hair strands strongly.
→ Dandruff. Dandruff also causes hair loss since the white flakes clog up hair follicles and promote scratching which in excess, irritates the scalp and accelerates hair loss.
Properties in Shea Butter that Make it Good for Hair Loss
Nourishing. Shea butter is rich in nutrients including vitamin A, E, F and K which all support a good environment for healthy hair growth. All these nutrients rejuvenate the hair follicles and promote nourished, well-hydrated and luscious hair.
Moisturization. As we saw above, dry hair and dandruff are major causes of hair loss. Shea butter, an intense moisturizer is all you need to fix this issue. Since its rich in fatty acids, it seals moisture into the hair and keeps it hydrated. It also lubricates severely dry scalps to keep the skin there healthy and flake-free.
Anti-Inflammatory. Shea butter is known to be a powerful anti-inflammatory agent with its content of cinnamic acid esters that soothe inflammation and reduce redness. These acid esters heal inflammation which can cause hair loss in the form of scalp inflammation. This amazing property of shea butter is backed by research (1) as well! Being anti-inflammatory, shea butter also perks up the hair follicles, keeping them healthy and functioning the way they're supposed to.
Antioxidant. Shea butter contains numerous potent antioxidants including the royal skin and hair vitamin, Vitamin E. Vitamin E is wonderful for hair growth and strong hair strands. It fights off scavenging free radicals that are play a big part in every ailment on planet earth. Free radicals are unstable molecules that damage hair cells by stealing oxygen cells from them in order to become stable. By stealing oxygen, they cause the healthy hair cells to become dull and lifeless, leading to hair loss.
Hair Protectant. Shea butter has an SPF of about 3-10, depending on the shea butter (as you know, each shea butter varies from tree to tree and nut to nut!) making it a good sun block for hair. It coats the hair strands, deflecting harmful UV rays that are not only packed with cell-destroying free radicals but also suck up all the natural oils on hair, making it dry and brittle – a cause of damaged hair and hair loss.
Where to Get Shea Butter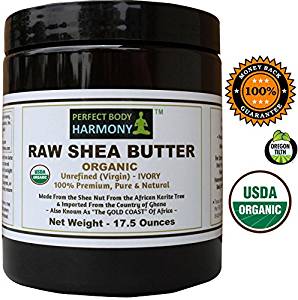 I like to buy shea butter in a jar because it's easier to just scoop it up and rub it on your scalp/hair. That's why I love Perfect Body Harmony Shea Butter. It's 100% pure, organic, raw and comes in a UV protectant jar. That means your shea butter will be protected from light so it won't get rancid quickly/easily.
For Shea Butter Hair Growth Recipes, follow the link below:
References
(1) www.ncbi.nlm.nih.gov/pubmed/20484832