You've heard of oil cleansing with coconut oil or grapeseed oil, but oil cleansing with shea butter?! Does it work? And why would you use it? Guys, lemme tell you, though it's not usually done and sounds weird, oil cleansing with shea butter ROCKS!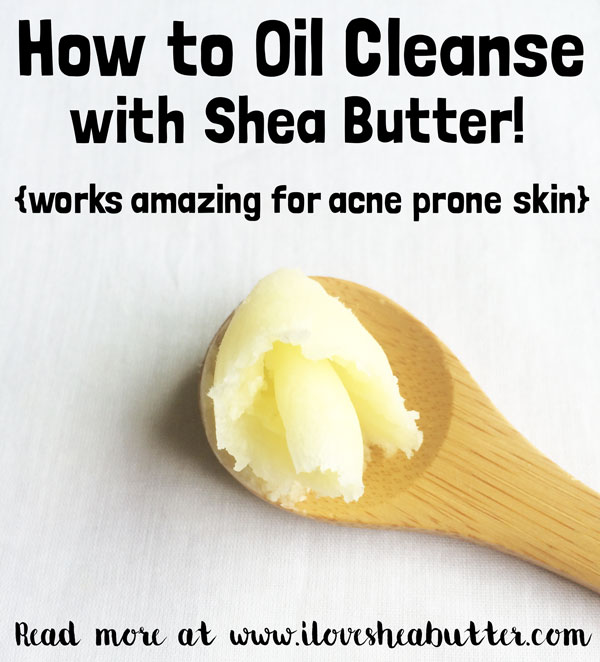 What is Oil Cleansing, Anyway?
The first time I heard about oil cleansing, I don't remember my reaction exactly but one thing's for sure, it took a long time for me to actually get around doing it.
It is a method of cleansing your face using just oils (and hot water). The theory is that the good oils you're cleansing your face with go deep into your pores and push out the stale oils, dirt, pollution, grime and excess dead cells. This cleanses your face on a whole new level since it digs deep into the pores.
So when I finally got around to doing it, I was pretty excited because everyone was raving about how oil cleansing was the only thing that helped them get rid of acne. And acne is something I really want to magically disappear. Anyway, I went ahead and started using a variety of oils for oil cleansing. I actually made a mixture with coconut oil, olive oil, blackseed oil and a couple other oils.
It worked super amazing for my sister – glowing skin and all, but for me, sadly it was a fail. I kept getting acne and not just regular bumps but tiny cystic acne all over my cheeks. And they were itchy! I thought I wasn't washing the oils off well so I continued. The acne also continued popping up. I even thought my skin was detoxing and just left it and that. But good heavens people, how long was this detoxing supposed to take? Cause boy was it sure taking long for me. And no one wants to move around with weird itchy cystic acne!
That's where shea butter comes in. What makes it oil cleansing with shea butter so special? Well, the greatest thing is that it's NON-COMEDOGENIC! This means it has a comedogenic rating of zero! A comedogenic rating is a scale of 0 – 5 that shows the pore clogging ability of an oil or skin care product. If an oil has a comedogenic rating of 3 – 5 and your skin is prone to breakouts, stay away from it!
Now coconut oil, olive oil and black seed oil, which I was using have comedogenic ratings of 4, 2 and 2 respectively. That's the reason it's not gonna work for some people, especially those with acne prone and oily skin. Oil cleansing with these oils might make you breakout!
Shea butter's comedogenic rating isn't its only plus point for oil cleansing. Here are more benefits of oil cleansing with shea butter.
Other Benefits of Shea Butter for Oil Cleansing
Easily penetrates into skin without 'sitting on top' like some oils.
Has nourishing nutrients that feed skin with nutrients
Rich in fatty acids that keep skin supple soft and smooth
Leaves your face glowing
Promotes anti-aging
Soothes irritated and sensitive skin
No need to moisturize afterwards
And more!
Which Shea Butter to Use
I always like shea butter that comes in a jar because it's easy to scoop some and use. My favorite is Perfect Body Harmony Shea Butter. It comes in a 17.5 BPA-free amber jar, so it's protected against light degradation. It's 100% pure, USDA certified organic and unrefined West shea butter. You can get it here.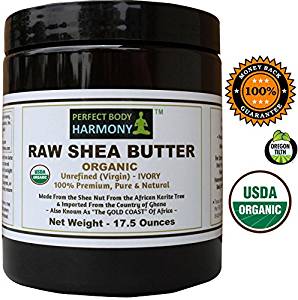 How to Oil Cleanse with Shea Butter
Place ½ tsp of shea butter on your clean palm. Then using the fingers of your other hand, scoop it up and evenly apply it all over your face.
Once your whole face is covered, run a soft microfiber cloth under very hot water from the sink.
Then wring it out and start dabbing it all over your face.
Repeat 2 – 3 times until all the oils have been removed.
Use the washcloth to give your face a final wipe to remove the excess oils. Make sure you thoroughly wipe off all the residual oils so that all the dirt is removed.
Voila! Your face will be clean and soft. It'll also glow like the sun 😉
No need to moisturize! Just splash your face with cold water to close the pores then pat your face dry.
Amazing, right?!
Try it every night if you're hard core or at least twice a week.

What do you think? Are you ready to do oil cleansing with shea butter? If you are, you're not alone! You can ask advice from me anytime in the comments below!