Making Your Own Cocoa Butter Face Cream
Here's a question for you: why would you want to pay arm and limb for a branded face cream, when you can make your own natural cocoa butter face cream at home?! Please don't tell me that you're too busy to make your own face cream because this recipe is as simple as it gets! With store-bought and commercial face creams, you can't know what sorts of chemicals are in there. Studies show that women absorb up to 5 pounds of cosmetic products a year. These are the same chemicals that cause breast cancer, hormonal imbalances and more. Some of these chemicals include parabens and phthalates which are known endocrine disrupters. Reduce your chemical burden by making your own products at home.
The Benefits of Cocoa Butter
Cocoa butter is one of the most underrated beauty ingredients out there. If you knew about the benefits of cocoa butter, you wouldn't even bother buying packaged face products. That's why they keep you in the dark about these natural ingredients.
The most well-known benefit of cocoa butter is its excellent stretch mark removal property. Cocoa butter helps prevent stretch marks before they appear. In case you already have stretch marks, cocoa butter will reduce their appearance considerably.
Aside from this, cocoa butter is also a wonderful moisturizer, sealant and dry skin remedy. Read: 10 Amazing Beauty Benefits of Cocoa Butter for Skin & Hair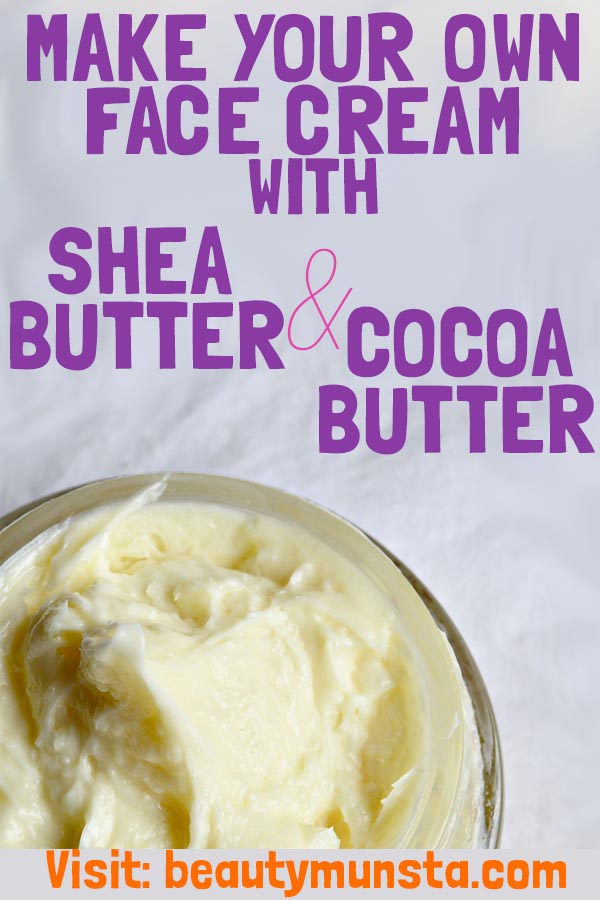 How to Make DIY Cocoa Butter Face Cream for Anti-Aging and Skin Repair
Now this easy cocoa butter face cream recipe is designed for anti-aging. But you can use it for a variety of benefits like blemish removal, dark circles removal and hyperpigmentation. This recipe contains essential oils designed to fight wrinkles, repair your skin and rejuvenate your face. We're also going to be using my favorite, shea butter, a less known butter which is actually spectacular for skin.
Here's the easy recipe for your own cocoa butter face cream:
Ingredients:
Procedure:
In a double broiler, melt your cocoa butter first. Next add in the shea butter. Stir well. When these two are melted, take off heat. If you don't have a double broiler, it's simple to create a make shift one. Simply fill a big pan with water and place on heat. Next get a smaller stainless steel pan or heat-safe glass ware and place over the water. Melt your butters on the smaller pan.
Once off heat, add in the safflower oil and mix.
Finally, add all the essential oils carefully and mix again.
Now place your melted ingredients, while still in the pan, into your refrigerator for 1 – 2 hours. The purpose of this is not to solidify your oil, but rather to get it to a semi solid consistency. It will be grainy looking.
Next, remove your mix from the fridge and begin to whip your cream. Using an electric whisk, whip your cream until it becomes fluffy and white.
Transfer to a nice clean container. Voila! Your beautiful, natural face cream is ready for use!
Read: How to Use Cocoa Butter on Your Face for Best Results
How much cocoa butter face cream should I use?
You only need a tiny amount. Less than a pea sized amount. Scoop out the required face cream using your finger and massage it gently all over your face.
How often should you apply cocoa butter face cream to your face?
1 – 2 times a day is just fine. However, feel free to apply it up to 3 times a day for extremely dry skin or for scar removal.
Can I apply cocoa butter cream to my face at night?
Absolutely! In fact, the best time to use cocoa butter on your face is at night. Find out why here: Can You Apply Cocoa Butter on Your Face at Night?
Word of Caution:
Do not use cocoa butter if you have acne-prone skin. This is because cocoa butter is pretty high of the list of comedogenic oils. It has a propensity to clog pores and create pimples or acne in certain people. Most people, however, have no issues using cocoa butter on their face.
Looking for Containers to Store Your DIY Face Cream?