All Natural Shea Butter Face Lotion Recipe for Sensitive Skin
In this soothing shea butter face lotion for sensitive skin, we will be using geranium essential oil. Geranium essential oil is truly a must-have for all women. It not only promotes flawless beauty with its anti-acne and blemish busting properties but also keep hair looking well-conditioned and smelling gorgeous! Geranium essential oil is extracted by steam distillation from the leaves and stems of the geranium plant (scientific name: Pelargonium graveolens) which is native to South Africa. It's great for women in particular not only for its skin and hair beautifying properties but also its hormone balancing effects that help with a variety of women's problems such as menstrual troubles, breast congestion and hormonal cystic acne. Here's a quick list of geranium essential oil for skin:
♥ Fights & prevents acne
♥ Helps fade away blemishes
♥ Balances oily skin
♥ Reduces skin puffiness
♥ Staves off premature fine lines & wrinkles
♥ Helps diminish skin tags
♥ Reduces skin inflammation & rashes
♥ Natural perfume for floral scented skin
Homemade Shea Butter Lotion Recipe with Geranium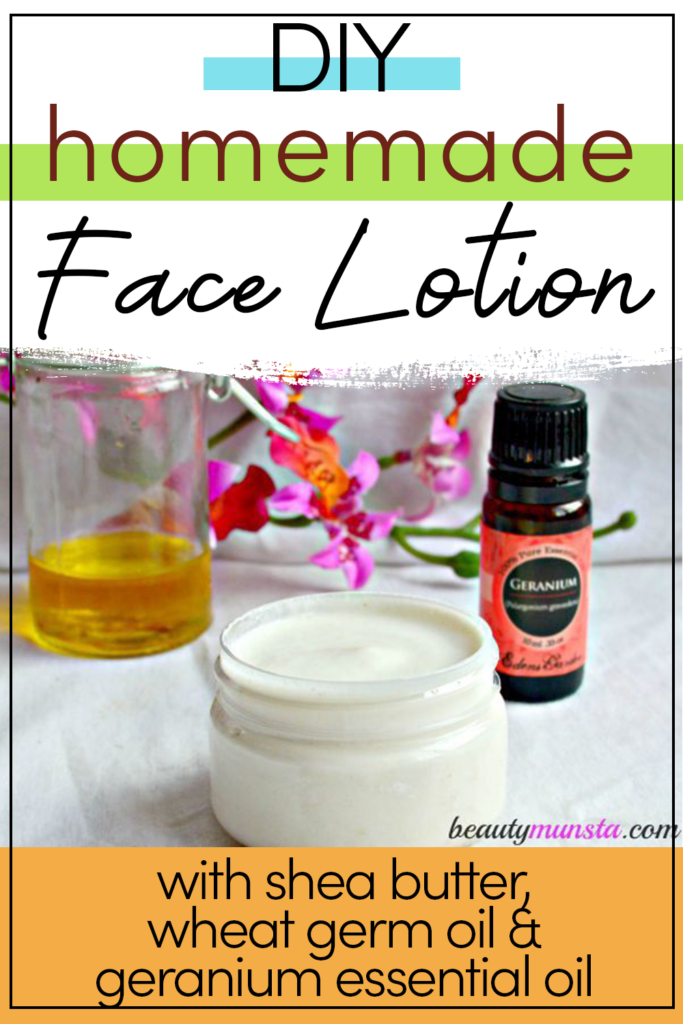 Ingredients
Method
As usual, start by creating a double boiler to gently melt the shea butter, coconut oil, beeswax pastilles and jojoba oil to liquid form.
Once the ingredients have turned to liquid, place your bowl in the refrigerator for 30 minutes to completely cool down and partially solidify.
With a hand mixer, whip the partially solidified mixture into a fluffy cream for about 7 minutes.
Then add the geranium essential oil and whip again for 3-5 minutes.
Wasn't that incredibly simple?! Now all you have to do is store your homemade shea butter geranium lotion in a clean container and store in a cool, dry and dark place such as the bathroom cabinet! This way, you can easily rub it all over your body after a shower/bath and remain with gorgeous geranium scented silky skin!
Notes
This homemade shea butter face lotion recipe contains quite a few oils so it's on the greasy side, which is perfect for sensitive dry skin and those whose skin craves moisturization. But if you find it too oily for your tastes, you can reduce the amount of coconut oil/wheat germ oil and jojoba oil.
Ensure to keep this lotion away from water and other contaminants so that it can last over 6 months without spoiling. Also, use pure ingredients and avoid rancid oils.