You can make your own lotion with shea butter at home with absolutely no chemicals or preservatives but just natural ingredients! For my homemade shea butter lotions, I don't even use beeswax or emulsifying wax (except for this one) and I still get a liquid lotion consistency. The most important step in making your own lotion with shea butter at home is adding the hydrosol at the right time in a slow steady stream while the oil mixture is blending on high speed. (more details in Method 2 down below)
You can use a hand mixer or immersion blender but this recipe uses a food processor. You could also use a blender like how I did for this shea body butter recipe with rose hydrosol but it's a bit tricky because the heat from the motor can melt the shea butter and refuse it from turning to body butter so you have to be very quick.
Alright! Let's move on to the tools & ingredients you're going to need and the detailed instructions below:
How to Make Your Own Lotion with Shea Butter At Home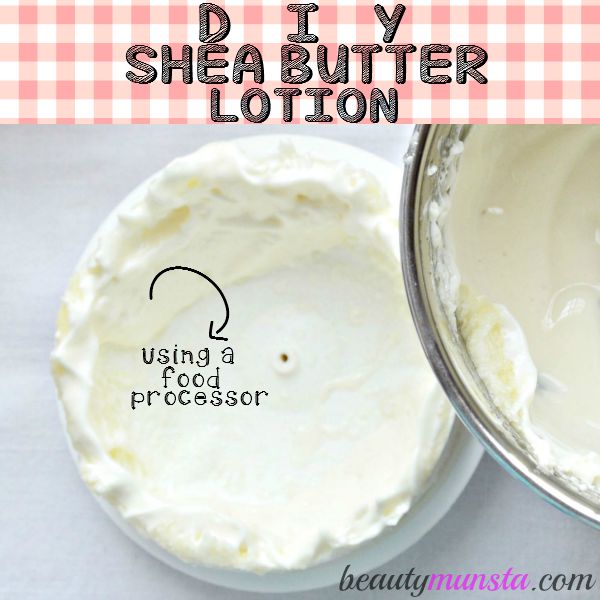 What you need
➝ Food processor. You'll need a high speed food processor. You can also use a small food processor (3 cup), since you'll be making small batches at a time. If you don't have a food processor, please use a high speed blender, it also works!
➝ Mason jar & spatula. Also keep a clean and sterilized mason jar/container ready and a spatula for mixing up the essential oils. I always mix up the essential oils into the finished lotion because they have overpowering scents that can cling onto the food processor/hand mixer that I also use in the kitchen for food items. If you have a food processor/hand mixer just for your beauty products, then you can go ahead and add the essential oils without a fuss!
Main ingredients:
➝ Raw Shea Butter
➝ A base oil (preferably liquid oils like olive oil, grapeseed oil or argan oil)
➝ A hydrosol/floral water/distilled water or liquid of choice, for example aloe vera gel, witch hazel or aloe vera juice
Optional Ingredients:
➝ Beeswax/Emulsifying Wax (I do not use any beeswax or emulsifying wax in any of my shea butter lotion recipes because I don't feel the need to. It makes the lotion greasy which I don't like but if you want a thicker lotion, then go ahead and use beeswax. Remember to melt it down first, using a double boiler.
➝ Healing ingredients such as raw honey, lavender, calendula extract.
➝ Essential Oils. Use essential oils that blend well with shea butter like these ones.
➝ Natural Fragrance/Scents
Ingredients
4 parts raw shea butter (buy here)
4 parts base oil
3 parts hydrosol/liquid of choice
1 part optional skin healing ingredients of choice
0.5 parts beeswax (buy here)
Directions
Method 1:
Add the shea butter, hydrosol and oils/herbs/other ingredients of your choice into a food processor. If you are using beeswax, then I suggest melting it first before adding it into the food processor.
Blend for 5 minutes until you get a smooth consistency. Blend more if you have not reached the desired smooth and absorbable consistency.
Transfer the shea butter lotion into your clean and sterilized mason jar/container.
Stir in the essential oils with a clean spatula. Voila! Your shea butter lotion is now ready for use!
Close the lid tight and store in a clean dry place. Make sure no water or other impurities come in contact with your diy lotion!
If for some reason, method 1 doesn't work for you for some reason, use method 2.
Method 2:
First prepare a double boiler. You can create a makeshift one by filling a pan with a couple inches of water and placing a heat safe container filled with the butters/wax in the pan. Heat on a lot to medium flame.
Now place your shea butter, beeswax and oils in a clean heat safe container. If using any other hard butters like cocoa/mango/kokum butter and coconut oil, add them in the heat safe container together with the shea butter.
In another heat safe container, add the hydrosol.
At the same time, place both the heat safe container, one containing the butters and the other containing the hydrosol in the large pan. Leave them there until the shea butter and the wax melt completely.
Switch off the flame. Pour the oil/butter/wax mixture into the food processor and close the lid, allowing for the hole. Start blending on high speed.
Slowly pour the hydrosol into the food processor in a constant stream into the hole of the food processor while it's blending the oil mixture at a high speed. Once all the hydrosol has been gently and slowly poured into the food processor, leave it to blend for about 5 to 10 minutes. By this time, it should have blended the mixture into a smooth white lotion! IMPORTANT: For this method to work the hydrosol and the oil mixture must be at the same temperature.
Transfer the shea butter lotion into a sterilized mason jar/container and store in a clean dry place.
My Tips
To help bind the ingredients better, add raw honey, aloe vera juice, witch hazel or cornstarch to your recipe. Cornstarch/baking soda also cut down on the greasiness of the lotion and make it creamier and silkier! But don't add too much or once you apply the lotion you'll find it peeling off of your skin!
Save your shea butter lotion from becoming oily by adding a significant amount of aloe vera gel/juice or witch hazel. If you've already made the lotion and it's oily, then add more aloe vera juice/gel or witch hazel to it, blend again and it'll be less oily in no time.
Please use only organic ingredients in this diy shea butter lotion recipe to prolong its shelf life. Do not use water because it'll cause mold to grow in the lotion! Use only 100% pure hydrosols. If you want to use water then you must also add a preservative.
My Favorite Tried & Tested Shea Butter Recipes Ebook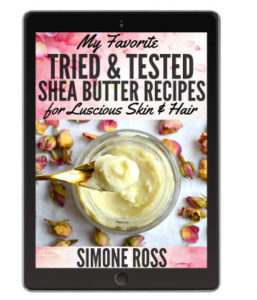 Do you love shea butter and want to make your own beauty products with it?! Check out this ebook "My Favorite Tried & Tested Shea Butter Recipes for Luscious Skin & Hair" for 30 awesome recipes, complete with step-by-step instructions, beautiful pictures and other valuable shea butter info!