Shea, mango and cocoa butter are three heavy weights in the world of natural skin care products. But which is the best of the three? It depends!
Many of us are turning to natural body butters to care for our skin instead of store-bought products. Commercial lotions and moisturizers contain various harmful chemicals and preservatives. These synthetic chemicals can irritate our nervous systems and disturb hormonal balance.
With natural ingredients like shea, mango and cocoa butters, you don't have to worry about any added parabens or preservatives. These butters are naturally derived and work wonders for our skin.
Let's take a closer look at shea, mango and cocoa butters, where they come from and what each of their unique properties are.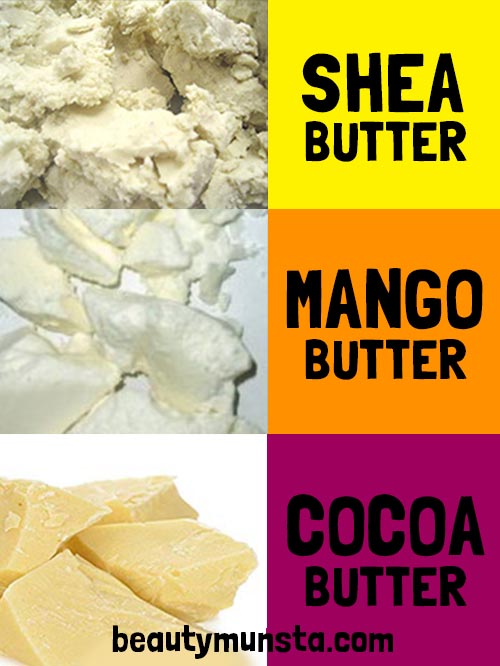 Shea Butter
Shea butter is more popular than mango butter and it comes from the Karite tree that is native to West & Central Africa. It has a rich, soft and creamy consistency.
Shea is my all time favorite butter.
It remains solid at room temperature, yet melts and sinks smoothly into the skin once warmed by the body's temperature.
This special butter is packed with various antioxidants and vitamins. It has high levels of vitamins A, D, E and F. Shea butter works as a sunscreen, protecting against UV damage. It also heals skin that is damaged by too much sun exposure.
Shea butter is also used to soothe inflammatory skin conditions like eczema, psoriasis and rosacea.
Further, shea butter is a wonderful remedy for insect bites, poison ivy rashes, diaper rashes and burn wounds.
Mango Butter
Mango butter is an equally fascinating butter that comes from the mango seed/kernel.
This tropical butter is a rich, creamy butter too – but slightly harder than shea butter.
This makes it hard to apply directly without mixing it with other oils, or melting it first. However, the light fruity scent of mango butter is much more pleasant than that of shea butter.
You will find mango butter abundant in antioxidants such as retinoic acid and ascorbic acid. These help in the regeneration of skin cells, keeping you looking youthful and radiant. Moreover, mango butter is an potent emollient, making skin soft and smooth. Mango butter can be used as a moisturizer, to soothe redness and inflammation, to treat psoriasis, eczema etc, to soften cracked heels and for dry skin.
Cocoa Butter
Cocoa butter is much more mainstream than both shea and mango butters.
This could be due to the fact that the cocoa tree is much more commercially cultivated for the production of chocolate.
Cocoa butter has a mild chocolate aroma.
From my experience, cocoa butter dries out much quicker than shea butter, even when kept in an air tight container.
Extremely rich in antioxidants, cocoa butter is an excellent collagen stimulator.
This makes it great for preventing wrinkles and fine lines.
It is high in Vitamin E, which allows the skin to heal more effectively and prevents scars. Cocoa butter has great success in even reducing already existing scar tissue.
The most popular use of cocoa butter is for preventing pregnancy-related stretch marks.
The other uses of cocoa butter include in cosmetics such as lip products and in body lotions. Further, cocoa butter keeps the skin moisturized, sealed, youthful and radiant, among others.
Shea, Mango and Cocoa Butter – Which is the Best?
Each of our skin care needs varies.
So if you're trying to choose between these superstar butters, choose the one that best suits your skin and your purpose of use.
Call me biased, but given the choice, I'd always choose shea butter.
But if you're a nut butter fanatic like me, you should definitely get your hands on all three and try each of them out.
It is a fun process! In the beginning I found the scent of shea butter a bit offensive.
But I mix it with various aromatic and therapeutic essential oils like lavender, geranium and lemongrass.
If you are allergic to nuts, you should consider staying away from nut butters like shea, mango and cocoa butter, for the reason that they are all derived from nuts.
Those suffering from acne, should also limit the usage of these butters, especially on their face.
Both shea butter and cocoa butter are said to tan or darken the skin. So if you are looking to lighten your skin, mango butter is your best bet.