Does using shea butter on your face at night give you better results?
Night time is a special time when it comes to skin care. If you sleep with makeup on, you'll end up with clogged pores the next day. And if you don't cleanse your face properly before bed time, you might get breakouts. That's because as we sleep, the skin produces sebum and sweat that can mingle with a dirty face and block the skin pores. This leads to clogged pores, breakouts, white heads and blackheads.
Our skin is actually actively at work at night time. It renews and repairs itself while we're deep asleep! That's why it's important to help your skin with this renewal process by cleansing it and feeding it with proper nutrients.
Where to Buy Shea Butter

Unrefined African Shea Butter – Ivory, 100% Pure & Raw – Moisturizing and Rich Body Butter for Dry Skin – Suitable for All Skin Types – Use Alone or in DIY Whipped Body Butters – 16 oz (1 LB) Bar

What Does Using Shea Butter on Your Face at Night Do?
Using shea butter on your face at night is a wonderful therapy for beautiful skin. Shea butter is known to have lots of nourishing nutrients in it, such as:
Vitamin A – This vitamin is useful for keeping skin moisturized and preventing it from getting dry. It also helps fade scars and renew skin.
Vitamin E – Vitamin E is a great vitamin for beauty. It is a powerful antioxidant which fights off free radicals that cause premature aging. Vitamin E also moisturizes skin and helps heal blemishes.
Vitamin K – This less-known vitamin for beauty is actually good for dark circles, healing stretch marks, clotting of blood and promoting flawless skin.
Vitamin F – Also known as fatty acids, vitamin F moisturizes skin, protects it from harsh elements and keeps it supple.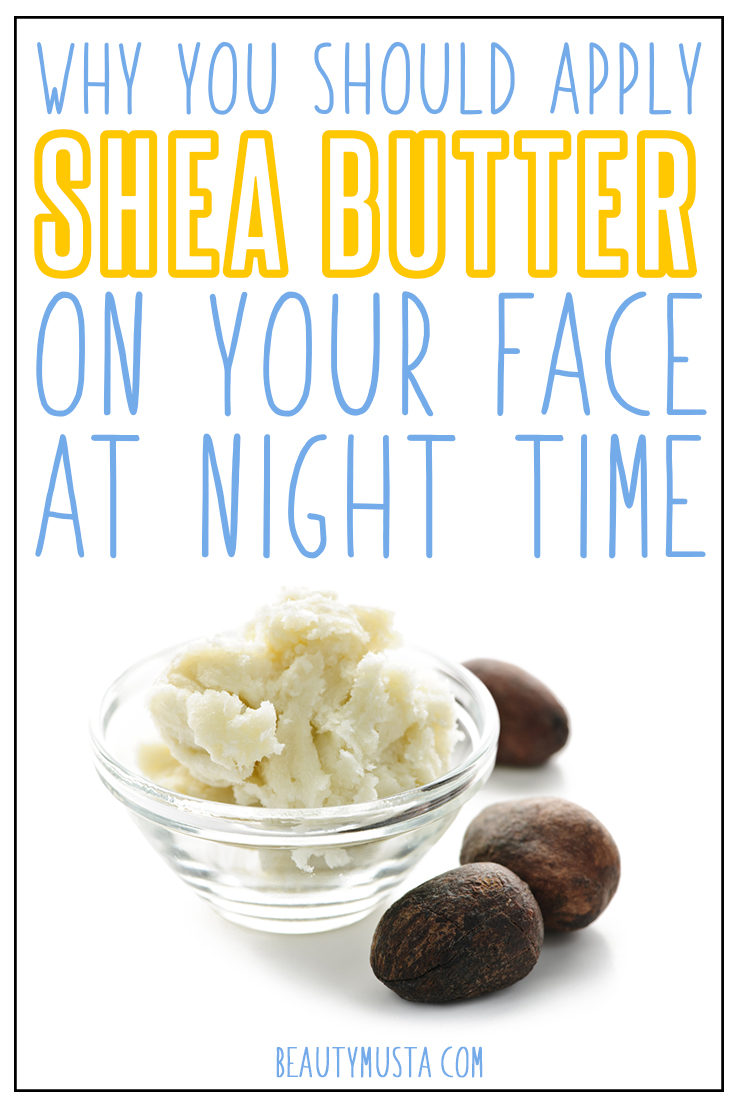 Benefits of Using Shea Butter on Your Face at Night
Using shea butter on your face at night has so many benefits for skin including:
Boosting collagen
Promoting youthful skin, healing acne
Regenerating skin cells
Healing scars
Lubricating dry skin
Soothing irritated
Reducing inflammation
Evening out hyperpigmented skin
Reducing under-eye dark circles
Reducing blemishes
Brightening skin
*Some people even put shea butter only at night time because they believe it tans the face when used in the day. I'm not sure about this. But I ain't believing it. To me, shea butter helps lighten skin.
Where to Get Shea Butter
I love Better Shea Butter's Unrefined Shea Butter. It comes in a big packet and carries a pound of shea butter. It's soft, so it's easy to scoop up with clean fingers and apply! It's one of the best brands of shea butter around if you want a high quality product.
How to Use Shea Butter on Your Face at Night
1. Oil Cleansing. Yes, you can do oil cleansing with shea butter! Check out my article on how to do it! It can be immensely helpful for acne prone skin and more.
2. Direct Application. Simply scoop out a pea-sized amount of shea butter and massage it deeply in your face and neck.
3. Night Cream. Make your own DIY night cream using shea butter! Go here to see how to make it!
4. Skin Brightening Cream. Go here to see how to make a skin brightening cream with shea butter.
5. Scar Fading Formulation. Yes, you can make a night time scar fading formulation to help heal your scars faster. Go here for the recipe.
6. Hyperpigmentation Cream. Got hyperpigmentation? Try a skin lightening cream with shea butter. The recipe is here.
7. Eye Cream. Go here to see my DIY shea butter eye cream. It prevents under eye wrinkles and keeps that sensitive skin moisturized and youthful!