Learn how to use shea butter for muscle pain.
What is Muscle Pain?
Muscle pain is also known as myalgia in medical terms. It is the result of inflammatory conditions, overexertion or injury, infection in the soft tissues and more. Muscle pains can be peculiar to a muscle group or affect many muscle groups as a time.
A number of things can cause muscle pain. Some of the causes of muscle pain include:
tension, stress and strenuous physical activities
Health conditions like thyroid problems (hyperthyroidism and hypothyroidism)
Autoimmune disorders like dermatomyositis, lupus and polymyositis, fibromyalgia,
Hypokalemia (caused by the low level of potassium)
Bacterial infections,
Flu and polio,
Statins
and a lot more.
More on shea butter:
Properties of Shea Butter for Muscle Pain
Shea butter has anti-inflammatory property, which can help with muscle pain. Other properties of shea butter are vitamin A, vitamin E and vitamin F (essential fatty acids). Combining shea butter with other ingredients that relieve muscle pain can make for greater, quicker relief. Related: 3 Essential Oil Recipes for Muscle Pain
Applying Shea Butter for Muscle Pain
As mentioned earlier, a number of things can ignite muscle pain. Whatever the cause of muscle pain is, shea butter can help reduce the pain.
Shea butter has the power to eliminate or reduce muscle pain.
Simply apply it topically to the affected region, then massage gently to sink in.
Within some minutes, you should feel some measure of relief in the affected region after applying shea butter for muscle pain.
The anti-inflammatory property of shea butter makes this possible.
Shea butter will reduce inflammation in the muscle, thereby eradicating or reducing the muscle pain.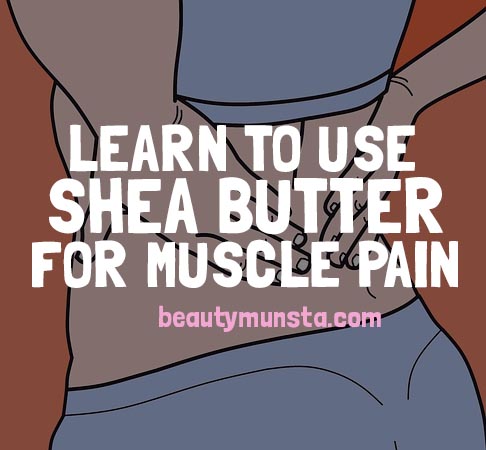 DIY Muscle Pain with Shea Butter Balm

You can prepare a homemade balm with shea butter and other ingredients, to serve as treatment for muscle pain. Mixing shea butter with other pain-killing ingredients to make it even more effective.
Ingredients:
Procedure:
Melt the shea butter and bees pellets using a double broiler set up so that they don't burn or catch to the bottom of the pan. Now take off heat and add the coconut and olive oils. Mix thoroughly.
Once slightly cooler, but still liquid, add in all the essential oils. Mix again.
Pour your balm into a dark colored storage container and allow to set and cool.
Your balm is then ready for usage.
Transfer the balm to a storage jar with a good lid and store in cool and dark place. The balm can stay for 1 – 2 years without losing its potency.
Apply the balm to the muscle pain affected area and gently massage in a circular pattern for the balm to sink in and ease you of the muscle pain.
Other Remedies for Muscle Pain
Apart from using shea butter for muscle pain, other remedies or practices that can help with muscle pain relief include: drinking cherry juice, applying heat or cold pressure, sleep, apple cider vinegar, magnesium oil, Epsom salt and more.
Use Shea Butter for Wellness