In the quest for getting rid of cellulite, we hunt for all sorts of remedies that we can use safely on the skin. What about natural skin butters like shea butter? Does shea butter reduce cellulite? Let's find out!
What is Cellulite?
Cellulite is a skin condition that makes the skin appear lump and dimpled. It is a term used for lumps and dimples formation on the skin. There are different names or terms used to describe cellulite, such as cottage-cheese skin, orange-peel skin, the mattress phenomenon, and hall damage.
While the actual cause of cellulite cannot be ascertained, it appears to be caused by a disconnection in communication that occurs between the connective tissue residing in the dermatological layer, which lies underneath the skin's surface and the fat layer under it. The connective tissue is arranged in a crisscross pattern in men, and that is probably the reason why men don't have cellulite outbreak as much as women. In women, however, the connective tissue and the fat cells have a vertical arrangement. So, if the fat cells bulge into the skin layer, the appearance of cellulite can be spotted on the skin. Age and hormonal factors also appear to cause cellulite.
There are different grades of cellulite – 3 of them. The mild or grade 1 cellulite has an orange-peel appearance and a slightly saggy appearance is noticed on the skin. The depth of depression on the skin is measured to range from 1 to 4. The moderate or grade 2 cellulite has a cottage-cheese appearance and a moderate saggy appearance on the skin. The depth of depression is measured to range from 5 to 9. The severe or grade 3 cellulite has a mattress appearance, with the skin appearing very saggy and the depth of depression measured at 10 or more.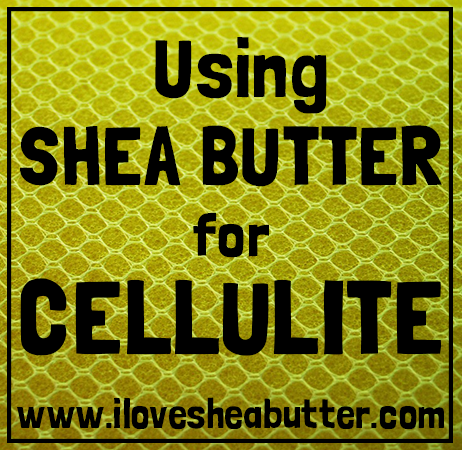 How Does Shea Butter Reduce Cellulite
Since cellulite does not appear to have a certain known cause, one might ask, is there any treatment for it? Well the properties of shea butter reveal that shea butter has the potency to help reduce cellulite. Shea butter is very reach in vitamins, nutrients and other essential phytonutrients that aid healing. It is very rich in vitamins A, E and F, which help with skin maintenance; like keeping it clear and healthy. Shea butter is also rich in fatty acids.
Does Shea Butter Reduce Cellulite?
Having mentioned some of the properties of shea butter and how potent it is for skin care; the next question could be: does shea butter reduce cellulite? The answer is a resounding yes! Shea butter can help get rid of cellulite, thus restoring the skin to its elastic and healthy state.
But how does shea butter reduce cellulite? For a fact, shear butter is rich in vitamin A, which makes it an effective treatment for cellulite. The vitamin A content repairs and reconstructs damaged collagen fibers responsible for making the skin plum and smooth, thus reducing the appearance of cellulite.
Also, shea butter is rich in an acid called cinnamic. Cinnamic acid helps with proper blood flow to the skin. When shear butter is applied to the skin and gently massaged to sink in, a nourishing flow of blood is encouraged, thereby moving along stationary cellulite causing lymph – cinnamic acid helps blood flow properly to the cellulite affected area of the skin.
DIY Cellulite Cream with Shea Butter
Now put in some time to make this potent cellulite removal cream with shea butter. It contains other stimulating ingredients like cinnamon, vitamin E and coconut oil that are also pivotal in getting rid of cellulite.
Ingredients:
Shea butter – 5 tablespoon
Coconut oil – 5 tablespoon
Vitamin E oil (optional) – 1 tablespoon
Witch hazel – 50ml
Crushed cinnamon – 1 whole stick
Cinnamon oil – 10 drops
Procedure:
Melt the shea butter to liquid over a medium heat on a stove or cooker.
Add the coconut oil and stir for about 1 minute before turning off the source of heat.
Allow the mixture to cool for some 10 – 20 minutes, but do not let it set.
Add the vitamin E oil (optional), the cinnamon oil and the witch hazel.
Whip the entire mixture to have a light and fluffy butter, then add the crushed cinnamon to it and mix again. Get a container with a good seal and pour your body butter in it.
Apply the cream on your skin regularly and generously, especially concentrating on the cellulite affected area. You will start noticing good results in no time.
I recommend that you use a silicone cellulite scrubber to massage the cream deep into the skin and to stimulate better circulation and healing.
Other Remedies for Cellulite
In conjunction with shea butter, you can also use other natural ingredients to reduce cellulite. Other remedies for cellulite include:
Green tea
Drinking more water
Tomatoes
Apple cider vinegar
Dry brushing
Coconut oil
Ginkgo biloba
and more.