Knowing how to use shea butter for hair growth will make all the difference to how fast and how strong your hair grows.
The Secrets of Shea Butter
Shea butter has been one of the best kept beauty secrets of the world. This isn't surprising because shea butter is quite rare, seeing as the shea nut trees are only capable of growing in a few countries of Central and Eastern Africa.
But now,thanks to globalization, everyone can enjoy the benefits of shea butter regardless of where they are. Shea butter has a million uses for skin, hair, nails and the rest of the body. If you are curious to know, take a look at Ultimate List: 100 Benefits of Raw African Shea Butter
One of the best secrets for beautiful, healthy and natural hair is shea butter. Shea butter is rich in a unique combination of nutrients including essential fatty acids, antioxidants and vitamins. These compounds help strengthen hair follicles, adequately moisturize dry scalp and hair strands and foster the growth of strong, healthy hair.
How to Use Shea Butter for Hair Growth
There are many ways to use shea butter for hair growth. But my favorite way is to create a power mix of just 4 ingredients to make a special hair growth formula!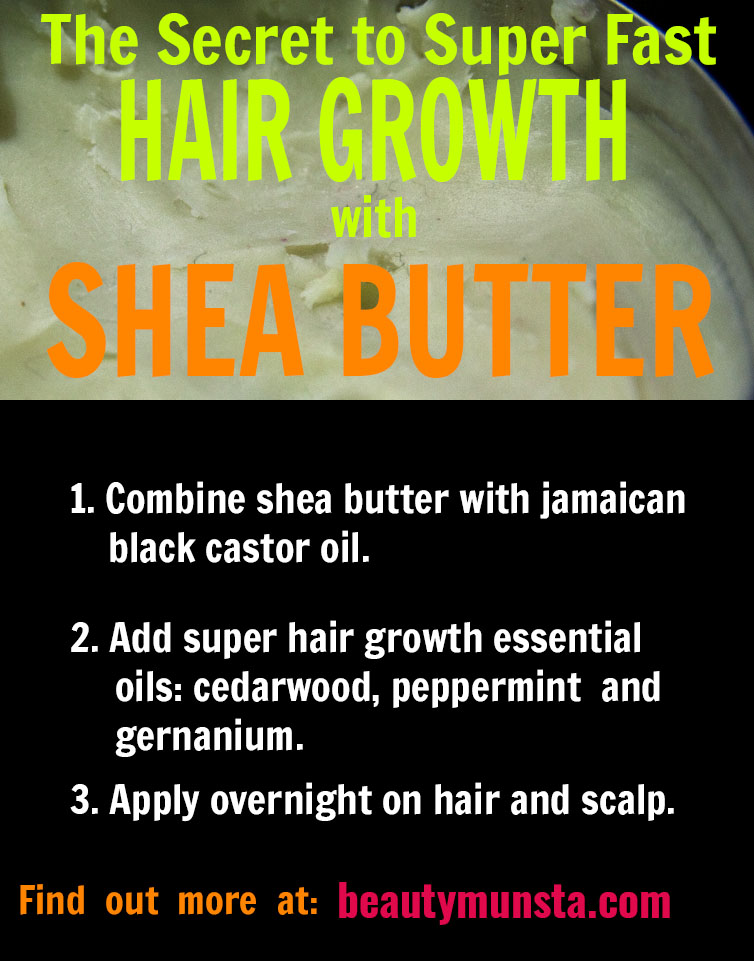 Here's My Special Hair Growth Formula Using Shea Butter
All you need to do is apply this hair growth formula overnight and wash your hair as you normally would the next morning. You can apply this formula every night or 2 – 3 times a week.
What you need:
Double broiler pans
Glass stirring rod or wood spoon
4 oz dark-colored glass container
¼ cup of pure shea butter
¼ cup of Jamaican black castor oil (where to get it)
10 drops of cedarwood essential oil (where to get it)
6 drops of geranium essential oil (where to get it)
4 drops of peppermint essential oil (where to get it)
Directions:
Using a double broiler, gently melt the shea butter until it is completely melted. Then take it off heat and transfer to your glass container.
If you don't have a double broiler, not to worry, just make your own by using the pans that you have available in your kitchen. It works just the same!
Once you've poured the melted shea butter into your glass container, quickly add in the Jamaican black castor oil. Mix thoroughly with your non-metal stirring rod.
Now add in the essential oils and stir again with your non-metal stirring rod or spoon. The reason we aren't using metal tools to stir our formula is to prevent the ions in the metals from interfering with the potency of the essential oils.
All you need to do now is to screw on the lid of your glass container and pop it in the refrigerator. The cool temperature will help the hair growth formula to set as fast as possible so that the ingredients can remain evenly distributed.
How do you use shea butter for hair growth? Do share your tips below!