Did you know shea butter is one of the best natural ingredients for arthritis? Learn how to use shea butter for arthritis with our special recipes and tips.
What is Arthritis?
Arthritis is a degenerative condition characterized by inflammation of the joints. An inflamed joint can develop localized heat, stiffness, redness, swelling and pain. More than 100 types of arthritis have been found. Some of these are: psoriatic arthritis, rheumatoid arthritis, lupus, osteoarthritis and more.
The form or type of arthritis dictates its cause. For instance, abnormalities in metabolism will result in gout and pseudogout. Also, an injury caused arthritis will lead to osteoarthritis. Other causes of arthritis are misguided immune system with autoimmunity, indirect or direct effect of virus or bacterial infections, hereditary factors and lots more.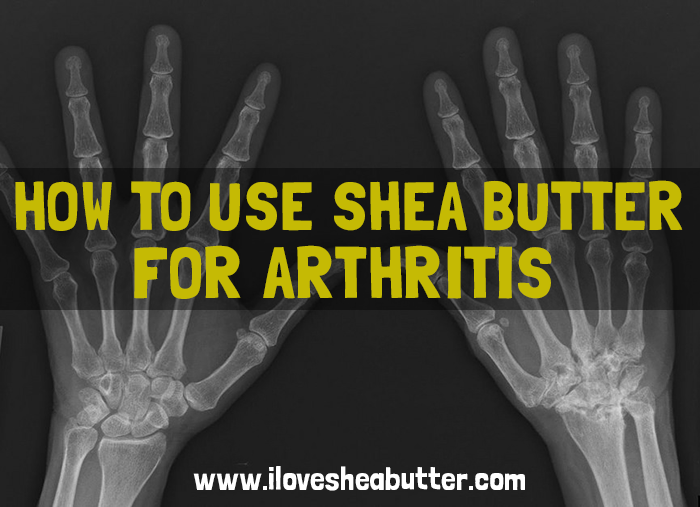 How Can Shea Butter Help with Arthritis
Shea butter has so many properties that make it useful for treating medical conditions like arthritis. Some of the medicinal properties of shea butter include regenerative, antifungal, anti-inflammatory, antimicrobial, blood circulation boosting, restorative and stimulating properties. Additionally, shea butter contains a number of acids ranging from palmitic acid to oleic acid, linoleic acid, allantoin and more.
How to Use Shea Butter for Arthritis
Did you know that shea butter is a great remedy for arthritis relief? Shea butter can help relief the pain that comes with arthritis! Shea butter is said to have been used as cream to help with arthritis. Shea nut oil, gotten from the shea tree, has been found to be effective for treating common symptoms of arthritis. A study was carried out with 33 patients suffering from knee osteoarthritis. Shea butter was administered to them over a period of time. It was noticed that the oral intake of the shea nut oil gotten from shea tree relieved osteoarthritis.
So, shea butter can serve as a great relief from arthritis because it is able to relax muscles and help with stiffness, too. You can either use shea nut oil orally or apply raw shea butter to the arthritis prone region on the body, then massage gently to sink in and bring you relief.
DIY Lotion Bar for Arthritis Relief with Shea Butter
In an effort to ease the pain that comes with arthritis, you can prepare a do-it-yourself (DIY) lotion bar, using the ingredients and procedure below.
Ingredients:
Shea butter – 4 tablespoons
Sunflower oil, sweet almond oil or any other oil of your choice – 4 tablespoons
Beeswax – 2 tablespoons
Dried arnica flower – 2 tablespoons
Wintergreen essential oil – 20 drops
Lemon grass oil – 20 drops
Frankincense oil – 20 drops
Procedure:
Get a heat-safe glassware ready, and gently melt the shea butter and the bees wax pellets.
Next add in the carrier oil of choice, such as sunflower oil.
Stir through the mixture with a small whisk.
Take the glassware off heat and allow the mixture to cool for 20 minutes.
Now add in the essential oils and stir thoroughly again.
Get a deodorant container and pour the mixture in it. This makes your DIY lotion bar.
To apply the lotion bar, rub it over the achy joints, but avoid contact with the eyes because of the essential oils present in the bar – it may irritate your eyes.
Other Remedies for Arthritis
Other remedies for arthritis, other than shea butter for arthritis include:
intake of proteolytic enzymes
improving one's diet
getting chiropractic care
maintaining a healthy body weight
intake of turmeric and ginger
remaining active,
using Boswellia essential oil
and more.