Shea Butter for Diaper Rash
Babies have a lot to put up with when they are born, but diaper rash need not be one of them! Sadly, diaper rashes create unnecessary pain for babies, but lucky using shea butter for diaper rash prevents all sorts of rashes. More importantly, shea butter has natural wax content that prevents rashes from occurring in the first place.
Symptoms of diaper rash include a reddish, swollen, itchy and scaly skin, which could make your child uncomfortable and distressed. Diaper rash is majorly caused by having wet diapers or nappies stay in contact with the skin for a long time. There are different types of diaper rashes namely:
Common diaper rash
Friction rash
Yeast rash
and the one that develops around the anus.
The common rash is easy to spot. It can be noticed when a wet diaper or nappy is not quickly removed from the skin. The excessive wetness on the skin will cause itchiness and redness on the skin. Common rash can disappear on its own within three days.
Friction rash occurs based on the surface of the diaper you used for your baby. If the surface of the diaper or nappy is made up of harsh material or rough, or the diaper is worn too tightly to the skin, the friction caused will result into friction rash. Since the skin of a baby is very tender and sensitive, please use diapers that are a bit loose for them to avoid friction rash.
Yeast rash is not common but it can be severe when it breaks out. Yeast rash are scaly, itchy and red, and cause great discomfort for a baby.
Rash at the anal region affects the anus – you may notice redness and swelling around the anal region. Teething, allergy to some food, the introduction of solid foods and diarrhea can cause rashes at the anal region.
For more details on the benefits of shea butter, check out: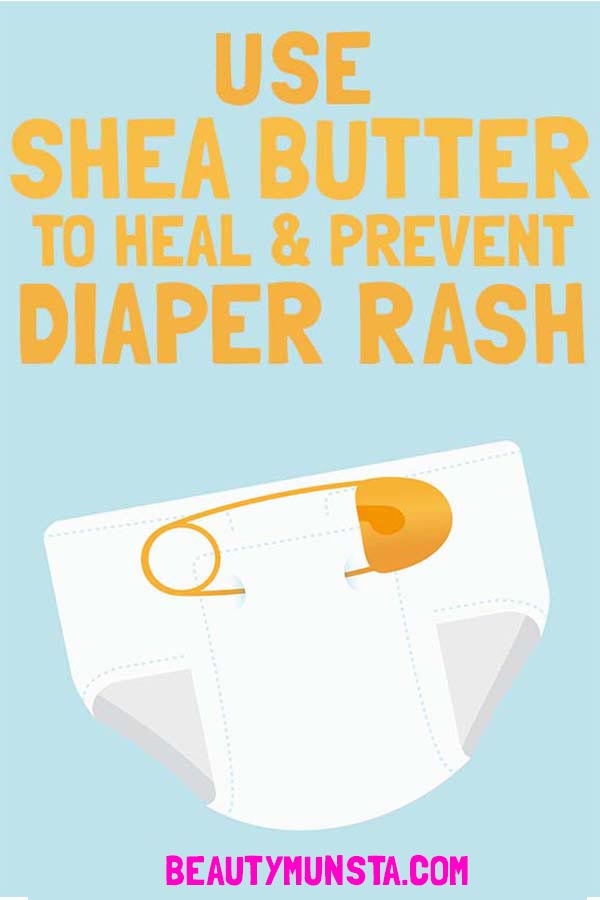 Shea Butter for Diaper Rash Homemade Recipe
You can use shea butter alone to treat your baby's rash. Better yet, make this excellent DIY nappy rash cream that works like a charm for all types of diaper rashes, including yeast rashes.
Ingredients:
Procedure:
Pour some water in a sauce pan, place a glassware on the sauce pan, place the shea butter and coconut oil in the glassware. This is your make shift double broiler to safely melt the butter.
Supply a low to medium heat and allow to melt.
Turn off the heat source then slowly add the bentonite clay as you mix everything together.
Next, add the essential oils them whip the mixture thoroughly with a mixer to achieve a creamy and fluffy butter.
Your shea butter for diaper rash homemade recipe is ready for usage!
Finally, transfer it in a storage jar and keep it in the refrigerator to set for 1 – 2 hours. Apply the cream to your baby's bottom regularly, especially when changing his diaper.
Note: Essential oils are not to be taken internally. Therefore, ensure to proper wash all the kitchen utensils used – the glassware, the mixer and others, to remove all traces of essential oils.
Interesting Shea Butter Reads: