Once you find out your baby is suffering from diaper rash, you may go into a panic, probably rush to the doctor and buy a whole load of conventional products that promise to cure your little one within an x number of days.
As tempting as it is to go this route, I highly encourage you to step aside, take a huge breath and remember that most diaper rashes can be treated at home, with just a little bit of creativity on your part.
Here's a list of 5 DIY natural remedies for diaper rash that you can make to soothe your precious tot and get rid of that diaper rash in as little as OVERNIGHT.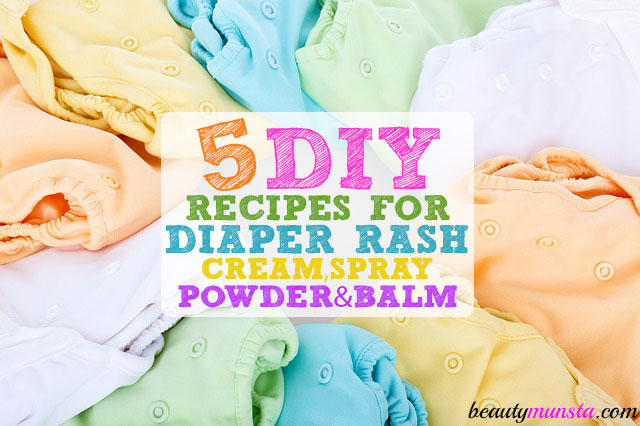 DIY Natural Remedies for Diaper Rash
Here are 5 simple natural remedies for diaper rash with recipes:
1. Simple Diaper Rash Cream
This diaper rash cream is so easy to make, it's mind-blowing! You can use the diaper rash cream as soon as you see any signs of redness, or on full blown rashes. Just as a precaution, I like to use the cream any time I feel like I've left my baby's diaper on for too long, in order to avoid the possibility of rashes altogether. Hey, prevention is better than cure, right?
Ingredients:
Directions:
Scoop out the shea butter and coconut oil into a small blender jar and blend for about 2 minutes or until thoroughly combined and fluffy-looking.
Now pour out the blended mix into a nice clean container.
Drop in the essential oils carefully into your container and mix them thoroughly using a popsicle stick or back of spoon.
Your smooth, silky and easy to apply diaper rash cream is now ready to be applied on clean dry baby skin. Use as many times as required.
2. Barrier Balm
What makes a barrier balm different from a diaper rash cream is mainly the addition of beeswax, which serves to keep the ingredients locked in, while creating a waxy barrier that keeps excess moisture locked out.
Ingredients:
Directions:
Bring the shea butter and bees wax to melt completely in a double boiler.
Once the above two ingredients have melted completely, take them off the heat and add in the zinc oxide powder and lavender essential oil.
Stir thoroughly with a spatula until everything is thoroughly combined.
Pour into a clean, airtight, preferably glass container.
Allow the mixture to set overnight in the refrigerator while taking time to stir a few times in between to make sure the zinc oxide doesn't settle in the bottom.
3. Diaper Rash Spray
Ah, there's nothing more soothing to a red, itchy bum than a cooling spray that can numb the pain. This diaper rash spray has sensational peppermint essential oil that has a mild tingly sensation, which will help numb the affected area and distract your baby away from the pain.
Ingredients:
Directions:
Mix all the above ingredients in a spray bottle and shake thoroughly until properly combined.
Spray as needed. Shake thoroughly before each use.
4. Happy Bum Powder for Daily Use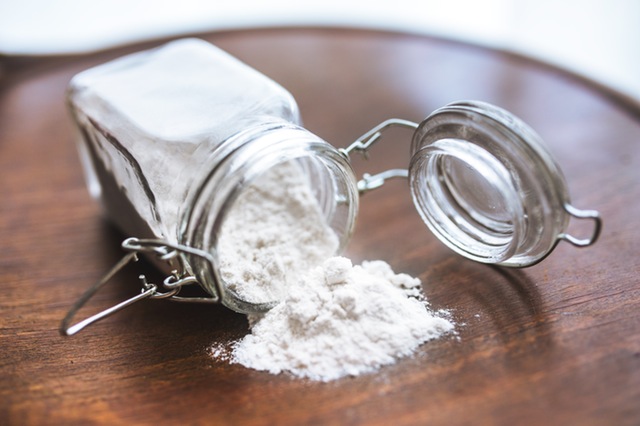 If you're reading this article, then chances are you are already a crunchy mama, and you know very well about how conventional baby powder is bad for babies. They contain a whole load of nasty ingredients like talc, artificial fragrances and parabens, all linked with serious conditions like asthma and cancer! Why bother with all this drama, when you can make your own baby powder for your precious one's fluffy bottoms, within a matter of minutes?! Being so safe and non-toxic, this happy bum daily use powder can be used even when your baby doesn't have a diaper rash. It will help avoid them, too.
Ingredients:
Directions:
Simply place all the above ingredients in a jar and shake it 'til you make it. I mean, shake it until you feel like it's thoroughly combined, of course. Could it get any simpler than this?! Told you this natural DIY journey would be easy!
I store the bulk of this DIY baby powder in a jar, while storing the rest in a powder puff container for easy use and application. I keep refilling the powder puff container as it gets used up. This way the powder can stay fresher longer and avoid clumping.
5. Diaper Rash Powder for Yeast Infection
If you suspect your baby's diaper rash could be caused by yeast, then it's better to steer clear of the arrowroot powder, for the time being. The same applies to any cornstarch-based natural baby powders, by the way. This is because yeast thrives off starches, and can make the rash worse. So what are you going to use instead? Why, bentonite clay, of course!
Ingredients:
Directions:
Place all the ingredients in a jar and do the shakey-shakey. Make sure the jar is closed, of course, and shake vigorously until all the ingredients are properly distributed.
Store what you'll be using for the next week or so in a powder puff container, as mentioned above. The rest can be kept in the jar and taken out as needed.
Dust the baby's bottom lightly with the clay powder. A little goes a long way with this one.

How Long can you Store your DIY Diaper Rash Remedies?
The creams and balms can be stored for upto 3 months, while the diaper spray can be used for up to 2 weeks. The powders can keep going strong for up to a year. Remember if you notice any sign of deterioration, or molding, in any of your homemade items, don't give it the benefit of doubt – trash it immediately.
To help your products keep well longer, always use dry, clean hands when using.
Tip
Got an upcoming baby shower that you have to attend? Why not make one of these homemade diaper rash products, wrap in a cute package and gift it to the expectant mama? One thing's for sure – she'll be DELIGHTED!