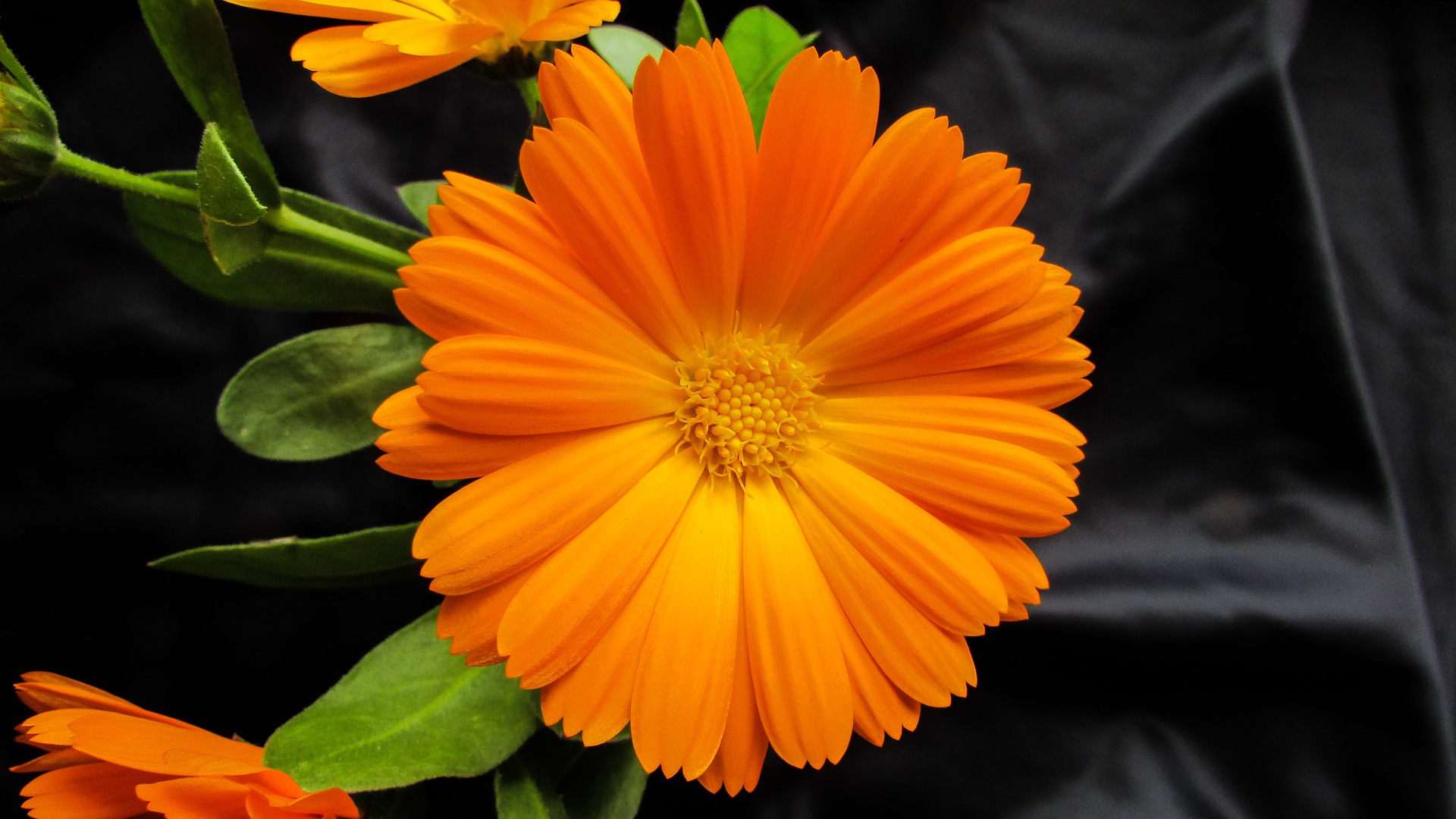 Any time I get a cut or wound, guess what I immediately use? Calendula homeopathic tincture. I don't use any kind of conventional medicines on the cut. I first came across this INCREDIBLE natural healing medicine in a homeopathic store. It turns out my grandfather used it for cuts too.
I'm sorry this is graphic but my mother told me he once almost chopped his finger off – it was almost dangling but he refused to go to the doctor. What he did was pour a whole bottle of calendula homeopathic medicine and tied it firmly back in place with a thick cloth. During each dressing, he applied the medicine. It rapidly healed in a few weeks! What makes calendula so miraculous?! Read on:
Ancient Remedy: Calendula Wound Healing Properties
Calendula (scientific name: calendula officinalis) is also known as pot marigold, a common flowering plant native to Southern Europe. Since ancient times, calendula flowers have been used medicinally, in form of tinctures, salves, infusions, ointments, creams and extracts. Medical practitioners throughout history used calendula for cuts, scrapes, burns and other skin ailments by applying thoroughly mortar and pestle-crushed calendula flowers and leaves. In homeopathy, a strong tincture is made by pounding a fresh whole calendula flower head and leaves which are then diluted and suffused in alcohol for some time.
Below are some properties of calendula that make it effective in quick wound healing.
Stops bleeding: Topical homeopathic application of calendula tinctures are used in Ayurvedic Medicine to immediately stop bleeding and speed up healing in cuts of scrapes and wounds.
Antioxidant: By warding off oxygen-stealing free radicals, calendula acts as a strong antioxidant. Free radicals formation around the wound bed delay wound healing by destroying lipids, protein, proteoglycan and hyaluronic acid. Calendula wards off these free radicals hence helping preserve viable tissue and increase wound healing.
Anti-inflammatory: Calendula is known to have powerful anti-inflammatory properties that are necessary for tissue growth and repair during early stages of injury. The anti-inflammatory properties facilitate in quick wound healing and soothe inflammation, pain, swelling and irritation of the wound.
Analgesic: From paper cuts to big scrapes, all wounds generate pain to some degree. There have been some studies carried out to investigate the analgesic (pain-relieving) effects of calendula. One such study involved treating 30 patients with grade 1 and 2a burns with topical applications of a hydrogel preparation containing 10% calendula officinalis tincture 3 times a day for about 14 days. The results showed that there was significant improvement in not only pain control but also swelling, soreness, blistering, heat sensitivity and erythema, among others.
Antimicrobial: Calendula also has potent antimicrobial properties which destroy microbes and germs that can delay wound healing by causing infection. This powerful herb is known to prevent wound infection as well as stimulating immune activity, both of which are necessary for quick wound healing. In one controlled study, 18 patients having trophic ulceration were given 3 blinded treatments consisting: 10% Calendula ointment, topical neomycin, or placebo paraffin ointment. The study found that the topical treatment of the Calendula ointment actually prevented secondary infection and demonstrated a 30%–40% reduction in wound diameter and depth within 4 weeks.
Anti-scarring: Another amazing calendula wound healing property & benefit is its ability to prevent scarring. Using calendula to treat wounds ensures little to no scarring as calendula reduces scars tissue, minimizes discoloration and also heals inflammation. Did you know that you can use it on acne as well to prevent acne scars?!
In one study (1), the topical application of calendula officinalis extract on excision wounds in rats was observed. The results showed that the percentage of wound closure was 90.0 in the group treated with calendula and for the control group, it was 51.1% on the 8th day of the wound. The hydroxy proline and hexosamine content in the granuloma tissue of the wound was also measured and the final results showed that there was a significant increase in this content, which led to faster wound healing.
How to Use Calendula for Cuts and Burns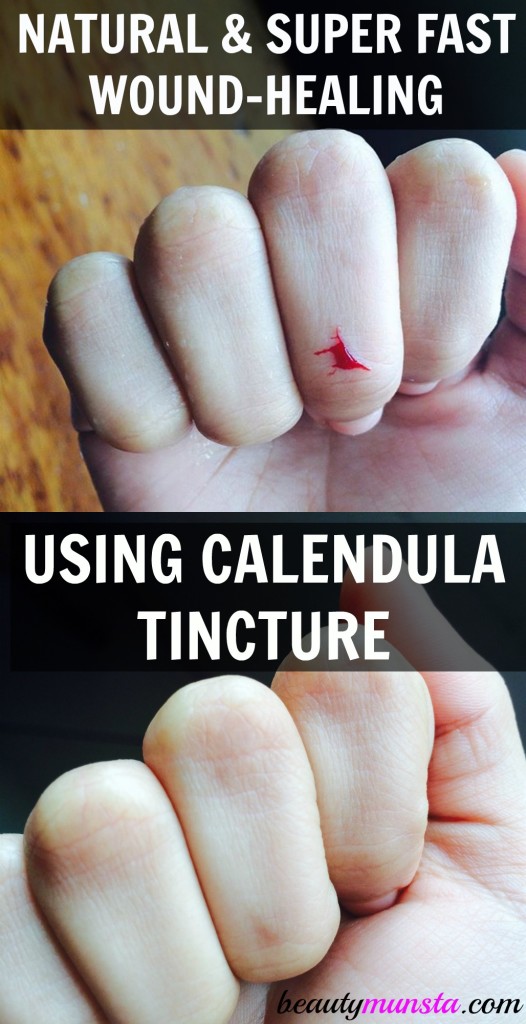 Calendula homeopathic tincture is the one I immediately use as a first aid for cuts & scrapes. It's a brown tincture that smells strongly of herbs and only slightly of alcohol. It stings when applied to cuts and wounds so be careful when using on children. Here's a good calendula tincture for wounds.
► For Cuts, Scrapes & Wounds – Simply place a drop or three on the cut or scrape, depending on how big/deep it is. Keep in mind that it will immediately begin stinging as it works in stopping bleeding and closing up the wound. You can also place the drops on a cotton ball and tape it to the wound using a band-aid but I just like to directly apply the tincture and leave the cut/scrape to air out. However, first read the instructions on the bottle as most tinctures require to be diluted before direct use on open wounds/cuts.
► For Burns – Fill a clean spray bottle with distilled water, add 2 tsp of calendula tincture and simply spritz it on the burn to cool it down, soothe inflammation, reduce redness and speed up healing. You can choose to add just a tbsp into the spray bottle, top it off with water and add 3 drops of peppermint essential oil, since peppermint has a high menthol content that helps numb the pain as well as cool the burn.
Take Care
Calendula is one of the safest herbs on the planet and it has been used topically for centuries to heal wounds, skin irritations and inflammation. Allergic reactions are very rare, however, please be sure to apply a patch test on your inner elbow and monitor for any negative reactions for at least 6 hours.
Pregnant women should avoid calendula as it is an emenagogue, meaning it stimulates uterine contractions. Nursing mothers should consult a doctor before using calendula.
References
(1) J Basic Clin Physiol Pharmacol. 2009;20(1):73-9.