The first essential oil I ever used and mixed with shea butter is tea tree essential oil! And I used it for acne of course! Tea tree is probably the best essential oil for acne and it's said to be even more effective than benzoyl peroxide in treating and preventing all sorts of acne from deep rooted pimples to pus-filled cysts.
Anyway, this post isn't about tea tree oil and shea butter for acne in particular but the various benefits of this powerful combo for both skin & hair!
Benefits of Using Tea Tree Oil and Shea Butter Together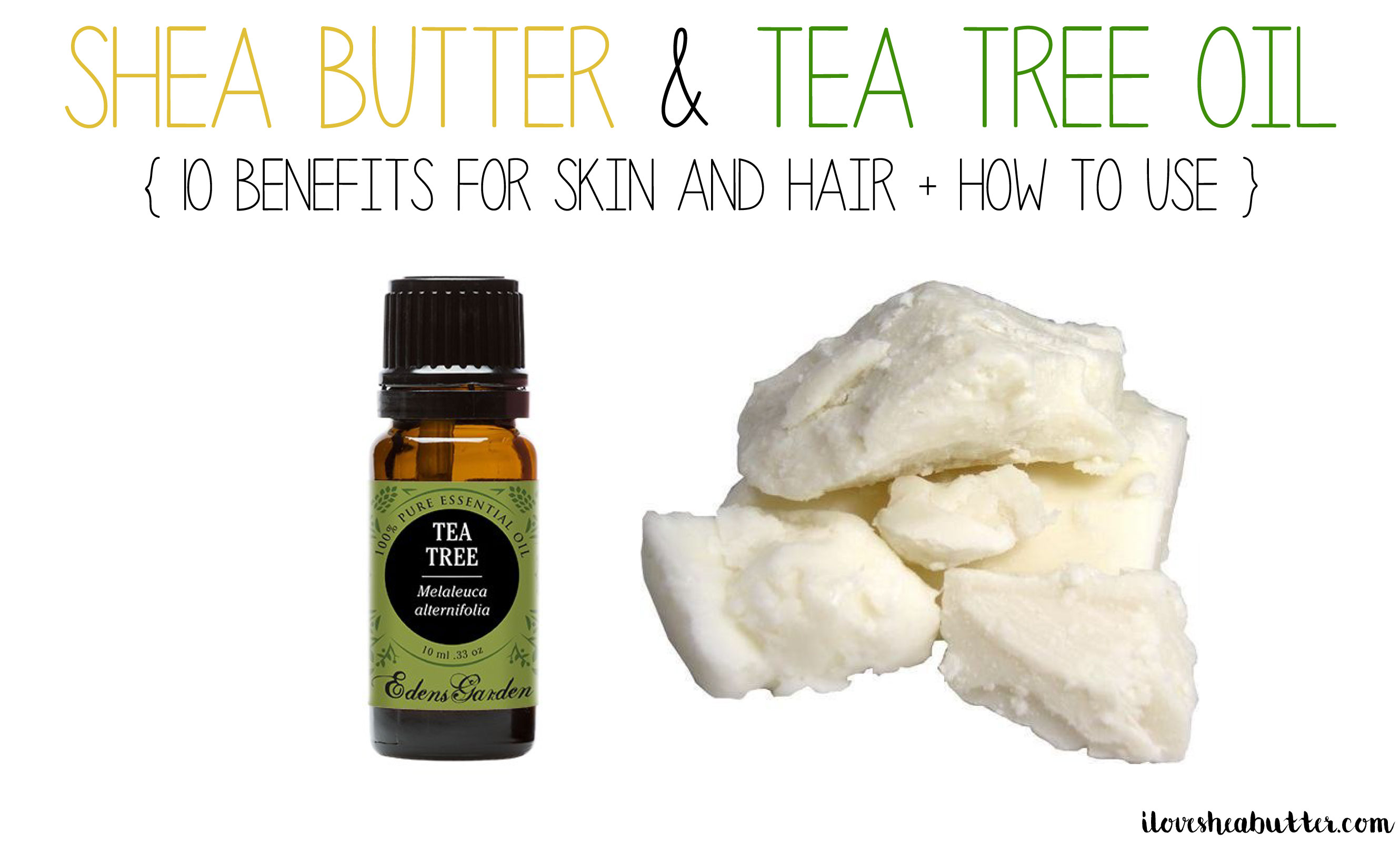 1. A great mix for acne-prone skin
As I mentioned above, tea tree oil has terrific anti-acne properties that keep acne in check and prevent further pimples from rearing their ugly heads!
2. Effective Treatment for Yeast Infection
Yeast infections can be so itchy and rashy. Since tea tree oil is a powerful antiseptic and shea butter is a great soother, you can use them in to create a natural yeast infection treatment that will give fast relief.
3. Disinfects Minor Cuts & Scrapes
Tea tree oil is used to disinfect cuts and prevent them from getting septic. To make an easy ointment for cuts and scrapes, simply add a few drops of tea tree oil to shea butter and lightly rub it on the cut after cleansing it.
4. Good as an After Shave Cream
Immediately after shaving your legs or wherever, smooth your skin with a shea butter + tea tree mix to soothe the sensitive skin as well as prevent bacteria from sliding into the hair follicles thereby preventing ingrown hairs.
5. Eczema Soother
The tea tree oil and shea butter mix has potent anti-itch properties and intense moisturizing effects to not only keep you/your baby from scratching at dry eczema patches but also lubricate the flaky skin. It also helps reduce inflammation.
6. Treats Scalp Infections
Tea tree oil and shea butter are both known to fight off scalp fungal infections and it provides instant relief!
7. Alleviates Itchy Skin
Itchy skin? Whether it's a bug bite or a random itch from nowhere, just slather some tea tree oil and shea butter cream on! Your skin will be quickly calmed down!
8. Calms Rashes
Diaper rashes, allergy rashes and dry skin rashes can be healed by applying a coat of tea tree/shea mix. It creates a thin film that keeps the area protected from further irritation. It also lubricates the dry skin and speeds up healing.
9. Natural Deodorant
Tea tree oil has a strong and fresh herbal scent that has deodorizing properties. Shea butter is a good natural alternative to deodorants and is being used in many organic deodorants lately. It can even be used as a deodorant all on its own. Adding the tea tree oil makes for a stronger deodorant that'll effectively mask BO. You can follow this DIY Shea Butter Deodorant Recipe but replace the lemongrass essential oil with tea tree!
10. Hair Growth Stimulant
If you've ever used tea tree oil on your skin, you must have noticed how tingly it feels, right? This pleasant tingling sensation is said to stimulate the hair follicles and awaken the dormant ones stuck in the telogen (inactive) phase of hair growth, thereby getting them to function again. Tea tree & shea butter can be used as a hair growth stimulant by vigorously massaging it on your thinning edges/patches.
How to Mix Tea Tree Oil and Shea Butter for Skin & Hair
It's incredibly easy to create your own tea tree oil and shea butter mix! Here are a few ways to combine them:
Get a medium-sized clean container and place 3 tbsp of soft shea butter, add about 18 drops of tea tree oil and mix together with a disposable spoon or chopstick.
Place your shea butter in a small blender like Magic Bullet and blend till creamy. Then transfer the cream into a container and mix in the tea tree essential oil. To make it silkier/ extra moisturizing, add a few tsp/tbsp of an oil like jojoba oil or olive oil in the blender with the shea.
If your shea butter is hard, gently melt it down using the double boiler method. When it has melted, let it cool for a minute then stir in the tea tree oil. Pour the mixture into a glass container to set.
Where to Get Tea Tree Oil & Shea Butter
Tea tree oil is a popular natural product for acne so I'm sure you can find it in a health store. But if you don't know where to get it, then here's a great brand for 100% pure high quality tea tree essential oil that works amazing.
As for shea butter, you can use this ivory raw unrefined one which is soft and creamy from SmellGood.
Caution

Remember to dilute the tea tree oil with shea butter (2-3 drops for every tsp of shea). Do not use more than a few drops because it is very potent.