Here's why and how you should use shea butter for nail fungus treatment.

What Is Nail Fungus?
Nail fungus is a condition that is characterized by the whitening of the tip beneath the toenail or fingernail. At times, it is yellowish in color. Nail fungus is caused by fungal infection. It is an infection of the nail and it could make the nail crumble at the edges, could make the nail become thicken and could discolor the nail. Another name for nail fungus is onychomycosis.
As mentioned above, there are a number of symptoms that will show that an individual has nail fungus. Apart from the yellowish or whitish color of the tip beneath the nail, the thickened, and the crumbled edges, the affected nail may as well give off a slightly foul smell. The shape of the nail will also be distorted.
Fungal organisms are the causes of fungus nail. A fungus called dermatophyte is the most common cause of nail fungus. Other causes are molds and yeast. Although nail infection occurs more in older people, it can still affect people of all ages.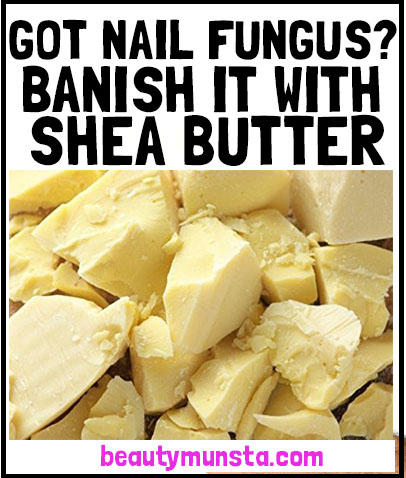 The Benefits of Shea Butter for Nail Fungus
Vitamin A, Vitamin E and Vitamin F are some of the properties that make shea butter efficient for treating nail fungus. Other properties lie in its rich unsaponifiable lipid content. This nutty butter also has the power to unclog pores, thereby letting the skin breath healthily. Shea butter can also treat slight skin conditions like burns, cuts, scars and cracked skin.
Shea Butter for Nail Fungus
If you are afflicted by nail fungus, shea butter can come to your aid. One of the reasons why shea butter for nail fungus is effective is because it can reduce or eradicate redness of the skin of the feet. Also, shea butter is a great moisturizer, able to help the skin maintain moisture and flexibility. Simply smear some shea butter on the affected area for quick relief.
DIY Nail Fungus Recipes with Shea Butter
The best way to use shea butter for nail fungus is to make your own DIY cream to treat the nails. This article will explain 2 ways homemade cream for nail fungus can be prepared.
Method 1 – A firmer cream
Ingredients:
Organic shea butter – 2 tablespoons
Organic beeswax – 1 tablespoon
Orange essential oil (optional) – 5 drops
Lavender essential oil (optional) – 5 drops
Vitamin E oil – 2 to 3 capsules
Storage jar
Procedure:
Boil some water in a sauce pan. Transfer the shea butter and beeswax in a heat-safe glassware and place it in the boiled water to melt. This is known as the double broiler system to melt shea butter.
Once melted, remove the melted mixture from heat and allow it to cool down but don't allow it to solidify.
Add the orange and lavender (or tea tree) essential oils and the vitamin E oils to the melted shea butter and beeswax – stir thoroughly for everything to mix.
Transfer the mixture in a storage jar, close the lid and place in the refrigerator. Allow it to set for one night.
Apply the cream to your cuticles and the skin surrounding your nails regularly, especially before you sleep at night.
Method 2 – an easier way
Ingredients:
Shea butter –  cup, which is about 4 tablespoons
Tea tree essential oil –  10 drops
Olive oil – 1 tablespoon
Avocado oil – 1 tablespoon
Storage jar
Procedure:
Melt the shea butter, olive oil and avocado oil in a pan over a low heat source.
Remove from the heat source after melting. Allow to cool down so that you can add in the essential oils.
Add the tea tree essential oil and mix very well together.
Transfer it in your storage container and cool it in the refrigerator for a while – you can shake the mixture at every 15 minutes interval so that the constituents of the mixture will be evenly distributed. Close the lid after the mixture must have cool down and set properly.
Apply the cream to your nails, cuticles and the skin surrounding your nails regularly.
Other Remedies for Nail Fungus
Nail fungus can be treated using other remedies like: corn meal, coconut oil, oregano oil, sodium borate and baking soda, probiotics, olive leaf extract and so on.