HereCan you use raw shea butter for acne scars? Yes, but you need to use it correctly! Raw shea butter is particularly rich in numerous nutrients. These compounds help heal acne scars faster, without buildup of scar tissue.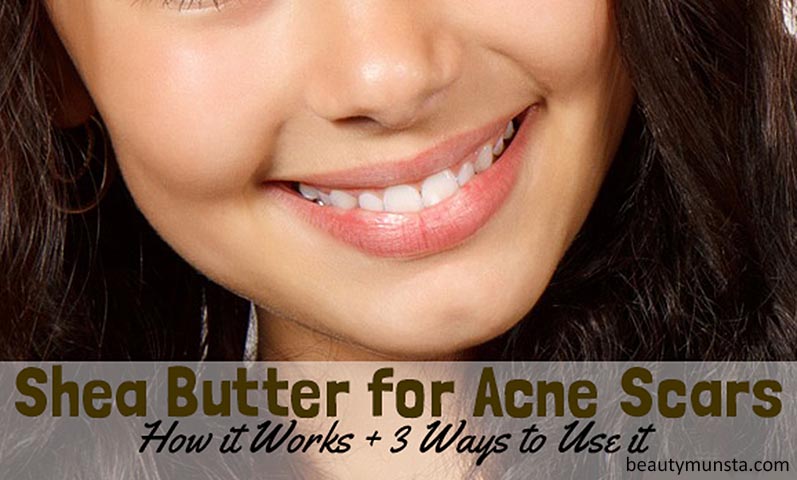 What's Raw Shea Butter?
Raw shea butter means that it hasn't been processed in any way – no adding any other ingredients and no filtering it so you might find soft bits of the shea nut in it as well. The color of raw shea butter depends on the shea tree it's extracted from, as I explained here – it ranges from off-white/ivory to beige to yellow. Raw shea butter usually comes in a jar or tub and it has a paste-like consistency which can easily be scooped with your finger, instead of being in block form where you have to break off a piece. It's like this because it isn't shaped in any molds or by hand but just placed immediately into clean containers where it sets & hardens before being sold. Check out: 15 Shea Butter Skin Care Recipes for Gorgeous Skin
Raw Shea Butter for Acne Scars
I say raw shea butter because this is rich in its natural healing nutrients. Raw shea butter has not been heated or refined. Therefore it's nutrients are intact and haven't been stripped away. Refined shea butter undergoes various processes to make it more appealing such as removal of impurities like nut bits and deodorization to neutralize its strong odor. These procedures actually make the shea butter lose some of its nutrients and healing qualities. Don't miss: Is Shea Butter Good for Acne?
Okay, so now we're clear with that – let's get to the point of this article, what exactly makes this raw shea butter good for acne scars?! For me, I found out through personal experience since I started dabbing a bit of it on my dry acne scars the first time I bought shea butter and it gradually helped heal my blemishes! But then here are the scientific reasons for why shea butter is good for acne scars:
→ Anti-Inflammatory Properties – Shea butter contains cimmanic acid esters and vitamin F, also known as, healthy fatty acids such as oleic acid which are powerful anti-inflammatory agents that help reduce scar inflammation and moisturize the scars, thereby diminishing the scar's appearance.
→ Anti-Oxidant Properties – Further, shea butter has a significant amount of vitamin E, that is known as the skin healer or protector. This vitamin is a powerful antioxidant that protects skin from free radicals that make skin dull and pigmented. Vitamin E also has anti-inflammatory effects!
→ Evening Skin Discoloration – Got acne scars littered all over your cheeks? It's time to throw out your store-bought moisturizer and use raw shea butter instead. It has healing properties that help even out the pink/purple or black acne scar you have, giving you a smooth and even skin tone.
→ Cell Regenerating Properties – Shea butter contains allatonin and stearic fatty acid. These two main nutrients are powerful cell regenerators which make them extremely beneficial for naturally healing acne scars. These important fatty acids also speed up the rate at which wounds and blemishes heal.
Read more:
How to Use Shea Butter for Acne Scars
– Method One:
The simplest way to use raw shea butter for acne scars is as your moisturizer. Scoop a tiny amount of raw shea butter out of the jar. Rub it between your clean palms and it melts. Now gently and deeply massage it into your face, concentrating on the acne scars.
– Method Two:
You can also use it as an acne scar spot treatment. This is especially useful if you have big or few acne scars on your face. Simply dab just a little on them using a clean finger or q-tip. I recommend applying shea butter for acne scars especially at night time. This is because night is time when the skin heals and regenerates itself!
– Method Three:
Make your own acne scar treatment using shea butter a few natural scar-removing ingredients, as below.
Ingredients
Directions
Place a tbsp of raw shea butter in a medium sized bowl. Stir in vigorously using a whisk to make it creamy. Then add the essential oils and stir again. It's ready! Scoop it up into a clean container and use it every night for your acne scars. Instead of whisking it, you can also just blend everything in a small blender like a Magic Bullet. But be wary of the essential oils scent from clinging to the blender if you use it for food prep. That's why it's best to get a small blender just for mixing up shea butter if you're a #sheabutterlover! 😉
Make Your Own Shea Butter Products: