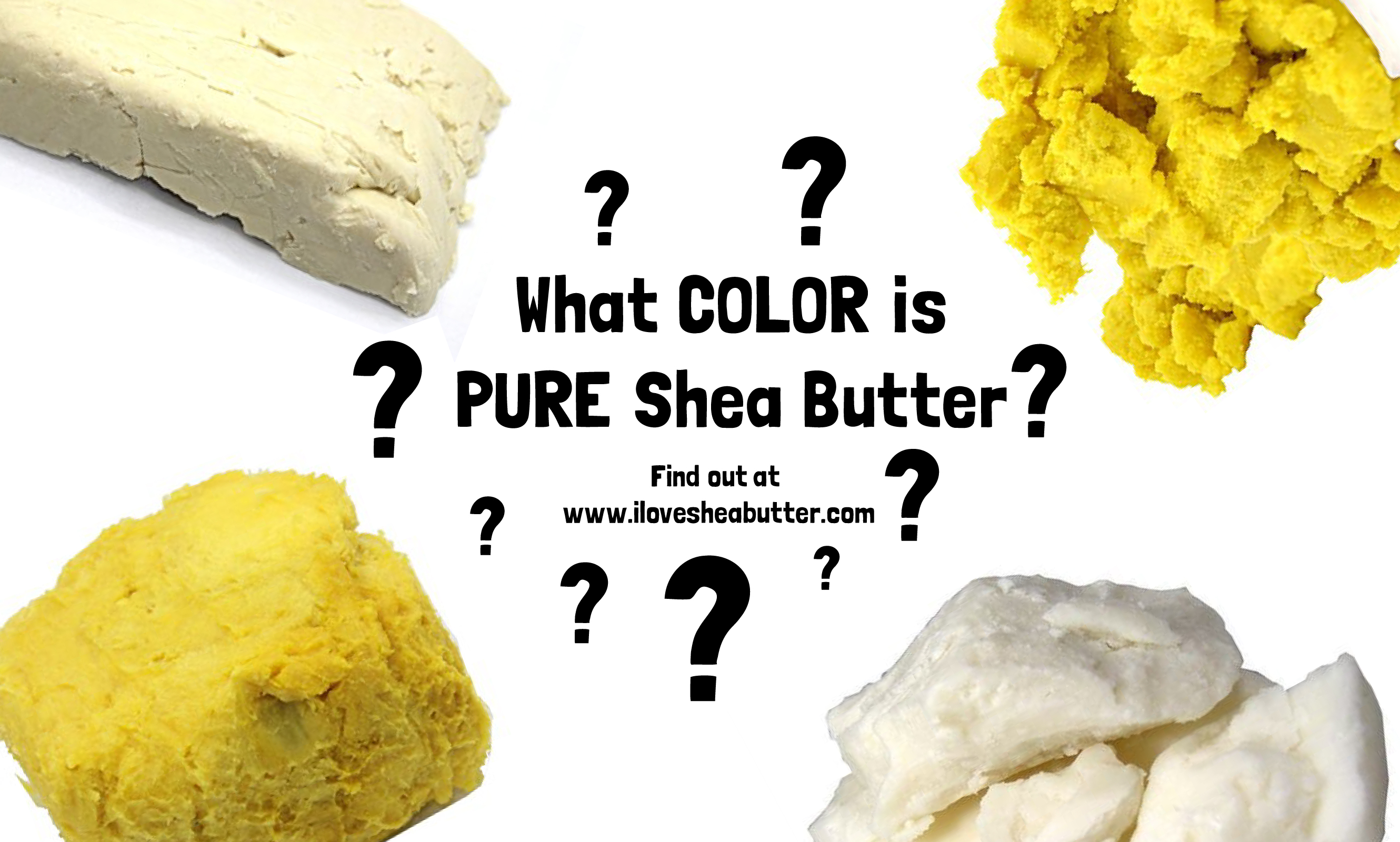 Colors, colors, colors
White, yellow, beige, ivory or cream? What exactly is pure shea butter supposed to look like? If your shea butter isn't the color you expected it to be, does it mean it's not pure? Well, in this article, we're going to find out the REAL color of pure shea butter.
All Shea Butter comes from the Same Type of Tree
Before moving on, just to clarify, some people think different colored shea butters come from different trees but in fact, all shea butter comes from one tree – the Karite tree, scientifically known as Vitellaria paradoxa or Butyrospermum parkii. These trees grow only in Africa, in only some regions such as Central, East and West Africa. The countries well known for producing shea butter are South Sudan, Uganda, Ghana, Burkina Faso and Mali.
So Many Factors Influence the Color of Shea Butter!
Many people wonder why some shea butter is yellow, while others are white. Which is the real shea butter? The truth is, there are various factors which affect the color of shea butter including processing, refining, bleaching and addition of extra ingredients, which change its color. The truth is, the color of shea butter can vary from trees growing in different localities with different climatic and soil conditions. In fact, the color of shea butter can vary slightly even from one tree to another. In fact, the color of the butter can vary from seed to seed! So without looking so much into SLIGHT color variations, we should focus more on the reasons for why there are more SIGNIFICANT color variations, for example from white to yellow and which of these could be the color of pure raw shea butter.
Decoding the Different Shades of Shea
WHITE: White shea butter is fully processed, refined, bleached and deodorized. The processing of white shea butter chemically alters it, strips it of many of its nutritional qualities, and neutralizes its naturally nutty aroma. This type of shea butter is not edible and is used in the manufacture of cosmetics such as lotions, lipsticks and facial creams. It's mainly used by people who are thrown off by the nutty scent of unrefined shea butter. Find pure white shea butter (deodorized and refined) here.
IVORY/OFF-WHITE: This is the most popular type of shea that's found in Western markets and pure, raw shea comes in many shades of beige/ivory or an off-white color. If you have this shea, it is most probably the pure or raw variety. You will find many sellers highlighting that their shea is ''ivory grade''. Ivory grade is also known as Grade A, which is premium quality, unprocessed, un-deodorized and unrefined shea butter. It has a nutty smell and is edible. Get it online here.
YELLOW: Have you ever come across shea that's yellow, even a brilliant yellow? Well, in this case, an extract from the root of the Borututu tree (scientific name: Cochlospermum angolensis)is mixed into the butter to make it appealing and attractive. This extract is safe and does not diminish the qualities of the shea itself. Locals often buy this type of shea but it is not popular outside of Africa, although you may still find it in foreign markets. You can buy it here.
Pure Shea Butter – What color is it anyway?!
Pure shea butter refers to one which is comprised of 100% shea butter, without any other additives. This means you can have pure shea butter which is RAW or refined. So if you are looking for pure shea butter, which is totally raw, then the color can vary between ivory to a light yellowish color. On the other hand, if you are looking for fully refined shea butter, then the color will be white. The color of shea butter indeed tells a whole lot about its quality, method of processing, purity and more!
"Character, not color, is what counts with me"
My advice to anyone buying shea butter is, don't stress about the color of the butter as long as it says 100% pure or raw African shea butter in the package, and the ingredients only include raw shea butter or Viteralia paradoxa/ Viteralia nilotica. Further, make sure you buy from a reputed seller and that the product is not past its expiry date.