Natural Scar Removal with Shea Butter
When a wound does not heal completely, the connective tissue that grows under the skin becomes hard and fibrous. This results in a mark that appears on the skin. This mark is called a scar and can vary in shape, size, color and texture.
There are different types of scars. These include:
Pitted scars (resulting from acne, pimples or surgery wounds)
Keloid scars (raised and bumpy scars resulting from overproduction of collagen in the skin)
Contracture scars (resulting from burns)
and more.
The best way to avoid the formation of scars is to take proper care of your wound. Allow it to heal properly. You can eat skin supporting foods such as sea fish, avocado and blueberries. This will give your body with ample nutrients to heal and repair damage. Also, make sure you are drinking plenty of water. Water keeps your skin moisturized from the inside out so that wounds heal well and scars are minimized.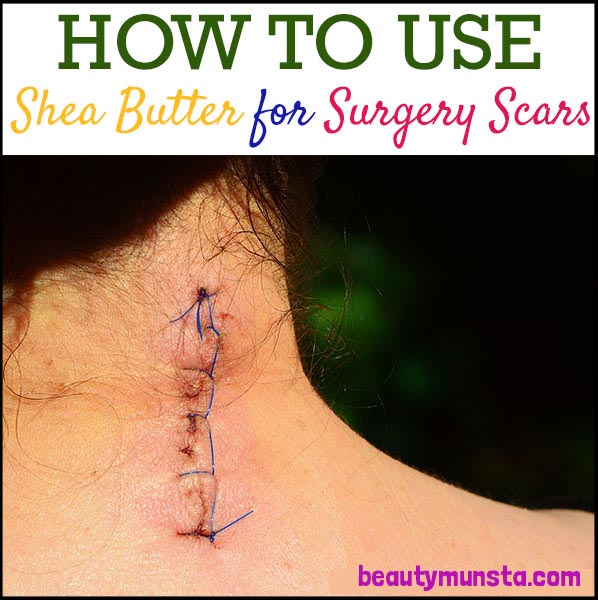 More on Shea Butter:
However, once scars are formed there are natural remedies that you can use to reduce their appearance. One of the BEST remedies for scar removal, hands down, is shea butter. Shea butter is a natural plant fat that is harvested from the nuts of the African Karite tree. It is rich in so many nourishing and therapeutic ingredients that can fade and reduce all sorts of scars.
Where to Buy Shea Butter
Unique Properties of Shea Butter
✓ Powerful Emollient. Shea butter is a powerful emollient that deeply penetrates the skin and moisturizes the skin, seals the skin with its waxy properties and prevents water loss from the skin, making it supple, youthful looking and healthy.
✓ Vitamin A. An important component in shea butter, vitamin A is powerful in regenerating skin cells, reducing hyperpigmentation, boosting collagen production and lightening scars and blemishes.
✓ Anti-inflammatory. Shea butter contains highly anti-inflammatory compounds which help reduce puffiness, swelling, redness from the skin.
✓ Anti-acne. Shea butter contains natural antimicrobial properties that fight harmful bacteria that cause acne. It is also a non-comedogenic so it does not clog pores causing acne and blackheads.
✓ High healing fraction. Shea butter has an incredibly high healing fraction, even greater than that of coconut oil. It helps heal wounds, cuts, burns and scalds.
✓ Antioxidant-rich. Shea butter contains a wide range of vitamins and antioxidants which make it a gem for healing all sorts of skin conditions ranging from eczema and psoriasis to rashes, scars, stretchmarks, cellulite and more.
How to Use Shea Butter for Scars
Use it plain by simple dipping into your raw shea butter and applying it on your scars.
Whip it with rose water or coconut oil with a hand mixer for a smooth fluffy scar removal lotion.
Make a massage oil by melting shea butter and mixing it with olive oil and firmly massage your scar area to break down old and hardened scar tissue and stimulate blood circulation to the area.
Mix it with essential oils that are known for erasing scars and stretchmarks, such as helichrysum, frankincense and lavender, and apply to scars.
Exfoliate the scar affected areas with a natural exfoliating agent like oatmeal or baking soda in order to remove dead cells before applying shea butter.
Apply shea butter on scars at least 3 times a day, including a night time application, for best results.
Other Natural Ingredients for Scar Removal
In conjunction with shea butter, you can use the following natural oils that are revered for their scar removal properties:
→ Rosehip oil: A light and highly healing oil, extracted from dry rosehips, rosehip oil is rich in so many antioxidants that are useful in a variety of skin conditions including acne and scar removal. Rosehip oil is easily absorbed into the skin and can be mixed with melted shea butter to create a more potent scar removal cream
→ Seabuckthorn oil: Well known for its regenerative and healing properties for the skin, seabuckthorn oil also serves as a natural exfoliator and cleanser that rejuvenates the skin cells, reduces blemishes and gets rid of stretchmarks and scars. You can make a beautiful massage lotion for scars by blending shea butter, seabuckthorn oil and rose water and applying this to scars regularly.
→ Vitamin E oil: Every single store-bought scar removal cream that claims to get rid of scars contains vitamin E oil without fail. Vitamin E is a skin protecting compound that helps heal and reduce all types of scars. Applying vitamin E on wounds as they heal greatly helps to speed up the growth and repair process, and reduces the appearance of the resulting scars.
Some Pointers for You
Remember that newer scars have a greater chance of responding to natural remedies like shea butter. Older scars are tougher to get rid of.
Apply shea butter to scars at least 3 times a day and make sure you firmly massage it in in order to allow it to penetrate deeper while stimulating abundant blood flow to the area for faster healing.
Finally, consider investing in a reputable scar removal product like the insta-natural scar gel, which are specially composed using various natural extracts such as green tea, gotu kola, sea weed extracts and have favorable reviews by users.
More Shea Butter Skin Care: