Here's a simple guide on how to make shea butter creamy using two methods: without hand mixer and with a hand mixer. I've also linked many of my favorite creamy shea butter mixes for skin and hair.
How to Make Shea Butter Creamy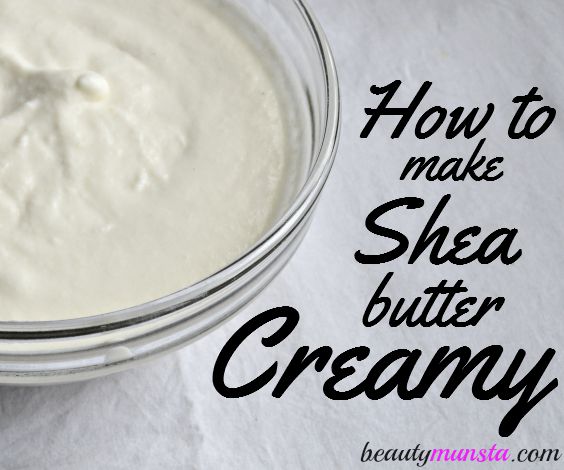 Ingredients
4 parts raw shea butter
2 parts liquid/base oil(s)
2 parts optional ingredients like aloe vera gel and raw honey
A few drops of essential oils
A list of skin-healing ingredients you can use:
Herbs/ingredients like calendula gel, aloe vera gel, raw honey, witch hazel, etc
Essential Oils such as lavender essential oil, tea tree essential oil, vanilla essential oil, etc. Check out the best essential oils for shea butter here.
Hydrosols like rose water, orange blossom water, chamomile hydrosol, lavender hydrosol, etc.
Directions
Method 1: Without a Hand Mixer
Place your raw shea butter in a wide heat safe bowl (you can also use a pyrex glass measuring cup) and place the bowl in a pan filled with a couple inches of water. Heat the pan on a low to medium flame. IMPORTANT: This is to just soften the shea butter and not to melt it!
Once softened turn off the heat and let it cool down or about 2 minutes. By softened, I mean that you can easily mix it with a spoon. If you're living in a warmer region or have purchased East shea butter (shea butter nilotica), then chances are your shea butter is already soft and doesn't need to be softened with the double boiler method.
Next, add the base oil/oils of your choice and start mixing it with a fork, strong spoon or whisk.
Add the other optional ingredients  such as aloe vera gel or raw honey and continue whisking for about 10 minutes till the mixture is well combined. Scrape down the sides with a plastic spatula as you go continue mixing. You can also add the hydrosol at this point but be sure to mix vigorously for at least 5 to 10 minutes for it to get fully incorporated.
Finally, add the essential oils such as geranium, lavender and tea tree essential oils and whisk vigorously for about 3 minutes.
You will get a creamy soft shea butter mix for skin and hair!
Transfer into a sterilized container and keep in a clean dry place.
Method 2: Using a hand mixer/immersion blender.
Melt down the shea butter using a double boiler or soften it. It depends on what you prefer, some people just soften the shea butter instead of melting it down.
If you melted your shea butter, make sure you pop it into the refrigerator for about 10 minutes or until it partially solidifies. I don't think you can whip up hot melted shea butter – it needs to be cooled down to whip it in a short time. If you just softened your shea butter, you don't need to put it in the refrigerator – just move on to the next step:
Next, add all the ingredients (oils, butters, herbs and other skin saving herbs & ingredients of choice) and using a hand mixer, whip the contents of the bowl. For two minutes, whip on low speed to get everything well mixed then switch to high speed and whip for 5 minutes. By this time, your shea butter should be turning white in color and creamy & smooth in consistency. Also be sure to keep scraping down the sides of the bowl with a plastic spatula in between whipping
Add a few tbsp of hydrosol like rose hydrosol if you want to get the creamy shea butter as shown in the header picture above.
Finally, add the essential oils drop by drop and mix again for 30 seconds.
Voila! Your final mixture should be creamier and smooth in consistency!
Transfer to a clean mason jar and get ready to slather it all over your body and hair!
Other Shea Butter Mixes You'll Love!

My Favorite Tried & Tested Shea Butter Recipes Ebook
Do you love shea butter and want to make your own beauty products with it?! Check out this ebook "My Favorite Tried & Tested Shea Butter Recipes for Luscious Skin & Hair" for 30 awesome recipes, complete with step-by-step instructions, beautiful pictures and other valuable shea butter info!