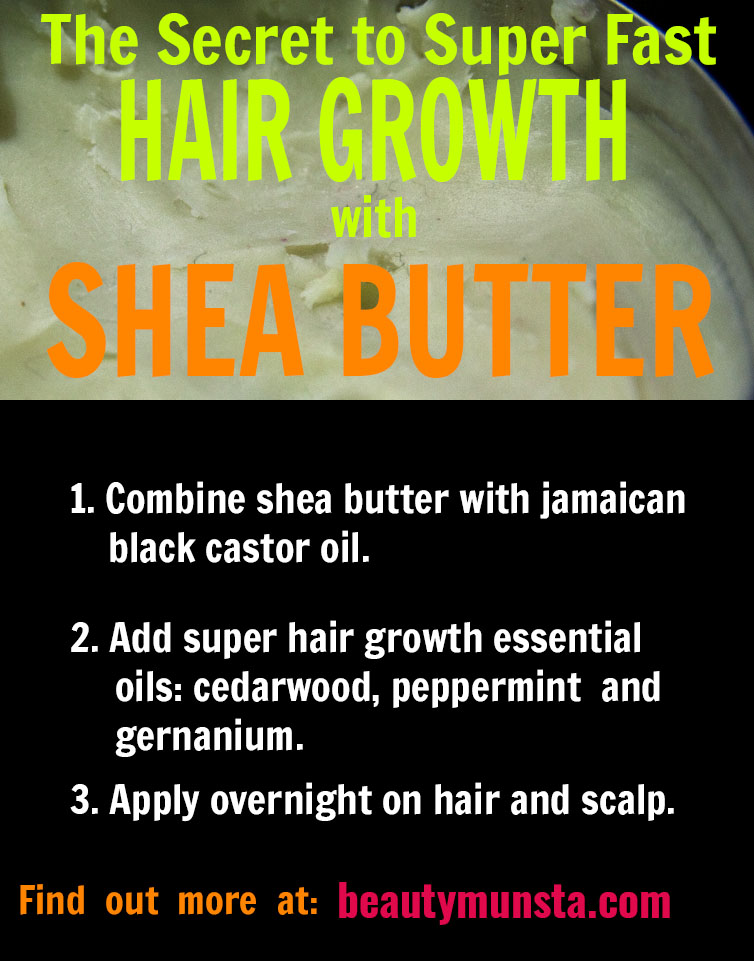 Looking for homemade shea butter hair growth treatments  that actually work? You're in the right place! We all know shea butter is one of the best secret ingredients for hair growth. But did you know that if you combine shea butter with other ingredients, you can increase your hair growth by more than 100%?
Here are 3 powerful shea butter recipes to take your hair growth to a new level altogether!
1. Shea Butter Hair Growth Mix with Castor Oil and Coconut Oil
This is a recipe borrowed from Beautymunsta. It uses two super hair-growth boosting ingredients: coconut oil and castor oil which have long been used as hair growth aids! Coconut oil also has an easily absorption rate with its small molecular structure and it's rich in fatty acids like lauric, capric, caprylic, mystiric and stearic acids that nourish and strengthen the hair follicles. Meanwhile, castor oil is an excellent hair growth remedy that works effectively in re-growing lost hair. Via – Hair Growth Recipe: Shea Butter Coconut Oil Castor Oil Mix
Ingredients
Method
Place softened shea butter in a large bowl and whip using a hand mixer for about 30 seconds to make its consistency silkier.
Add the coconut oil and whip again for 10 seconds while scrapping down the sides with a plastic spatula.
Now add castor oil and the rest of the ingredients and whip the last time for a 1-2 minutes until the ingredients are all incorporated to form a fluffy white cream.
Transfer to a clean container and use as a hair treatment, leave-in conditioner or even a styler – any can do as long as your applying some on the scalp to benefit from its hair boosting properties.
Don't miss: How to Use Shea Butter for Hair Growth
2. Overnight Mask with Shea Butter & Cedarwood Oil
Cedarwood oil is another great natural remedy for hair growth – it stimulates the hair follicles and also increases blood flow to the scalp, which ensures each and every hair follicle receives the nutrient-rich blood it needs to produce a healthy hair strand with strong hair shaft.
Ingredients
Method
Place all ingredients in an electric stand mixer and beat until you form a soft white cream. Remember to scrape down the sides to get all the ingredients to get mixed up.
Now transfer it to a clean bowl.
Prepare your hair for the mask: make sure your hair is clean and damp. Start applying the mix on your scalp using clean finger tips.
Once you're entire scalp is coated with the mixture, apply the little remaining on your hair strands.
Tie up your hair in a soft cloth then cover it with a shower cap or cling film and call it a night! You can throw an old towel over your pillow to prevent any stains from slip-ups of the shower cap.
The next morning, wash your hair as thoroughly as possible with water and shampoo. You may need to shampoo twice to remove all the oils. Use a natural sulfate-free shampoo preferably!
Don't miss: How to Use Lemon for Hair Growth
3. Daily Shea Butter Moisturizing Mix with Hair Growth Benefits
If you're someone who makes your own shea butter mix for moisturizing your hair daily before styling, then try making this hair growth mix for a change! It works wonders on rejuvenating the hair follicles and has a fresh scent that stays for long! Note: This is a variation of my Shea Butter Natural Hair Moisturizer Recipe – I just subbed the vanilla oil for hair grower rosemary oil!
Ingredients
Directions
Gently melt the shea butter and coconut oil in a double boiler.
Once melted, remove from heat and refrigerate for 20 minutes so that the mixture can cool and partially solidify for easy whipping.
After 20 minutes, get it out from the fridge and start whipping with your hand mixer until a creamy consistency is achieved.
Scrape down the sides and add the rest of the ingredients and whip again until everything is well combined.
Transfer to a clean container.
Use in place of your daily moisturizer for moisturized healthy and thicker longer hair!
Don't miss: Homemade Egg Protein Treatment for Hair
So use any of the DIY shea butter hair growth recipes above and come share your results! Remember to be consistent and patient because everyone's hair grows at a different rate. Anywho, be prepared to see results within 3-6 months or a year!
More Interesting Reads: