Check out some of the top antibacterial foods for UTI!
If you're someone who regularly suffers from UTI, also known as Urinary Tract Infection, you must be desperately looking for ways to prevent it – and naturally, right? Diet plays a LOT when it comes to improving your health, strengthening your immune system and fighting off bad bacteria in your body.
Incorporate one or more of these antibacterial foods for UTI!
Top 4 Antibacterial Foods for UTI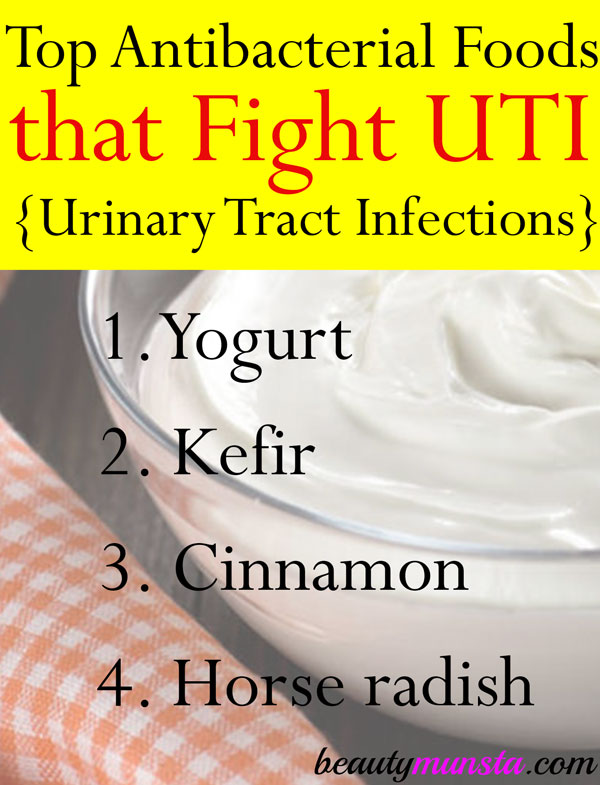 1. Probiotic Yogurt
Yogurt, the one with probiotics or live cultures in it, is excellent in fighting off bacteria in the body and strengthening the immune system. Did you know that finnish researchers found that women who had fermented dairy products containing probiotic bacteria three times a week were about 80% less likely to have a recurring urinary tract infection than those who ate these foods less than once a week?! That's right! Up your intake of Greek yogurt and never suffer with terrible UTIs again!
2. Kefir
Kefir is another probiotic food that is filled with good bacteria that eat up the bad bacteria in the body. It has been shown to be effective against numerous infections in the body. Kefir is so many times much powerful than yogurt in that the good bacteria in kefir accumulate and 'colonize' the gut and colon, compared to good bacteria in yogurt that don't remain and colonize your gut. Just imagine, the good guys in kefir stick with you forever, helping fight off nasties like UTIs! Keep drinking homemade kefir daily to sustain and grow your good bacteria which strengthen your immune system and help fend off bad bacteria!
3. Cinnamon
Cinnamon is a powerful spice that must be a part of everyone's diet, especially if you suffer from frequent UTIs! Add it to your morning coffee, muffins, pancakes, hot chocolate, etc! What makes cinnamon a good food for fighting UTIs is it's powerful antibacterial and antifungal properties. It has been shown to fight off bacteria causing most UTI in women.
4. Horse Radish
You probably think you haven't heard of horse radish but it's also known as the Japanese food wasabi! It's included in sushi so I'm sure one of you must have tasted it! It is a powerful natural antibiotic for bladder infections and UTI! Horseradish contains a chemical called allyl isothiocyanate (AITC) which kills off many strains of bacteria, including the E. coli bacteria which may cause urinary tract infections! It's also a diuretic which helps remove as much excess fluid from the body through urine, which helps flush out the bacteria. To consume horseradish, add it to homemade sushi, scrambled eggs, salads and more.
Natural Tips to Prevent UTIs
You probably already know these tips to prevent UTIs but they REALLY do help keep those nasty infections away:
Please pee when you get the urge. Don't hold urine in for long.
Urinate after intercourse.
Drink enough water every day.
Improve your diet by including natural antibiotics and immune strengthening foods.
Which of the above antibacterial foods for UTI are you planning on incorporating in your diet?
Also Read: