Does nutritional yeast go bad? What are the signs of expiry? How to do store nutritional yeast to make it last longer?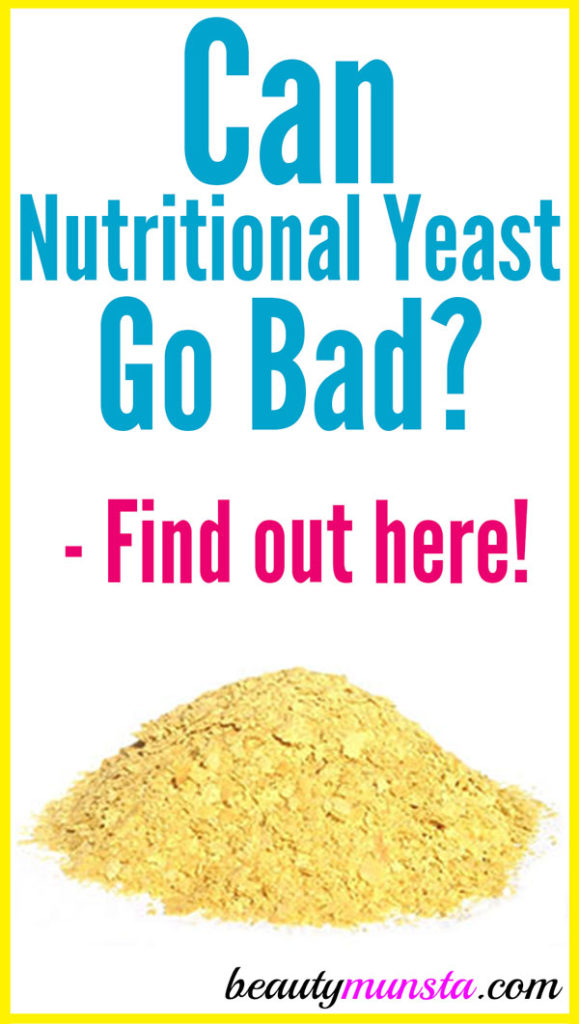 Like all foods, nutritional yeast can go bad too. Nutritional yeast does last much longer than instant active yeast. Active yeast, also known as instant yeast, expires within a few months of opening the packet, while nutritional yeast lasts 2 years if stored properly.
Nutritional yeast and active yeast are actually two different products with two different purposes. Active yeast is primarily used in baking breads while nutritional yeast is valued for its nutritional purpose.
Rich in B vitamins, proteins and other nutrients, nutritional yeast is mainly used as a super food to add concentrated nutrition to the diet, especially for vegetarians and vegans. It has a distinct cheesy flavor that is used as a dairy cheese substitute in veganism.
Nutritional yeast is also a great galactagogue or breast milk boosting food.
5 Signs That Nutritional Yeast Has Gone Bad
If you are doubting the freshness of your nutritional yeast, you are probably wondering if it has gone bad and if it's safe to eat!
Here are some signs that your nutritional yeast has gone bad:
1. Color
Fresh nutritional yeast is light golden in color. With time, the yeast does change color slightly and become brownish. This is quite normal and I've experienced this a lot with my nutritional yeast. However, if you have any other color change such as black or green spots, that might be contamination and molding. In this case, it's better to throw it away.
2. Smell
The scent of nutritional yeast is distinct. It has a nutty, cheesy aroma. If your nutritional yeast smells otherwise, such as stale, moldy or rotten, please get rid of it. An unpleasant smell is a sure sign of expiry or inedibility.
3. Moisture
Storing your nutritional yeast in a completely dry, preferably glass container is very important. Use only dry spoons to scoop out the nutritional yeast. Do not use wet cutlery or hands to touch the yeast to prevent contact with water. If you allow water to touch the yeast, this can cause contamination. Moisture or water contact can cause the growth of mold and other bacteria which can make it unsafe to eat.
4. Taste
Nutritional yeast has a cheesy, nutty flavor. Freshly bought nutritional yeast may be lighter and tangier, while about 12 months after purchasing, it might acquire a more malty flavor. But if your nutritional yeast is bitter, or tastes off-putting, that may be a warning sign that it has gone bad.
5. Time
One time I came back from vacation and found a glass bottle of nutritional yeast as I was organizing my pantry. The yeast was probably more than two years old and I was unsure whether to keep it or throw it.
As you know, nutritional yeast is quite expensive and it can be hard to just throw it away, but if you notice any signs of expiry, or if your nutritional yeast is more than 2 years old, it's best to play safe and not consume it.
How to Store Nutritional Yeast to Make It Last Longer
As soon as you receive your package of nutritional yeast, transfer it into a clean and dry glass container. This will maximize its freshness.
The best place to store nutritional yeast is in the refrigerator. This way your nutritional yeast will be cool and at constant temperature so the chances of it going bad are much less.
How to Eat Nutritional Yeast
Nutritional yeast is really versatile and absolutely delicious, if you know how to eat it! Here are some easy ways to incorporate nutritional yeast into your daily diet:
Add it to your scrambled eggs or scrambled tofu!
Sprinkle it on top of avocado toast!
Mix it in your pasta!
Add it to any soup!
Spice up your popcorn with it!