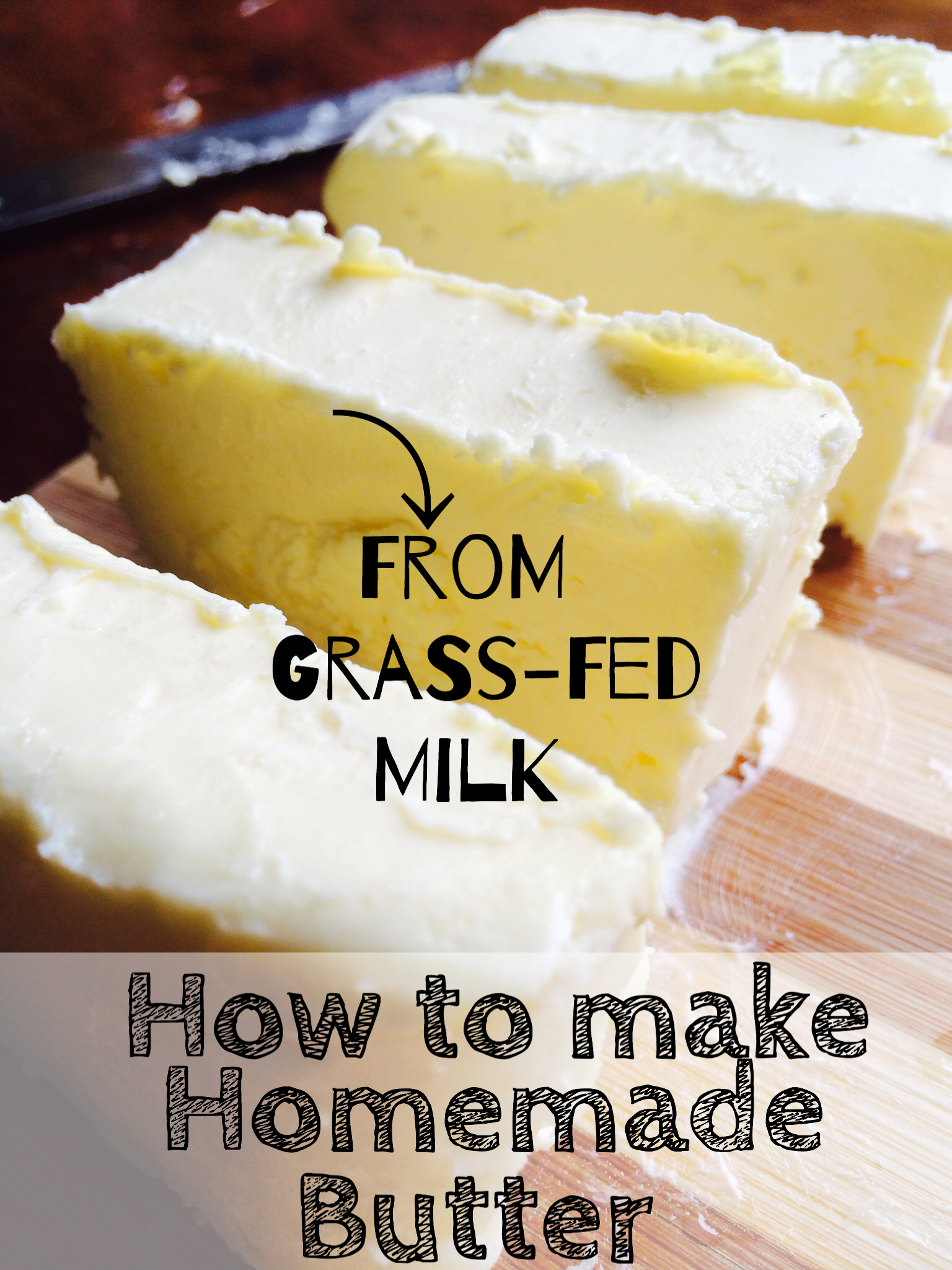 For all my life, my mom has been making homemade fresh butter that tastes absolutely delicious on bread and almost anything else! Butter is immensely nutritious and has been considered an essential food since ancient times before it was blasted down as an 'unhealthy food' some years ago. In recent times however, with the coming of the paleo diet and other real food diets, butter has again risen as a nutritious food that is highly considered for optimum health!
At our home, we normally buy about 2 ½ liters of farm fresh milk every day. When someone from the farm brings it in the morning, it's boiled and left to cool at room temperature. About 3 cups of milk is used for kefir, while the rest for ginger milk (which is an amazing health drink, by the way) and so on. At night, the milk is boiled again and then kept in the refrigerator. The next morning, the cream at the top of the milk, called milk cream, is collected in a container, which is stored in the freezer. So this routine goes on everyday for a week. At the end of the week, all the collected cream is 'churned' into fresh creamy butter (using just a blender! Lol)
Why You Should Eat Homemade Butter
I can't stress enough why homemade butter is better: you know exactly what ingredients you're using, there's no need for artificial colors/flavors, it's super fresh, tastes SO good and you made it with your hands, baby! Check out some health benefits of butter below!
Health & Beauty Benefits of Butter

According to Ayurveda, an ancient holistic science that was practiced in Asia for 5000 years, butter is a superfood that has many benefits:
It is a body coolant, that is, it cools down the body internally, getting rid of problems like acidity & excess body heat.
It improves the skin's complexion and keeps it smooth, supple and youthful.
It improves and strengthens digestive health as well as cures constipation & diarrhea.
It is an aphrodisiac.
It helps heal respiratory conditions.
It improves memory and promotes good mental health.
It helps maintain good eyesight and is useful in treating eye diseases naturally.
It naturally heals bleeding disorders and is said to be a blood detoxifier as well!

You gatta try homemade butter if you haven't already! It tastes so heavenly and is good for your health as well!
There are many more benefits – these are just a few! Note: Like every other food on earth, do not consume butter in large quantities.
How to Make Homemade Butter from Grass-fed Milk
Note: I've seen different tutorials on how to make homemade butter, where people use heavy cream and do not add water to help blend it. But this method down below is how my mom – and now, I – make homemade butter from grass-fed milk.
Ingredients
3 cups of your own collected milk cream
Directions
Collect the milk cream that forms at the top of the milk every day. When you've got enough cream (about 1-3 cups), then you're ready to make your butter! Take the container out of the freezer and let it thaw to room temperature.
Place the cream in a high speed blender and add enough water so the cream is just submerged. Don't add a lot or you'll find it difficult to get butter.

Place the cream in a blender, add enough water just to submerge the butter, then blend for just 2 second short intervals for 10 seconds. When the butter separates, fill the blender to the brim with water and start collecting it!

Now blitz the blender in very short intervals like two seconds for about 5-10 seconds. This takes some practice. Do not blend for long as everything will mix with the water into a sort of thick heavy cream. If it does turn out like that, it's not a goner. Still keep blending for very short intervals and the liquid will separate into butter and milky water. Think of it like turning on the blender, then immediately turning it off after 2 seconds.
After about 5-10 seconds, the butter will have separated.
Next, remove the blender jar and fill it with water from the sink to the very brim. Now using your hands/first wear gloves, start scooping the butter onto a wide bowl. Make sure you get only the butter without the water. Keep squeezing out any water in the butter by pressing the butter with your fingers. Once all the butter is collected, throw away the remaining milky water and then wash your hands well to get rid of the oiliness.

Collect your butter in a wide bowl!

Press the collected butter on the plate firmly down to remove excess water and it's ready! I like to pack it all firmly into a rectangular container, freeze then get it out when it's solid so I can have one big block of butter or cut into rectangles.
Store the rectangular container in the freezer.

Get a big block of butter by placing the fresh butter into a rectangular container. Freeze till solid then you may even cut into rectangles like the store-bought butter.

Yum! Your homemade butter is ready! Slather it on bread and enjoyyy. Store in the refrigerator.
How does this Homemade Butter Taste?
It takes so fresh, sweet, creamy and milky! The best thing ever!
My Tips
In case you don't have access to grass-fed milk, then just buy organic heavy cream and use. I've not tried this before, but I know that it doesn't need water added to be blended. You should blend it alone and it will separate into yellow butter and buttermilk, which you can save to make pancakes!